Showtime's White Famous overplays its racial component but may have a star player in Jay Pharoah
10/13/17 11:00 AM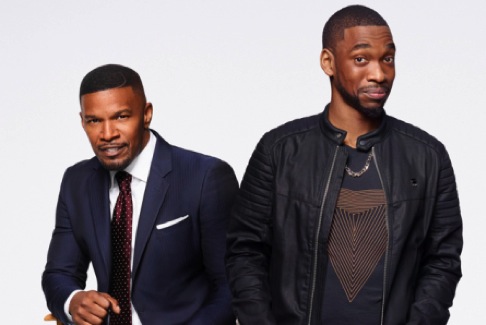 Jamie Foxx/Jay Pharoah collaborate in White Famous. Showtime photo
Premiering:
Sunday, Oct. 15th at 9 p.m. (central) with back-to-back episodes on Showtime
Starring:
Jay Pharoah, Utkarsh Ambudkar, Jacob Ming-Trent, Cleopatra Coleman, Lonnie Chavis, Meagan Good
Produced by:
Jamie Foxx, Jamie King, Tom Kapinos, Tim Story
By ED BARK
@unclebarkycom on Twitter
It's an easy sell, and now even more so, to depict Hollywood as one big, soulless, immoral den of iniquity.
That's one of the basic premises of Showtime's expletive-drenched
White Famous
, which supposedly is based on principal executive producer Jamie Foxx's real-life experiences.
OK, fine. The harder sell is
White Famous
' over-playing of the race card as an oppressive force in the life of Floyd Mooney (Jay Pharoah), a halfway gainful standup comic looking to get ahead on his own terms. It doesn't entirely negate the effectiveness of this comedy's oft-coarse humor -- or offset Pharoah's balls-out and very energized approach to his lead role. Still,
White Famous
would benefit by easing up on rather than ramming home what's rapidly becoming a dated proposition. Cesspool? Hollywood remains very much guilty as charged. Fount of racism, intended or otherwise? Evidence abounds on our home screens that television in particular increasingly is nothing of the sort.
Floyd's flailing agent, Malcolm (Utkarsh Ambudkar), who's of Middle Eastern descent, is fully capable of bending the truth in service to his client and himself. But he not lying in telling an unconvinced Floyd in Episode 2 that "it is pilot season in the golden age of diversity."
In other words, television roles of import have become plentiful for people of color. These are times when the landscape is brimming with examples ranging from Donald Glover's Emmy-winning
Atlanta
on FX; to ABC's thriving
black-ish
; to HBO's
Insecure
; to The CW's de-whitening of its
Dynasty
reboot -- to name just a very few examples. Even CBS' upcoming remake of
S.W.A.T.
will have an African-American, Shemar Moore from
Criminal Minds
, in the lead role of hard-charging "Hondo" Harrelson. Game shows, once as white bread as they come, are now humming along in prime-time with Steve Harvey, Anthony Anderson and Michael Strahan as hosts.
Malcolm does want Floyd to relent and "cross over" a bit in the interests of becoming a "white famous" star. Even that notion has become increasingly dated, though. And this is no period piece. It's set in the here and now rather than the 1990s, when Foxx's career took root in
The Jamie Foxx Show
.
Nonetheless, Episode One of
White Famous
includes a labored encounter between Floyd and a prominent Hollywood producer named Stu Beggs (the recurring Stephen Tobolowsky), who mistakes him for a valet before awkwardly apologizing and digging himself even deeper while being upbraided. The "incident" goes viral after being posted on youtube. And Floyd's career suddenly has new momentum, with Foxx (who occasionally will play himself) taking notice and offering a role in his latest movie.
Foxx should be credited, I guess, with portraying himself as a super-quirky Lothario who's first seen copulating with a naked woman in his trailer before Floyd sees that he's wearing a cheerleader's skirt. What follows is even more bizarre -- and basically distasteful.
Supporting characters, all of whom work into the mix pretty well, include Floyd's proudly corpulent best friend, Ron Balls (Jacob Ming-Trent), his estranged wife, Sadie (Cleopatra Coleman) and their appealing seven-year-old son, Trevor (Lonnie Chavis). Floyd dotes on his "Little Ninja" while also hoping to reconnect with Sadie, who's relented in the past when the mood is right. These aren't entirely booty calls. His affection for Sadie seems genuine, even if Floyd also is prone to other women's advances.
Hollywood as a whole has no redeeming qualities, though. The rot from within is epitomized by filmmaker Teddy Snow (the always crazed Michael Rapaport), who uses staged racism, among other things, to bait Floyd into taking on a role as the renegade leader of a '90s punk band called Angry Black. No one can be trusted to be even remotely on the up and up. All of Hollywood is self-interest personified. Screwing someone to get ahead -- literally or figuratively -- is a given throughout
White Famous
.
Pharoah nonetheless brings the juice. Never more than a peripheral member of the
Saturday Night Live
cast, he plays Floyd without reservation and with an assured, cockeyed conviction.
White Famous
can be faulted in its conceits and concept, but Pharoah is fully invested and funny at times, too. As when Floyd balks at Sadie's determination to enroll their son in a prestigious private school by extolling the battered public school system as a "prison" that spurred him to break out and be somebody rather than going soft.
Through the first three episodes made available for review,
White Famous
struggles to get its grounding and sometimes falls hard after slipping on its own banana peels. But It doesn't look like a lost cause just yet. It looks like a show that could mature into something more than it is now, with Pharoah as a sturdy building block.
GRADE:
B-minus
Email comments or questions to:
unclebarky@verizon.net