Vile Chozen soils FX
01/13/14 11:05 AM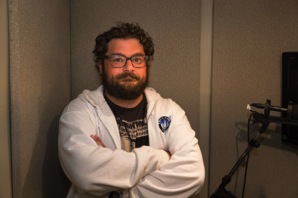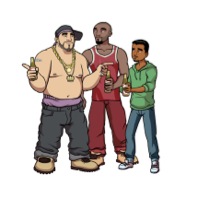 Bobby Moynihan is the voice of bare-chested rapper Chozen. FX photo
Premiering:
Monday, Jan. 13th at 9:30 p.m. (central) on FX
Starring:
Bobby Moynihan, Michael Pena, Hannibal Buress, Kathryn Hahn, Danny McBride, Nick Swardson, Ike Barnholz, Cliff "Method Man" Smith
Produced by:
Tom Brady, Danny McBride, Jody Hill, David Gordon Green, Brandon James, Adam Reed, Matt Thompson
By ED BARK
@unclebarkycom on Twitter
It's not all that easy to make the ribald
Archer
seem like a Mickey Mouse cartoon.
But FX and its latter day "Fearless" motto have done that and then some with
Chozen
. It's an aggressively profane companion cartoon series about a volatile gay white rapper hardened by 10 years in prison after being set up by a former ally known as Phantasm. Sample rap: "Bow down before the glorious one. Your face is the target. My dong is the gun."
I mean, really.
Archer's
Season 5 and
Chozen
's first one launch on Monday, Jan. 13th. The latter series, with
Saturday Night Live
's Bobby Moynihan very loudly voicing the title character, joins FX's spy spoof with a TV MA rating for "Graphic Violence, Explicit Sexual Activity, Crude/Indecent Language."
The worst offender on that front isn't even Chozen. In the first two half-hours it's Jimmy, a sub-scumbag voiced by co-executive producer Danny McBride (better known as the star of HBO's
Eastbound & Down
, which ended its run last fall).
Jimmy's a bearded, coke-sniffing garbage pail whose main activity is snapping intimate shots of women for posting on various obscene websites such as . . . well, never mind. Suffice it to say that he manages to reel off the words "dick, jizz" and "cum" in one short riff near the end of Episode 2. Guy's a wordsmith.
FX at some point generally swerves off various roads to perdition with its adult roster of weekly dramas and comedies. It's home to first-rate series such as
Justified, The Americans
and
Louie
. But the network errs grievously on the side of gratuitous with
Chozen
, which just shouldn't be on anyone's air.
Brain-dead male teens without any social skills or purpose in their lives might find this a highly entertaining diversion from their violent video games. One can imagine Slacker 69 laughing uproariously at the line, "Phantasm ain't ca ca. I know fools be playin' his butt hole like a saxophone."
Someone needs an accordion lesson.
GRADE:
F
Email comments or questions to:
unclebarky@verizon.net