ABC's Raisin In the Sun fullfills any and all grape expectations
02/25/08 01:31 PM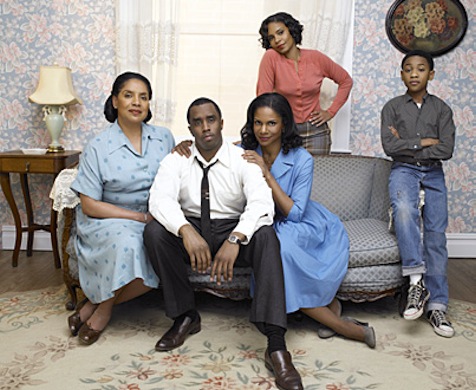 By ED BARK
When the cliche fits, resort to it.
ABC has a bonafide towering achievement on its hands Monday night. Its lone made-for-TV-movie of this season is the best of a dying genre since who really knows when.
Broadcast networks are all but out of this business, but
A Raisin In the Sun
should make ABC want to unequivocally shout in praise of itself.
Premiering Monday, Feb. 25 at 7 p.m. (central), this superb three-hour adaptation of the 1959 Lorraine Hansberry play elevates the network to an artistic high ground that should be the envy of its rivals. Not that it will be. NBC for one no doubt is perfectly pleased with the modest ratings success of its recent, sub-cheesy
Knight Rider
movie. This is a business, after all, and the big broadcasters seldom are in any mood to "give back" anymore with productions that simply aspire to be great without any anticipated big payoff at the Nielsen box office.
An earlier
Raisin In the Sun
feature film, released in 1961, had a high-powered cast that included Sidney Poitier, Ruby Dee and Louis Gossett Jr. But ABC's bold new dramatization, still anchored in a southside Chicago neighborhood circa 1959, can now take its place as the definitive screen version.
Key players from the Tony-nominated 2004 Broadway revival are reunited for the ABC presentation, which was screened last month at the Sundance Film Festival.
Sean Combs, now shorn of "Puffy, Puff Daddy, P Diddy," etc., has the Poitier role as the scheming, dreaming but shackled Walter Lee Younger, Jr. His realist wife, Ruth, is played by Audra McDonald, with Phylicia Rashad as Walter's tradition-bound, God-fearing mother, Lena.
Walter's spirited, tart-tongued, sister. Beneatha (Sanaa Lathan), and his only son, Travis (Justin Martin), also live under the same roof in a cramped, cockroach-friendly walkup with a downstairs bathroom shared by two floors of tenants.
Supporting characters include Walter's best friend, Bobo (Bill Nunn), and two disparate suitors for Benethea's hand. Dream-weaving Joseph Asagi (David Oyelowo), a classmate of hers, is Nigerian by birth. George Murchison (Sean Patrick Thomas) is the snooty son of a now wealthy businessman who cashed in on an investment opportunity that had been too rich for Walter's blood.
Jon Stamos also drops in near movie's end as a go-between who aims to keep the all-white Clybourne Park neighborhood safe from any invasion by "coloreds."
Combs is one of the film's executive producers, but veterans Craig Zadan and Neil Meron are its good shepherds. Their previous acclaimed productions include the Oscar-winning
Chicago
for the big-screen and
Cinderella, Annie
and
Life with Judy Garland
under the ABC banner.
On-screen, where it counts, the performances for
Raisin In the Sun
are uniformly first-rate. One powerful scene after another both hits home and drives the steady, assured narrative.
Rashad, so familiar to audiences as Clair Huxtable from
The Cosby Show
, is especially unforgettable as a nurturing but no-nonsense matriarch whose late husband's life insurance policy will be netting the family a $10,000 windfall. Walter, festering as a white man's chauffeur, has big investment plans for the money. But a liquor store decidedly is not what Lena has in mind.
"We ain't no business people," she tells Ruth, who haltingly tries to act as a go-between. "We're just plain workin' folk."
Raising In the Sun
crackles with sharp dialogue that hasn't been dulled all these years later. Walter is in some ways the drama's Stanley Kowalski, a brooder with needs, ambitions and an overall view of women as "backward" people braking forward progress.
"Nobody in this house is ever gonna understand me," he rails. But Combs makes the character sympathetic as well. You'll see.
Each central character, save for the still wide-eyed Travis, reaches a boiling point or two during the course of hard-fought bouts with self-realization. That might seem like a standard-issue dramatic arc, but nothing in this still very relevant drama ever seems contrived or false.
In the end,
Raisin In the Sun
deeply earns its uplifting climax, even though overcast skies await. ABC and all concerned should take a deep bow. Whatever the ratings, they already have their reward.
Grade:
A