CW's The Next is TV's newest -- what else -- search for a superstar singer
08/15/12 10:18 AM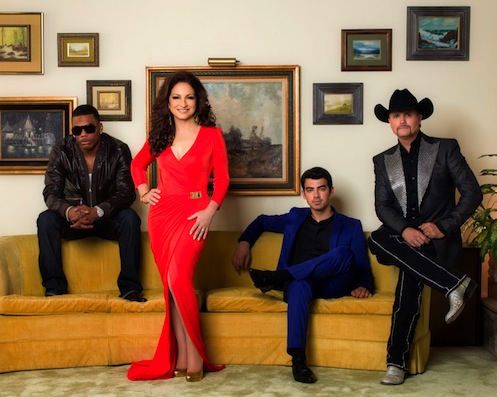 Mentors Nelly, Gloria Estefan, Joe Jonas and John Rich. CW photo
Premiering:
Thursday, Aug. 16th at 8 p.m. (central) on The CW
Starring:
Gloria Estefan, Nelly, John Rich, Joe Jonas
Produced by:
Queen Latifah, Dave Broome, Shakim Compere
By ED BARK
@unclebarkycom
Even as it slowly runs out of gas,
American Idol
's traffic jam of derivative singing and dancing competitions shows no imminent signs of stoppage.
Next in line is The CW's
The Next
, in which "Fame Is At Your Doorstep" for up-and-coming singers looking to "finally make the leap from opening act to headliner."
Their escorts are yet another batch of "superstar" mentors who dispense wisdom such as "If this is where your heart is, then take it and run."
That numbingly familiar pick-up line comes from Joe Jonas. He's joined by Gloria Estefan, Nelly and John Rich in this six-city search for someone worthy of the show's grand prize -- a recording contract with Atlantic Records. This perhaps beats a homemade, "gone viral" youtube video. But if so, not by much. Ask Justin Bieber.
Thursday's one-hour premiere episode brings the four established singers to the House of Blues in Orlando, Fla., where a wildly excited crowd awaits their grand entrances. Host Allison Hagendorf of Fuse TV then opens the games by announcing, "America" -- pause, one, two -- this is
The Next
." Audience eruption guaranteed.
Briefly, here's the deal. Six cities will be visited by
The Next
, including Dallas down the road. Besides Orlando, the other venues are Baltimore, New York, Chicago and Los Angeles.
Four singers looking for a big break will spend 72 hours with one of the mentors (72 hours in TV time is perhaps an afternoon) before singing their hearts out at a popular local venue (willing to waive any costs to The CW in return for free publicity). Judging from the opening hour, the four stars will effusively praise each and every performance on each and every episode before the audience picks weekly single winners via the climactic "Cricket Wireless Vote."
The six survivors -- plus a lone wild card who didn't make the first cut -- will then gather in Los Angeles for the semi-finals. And so on until a winner likely destined to become a trivia question -- Who won
Duets
this summer on ABC? -- emerges to take his or her very long shot at becoming music's next big supah stah.
These aren't pikers, though. Country singer Michael Ray has sold out Orlando's House of Blues four times and once ranked No. 2 in popularity on
ReverbNation
. He's under the wacky John Rich's wing, and actually is quite good in performance.
Another fame-saker, 18-year-old Taylor Buono, has a "good online following," Joe Jonas notes. And Cori Yarckin has both opened for The Jonas Brothers and has a MySpace page. Yowza.
Most of the supplicants get a designated affliction. But so far it's not one of those sappy pre-fab back stories in which Lolo Lala has overcome the heartbreak of psoriasis after first battling the rejection that comes from being born with just nine toenails.
Instead, Yarckin has "performance anxiety" while Ray "over-thinks everything." Their superstar mentors bravely intend to fix those faults.
Added piffle: the would-be superstars still have to grind away at their daily lives. So Gloria Estefan helps Yarckin mow the lawn (for a few seconds at least) while Nelly accompanies Itzy Rodriguez to her day job at a sunglasses shop and Joe Jonas helps his protege to babysit a dozen or so star-struck little girls.
All of this seems about as authentic as a Snooki Polizzi endorsement of Encyclopedia Britannica. But good luck to the eventual winner, I guess.
The Next
probably can't hurt anyone's budding career. Nor is it likely to help in any real way.
GRADE:
C-minus