NBC's Crossing Lines would be better off killed in action
06/19/13 01:52 PM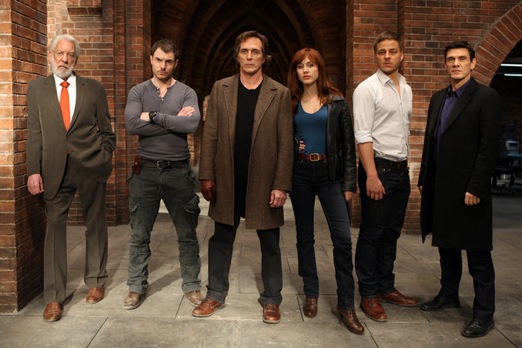 William Fichtner (center) heads cast of Crossing Lines. NBC photo
Premiering:
Sunday, June 23rd at 8 p.m. (central) on NBC
Starring:
William Fichtner, Marc Lavoine, Gabriella Pession, Moon Dailly, Richard Flood, Tom Wlaschiha, Donald Sutherland
Produced by:
Edward Allen Bernero, Rola Bauer, Jonas Bauer, Tim Halkin
By ED BARK
@unclebarkycom
William Fichtner is all knotted up again and the actor playing his boss looks ready made for the lead in
Dracula 2013
.
They're the tightly wound leading men of NBC's
Crossing Lines
, a crime series with an international bent that arrives spindled and mutilated with Sunday's two-hour premiere.
The first killer at large of course is of the serial kind. And his prey -- of course -- are young women whom he stabs and then disfigures beyond recognition. So far he's murdered in four different countries. Sounds like a job for "a unit mandated by the International Criminal Court to investigate cross-border crimes and ultimately bring global criminals to justice."
The head of this outfit is Louis Daniel (Marc Lavoine), an all-business, pale-skinned Frenchman with tragedy in his past. Fichtner is substantially more haunted as ex-New York City cop Carl Hickman, who in his opening narrative states, "I was not in a good way . . . the only thing keeping me alive was anger and morphine."
Hickman's right hand is badly impaired by a bullet wound from a child abduction suspect. Railroaded in some way by his Big Apple superiors, he's now a drug-dependent trash picker at an Amsterdam carnival. But Daniel needs his crack crime-solving expertise despite the fact that Hickman says he's physically incapable of firing a gun let alone filling out a crime report.
Mais oui
, he very reluctantly becomes part of a bickering/bantering team whose overseer is International Criminal Court inspector Michael Dorn (the ubiquitous Donald Sutherland).
Sunday's first two hours are a mix of high-tech detective work, intuition, flashbacks and clunky dialogue. As when Hickman balks at initially getting no respect by telling one and all, "You can kiss my ass in Macy's window."
Co-stars include Hickman's new partner, Anne-Marie San (Moon Dailly); trigger-tempered Irish boxer/detective Tommy McConnel (Richard Flood); Europol Sgt. Eva Vittoria (Gabriella Pession) and Berlin copper Sebastian Berger (Tom Wlaschiha).
Fichtner, whose jaw previously has been firmly set in series such as
Prison Break
and
Invasion
, brings a well-practiced inner torment to
Crossing Lines
. So well-practiced that it's getting tedious. Early in the second hour, he studiously beats himself up for the kidnapping of a team member. "If we find this girl alive, I'm out," he says. "You understand? I'm out." All right, OK. Got it.
The pursuit of the killer is at best moderately diverting. Climactically, everyone laughably boards a high-speed, border-crossing chopper after the bad guy's location has been firmly determined. This ultimately leads to Fichtner's Hickman matter-of-factly declaring, "Cleaning up garbage is something I've always been good at."
Crossing Lines
isn't breezy enough for a summer diversion. Instead it's ponderous, pretentious and too predictable.
It's also high time that prime-time TV put a muzzle on its rampant and brutal slaughtering of young women. Not only on
Crossing Lines
, but on NBC's
Hannibal
, Fox's
The Following
, AMC's ongoing Season 3 of
The Killing
and any number of CBS' weekly "procedural" crime hours.
In terms of sexual activities, an array of female and male body parts remain taboo on broadcast network TV. But hacked limbs, deep cuts and bloody corpses are still very much A-OK. As is a killer's "Run, you bitch!" while he savors the thought of hunting her down with a knife on
Crossing Lines
.
Here's hoping we've all had more than enough of that.
GRADE:
C
Email comments or questions to:
unclebarky@verizon.net