ABC's Deception heists Castle while substituting a magician for a mystery novelist
03/08/18 01:30 PM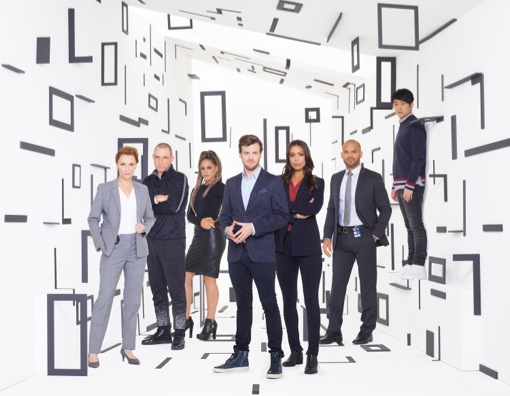 Crime's in trouble when a combo of illusionists/detectives teams up.
ABC photo
Premiering:
Sunday, March 11th at 9 p.m. (central) on ABC
Starring:
Jack Cutmore-Scott, Ilfenesh Hadera, Amaury Nolasco, Lenora Crichlow, Vinnie Jones, Justin Chon, Laila Robins
Produced by:
Chris Fedak, Greg Berlanti, Martin Gero, Sarah Schechter
By ED BARK
@unclebarkycom on Twitter
Gone but clearly not forgotten,
Castle
gave ABC a long-distance run of eight seasons and 173 episodes before departing in May, 2016.
The network essentially is saying "Gimme rewrite" with
Deception
, a like-minded, agreeably breezy crime solver that gets a prime launch pad following ABC's two-hour Sunday night reboot of
American Idol
. Let's investigate the similarities, although it's going to be a longer run-up with
Deception
.
In
Castle
, Nathan Fillion played bantering, bestselling mystery novelist Richard Castle, who's lately afflicted with writer's block. In search inspiration, he's given a chance to tag along with Manhattan-based detective Kate Beckett (Stana Katic) in hopes of fashioning a new gumshoe modeled after her. Kate strongly objects at first, but Castle proves to be helpful in catching the elusive crook of the week. ABC added an overriding, unsolved mystery, the murder of Kate's mother. It unspooled over multiple seasons at a slow off-and-on pace while Castle and Kate clashed, traded quips and became lovers on a faster track.
In
Deception
, internationally renowned magician Cameron Black (Jack Cutmore-Scott) has prospered for years while keeping the existence of his twin brother, Jonathan (Cutmore-Scott), a closely guarded secret. This allows him to "magically" disappear from one locale (such as Las Vegas), and then instantly show up in another (such as New York). "Ta-da." That's his tongue-in-cheek tagline.
Things go awry, though, when a car wreck waylays Jonathan's would-be, post-performance tryst with a mysterious and alluring woman. She winds up bloodied and dead on a Manhattan street while Jonathan staggers away. When Cameron is charged with her murder, he finally cops to the existence of his twin, who's arrested, convicted and imprisoned. But Jonathan tells Cameron he was set up, and that the dead woman found by police isn't the same one who'd been riding with him.
This is all prelude to "A Year Later," with Cameron now a discredited and depressed illusionist living in Manhattan. But then he sees live TV news footage of a plane that exploded after first landing with a notorious drug cartel kingpin named Felix Ruiz in the custody of New York-based FBI agent Kay Daniels (Ilfenesh Hadera). She thinks her prisoner is now dead, but Cameron impulsively rushes to the scene and contends it's all an illusion pulled off by the time-tested art of "misdirection." In other words, Ruiz is still at large while the plane carrying him somehow has been transported elsewhere. Furthermore, Cameron is convinced that the illusionist pulling these strings is the same one who framed his twin brother.
Stern Kay thinks this is nonsense, has never heard of Cameron and doesn't like magic anyway. But her partner, Mike Alvarez (Amaury Nolasco), is a fan, and Cameron's deductions are starting to pan out. So let's give a him a whirl -- but only this once.
All of this is carried out with considerable energy and at a pace fast enough to keep most viewers from thinking too hard about the liberties taken in leaping from one conclusion to the next. This is supposed to be a lark for the most part, and Cameron's feisty backstage support team also can be a good deal of fun after they first entertain the idea of working for Criss Angel, whose name is dropped along with those of Doug Henning, Siegfried & Roy and David Copperfield. Penn & Teller are seen in the flesh, spouting the magician's code of tricking people, but never lying to them.
Team Cameron is made up of prop-makers/illusion-enhancers Gunter Gustafson (Vinnie Jones) and Jordan Kwon (Justin Chon), who spar for proper credit while stage show producer Dina Clark (Lenora Crichlow) mostly wants to just get on with it. During the three episodes made available for review, it's increasingly obvious that she'll also be getting it on with FBI agent Alvarez while Cameron and Kay likewise show telltale signs of inevitably succumbing to a little sheets music.
Cameron's overall objective, though, is to free his brother. The first two episodes provide glimpses of
Deception's
mystery illusionist at large before the third makes no mention at all of her. As with
Castle
, this is gonna take some time, assuming that
Deception
is afforded that luxury. But really, what's not to like about an Episode 3 that's centered on an explosive art museum crisis and includes the line, "He's gonna blow the Cezanne!"
Deception
isn't likely to win any awards, except perhaps from the Society of American Magicians. As escapist fare, though, it turns the trick, plays its cards well, pulls a rabbit from the hat, etc. Or as ABC might say, "Abracadabra, here's to another
Castle
."
GRADE:
B-minus
Email comments or questions to:
unclebarky@verizon.net