FX's Tyrant will make the heart grow fonder -- for Fargo
06/23/14 01:02 PM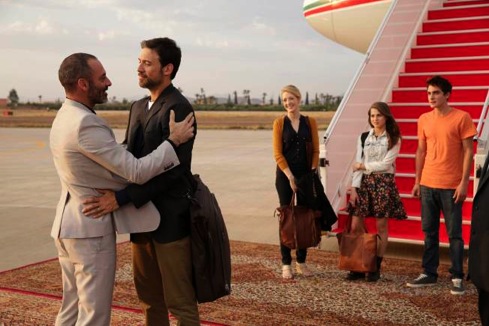 Welcome to beautiful Abbudin, my brother. You and your family will have a much longer stay than you thought in Tyrant. FX photo
Premiering:
Tuesday, June 24th at 9 p.m. (central) on FX
Starring:
Adam Rayner, Jennifer Finnigan, Ashraf Barhom, Moran Atias, Noah Silver, Anne Winters, Fares Fares, Salim Daw, Justin Kirk, Mehdi Dehbi, Raad Rawi, Alice Krige
Produced by:
Howard Gordon, Craig Wright, Glenn Gordon Caron, Gideon Raff, David Yates, Michael Lehmann, Peter Noah, Avi Nir
By ED BARK
@unclebarkycom on Twitter
What can FX do for an encore following universal acclaim for the just concluded
Fargo
?
Its answer is sort of a
Homeland
in reverse from the architect of that series. But Tyrant looks like a plebeian in comparison. It's not terrible. It's just unremarkable.
Fargo
quickened the pulse with a series of diabolical twists orchestrated by Billy Bob Thornton's malevolent Lorne Malvo. It fully lived up to the namesake movie, and in some ways surpassed it.
Tyrant
, despite its foreboding title, is unlikely to leave either the blogosphere or the hemisphere buzzing about what just happened. FX has been on a roll, but you can't win 'em all.
The first four episodes were made available for review, but hours two to four didn't materialize on FX's password-protected media site until over the weekend. By that time many reviews already had been filed. This review is based on watching all four hours, not that it made all that much of a difference. Some series spring to life after lesser starts.
Tyrant
doesn't necessarily deteriorate. Nor does it show signs of becoming something special.
The series' main man is Bassam "Barry" Al Fayeed, a Pasadena, CA pediatrician who hasn't been back to his Middle Eastern homeland of Abbudin in 20 years. But an invitation to the wedding of his older brother's son is of considerable intrigue to his wife, Molly (Jennifer Finnigan). She's never been back home to visit Barry's folks. So she's convinced him to make the trek even though Barry's father, Khaled Al Fayeed (Nasser Faris), is an unrepentant dictator responsible for slaughtering thousands of his countrymen. Aw, c'mon honey, he can't be that bad.
Barry has been a prisoner of his own past traumas. He jogs a lot and is "joyless" in the estimation of Molly. So off they go, with secretly gay 16-year-old son Sammy (Noah Silver) and pouty 17-year-old daughter Emma (Dallas native Anne Winters) also in tow. Barry's dictator dad has reserved an entire airplane for the four of them. And upon landing, they're greeted warmly by older brother Jamal (Ashraf Barhom) after he roars up in a red sports car to the tune of Aerosmith's "Dream On."
"C'mon, let's go to the palace," Jamal says after embracing one and all. He's otherwise fresh from raping a married woman over whom he holds dominion while her husband and their children are helpless to stop him. Not a nice man. But Barry, via a series of flashbacks to their youths, let's it be known that "the reason Jamal is so broken is that my father broke him."
The premise of the series, helmed by
Homeland
maestro Howard Gordon, requires Barry and his family to have an unexpected extended stay in Abbudin. So without further details, let's just say that Khaled Al Fayeed is not long for this world. And that Jamal is fated to be incapacitated for a while, making Barry's continued presence in his abandoned homeland a matter of heightened import.
The main
Tyrant
ensemble also includes Jamal's tough-minded wife, Leila (Moran Atias); crusading journalist Fauzi (Fares Fares), a boyhood friend of Barry's; Kaled's widow, Amira (Alice Krige); pliant U.S. Embassy representative John Tucker (Justin Kirk); and the brutal General Tariq (Raad Rawi), of whom it's said in Episode 2, "Father called him The Hammer. For him, every problem is a nail."
More on the periphery are Jamal's spoiled, pudgy newlywed son Ahmed (Cameron Gharaee) and a young security guard named Abdul (Mehdi Dehbi), who develops a strong attraction to Sammy -- and vice versa. But by Episode 4, Abdul no longer is answering Sammy's calls. This leads Sammy to blurt at a trendy club, "What the hell! You just gonna blow me and blow me off?" Oh please.
Barry, increasingly answering to his given name of Bassam, remains pretty much a clenched up bore. "You know what your problem is, Bassam? You are no fun," Jamal tells him. Nonetheless he's a Fayeed, which entitles him to quick ascension as special counsel to president Jamal.
Will Barry/Bassam do the right thing? Can his wife Molly be fleshed out into more than a stock character? And what about that very troubling 20th anniversary of old man Khaled's unleashing of a lethal chemical gas attack on protestors. Might that somehow be turned into a new beginning?
"You can go down in history as one more brutal dictator," Barry/Bassam tells his brother. "Or you can do down as the leader who had the courage to listen to his people. Who do you want to be?"
Those are the closing words of Episode 4. A bigger question of considerably more interest to FX is whether enough viewers will care by then. Probably not.
Tyrant
strives to be big, momentous and powerful. But while sometimes jabbing to good effect, it lacks a heavyweight's punch.
GRADE:
B-minus
Email comments or questions to:
unclebarky@verizon.net