Fox goes traditional (whether admitting it or not) with latest prime-time menu
05/14/18 10:09 AM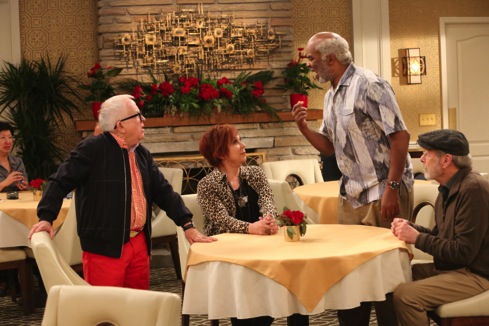 Who stole my VHS player? Retirement home humor in The Cool Kids.
Fox photo
By ED BARK
@unclebarkycom on Twitter
Adding
Thursday Night Football
,
Last Man Standing
and another laugh track-juiced sitcom set in a retirement home seems like something CBS might do.
But these are just some of the new moves by Fox, which also is returning two-thirds of last season's prime-time schedule, the highest percentage in 20 years according to its top programming executives. Just two bonafide new series are being launched this fall. Cancelled Fox comedies include
Brooklyn Nine-Nine
(quickly picked up by NBC),
The Last Man On Earth, The Mick
and
New Girl
.
Another pair of last season's newcomers,
Ghosted
and
L.A. to Vegas
, aren't positively officially axed yet, according to Fox programmers. But don't bet on either sitcom's future. Fox also has dropped the drama series
Lucifer
and
The Exorcist
while announcing the fifth and final season of
Gotham
, which will return sometime in 2019.
All of the aforementioned comedies were "single cams" that aired without laugh tracks. Save for Sunday night's cartoons, all of Fox's three live-action comedies scheduled for this fall will be old school "multi-cams" filmed before guffawing studio audiences before any sweeteners are added.
"I wouldn't call it a tonal shift," Fox co-chairman/CEO Gary Newman told TV writers in an early morning teleconference Monday. He declined to call it anything else, though.
Both Newman and his executive equal, co-chairman/CEO Dana Walden, said that
Last Man Standing
had been a candidate for the previous season after ABC canceled the Tim Allen comedy series after six seasons. But Fox supposedly couldn't find the right spot for the series, whose outspokenly conservative star has blamed politics in part for the cancellation.
Last Man Standing
is getting a reprieve after "everyone took a good, hard look at the performance of
Roseanne
," Walden acknowledged. "It certainly did remind us that we have a huge, iconic comedy star in our Fox family (
Last Man Standing
is produced by 20th Century Fox Television)."
Touting
LMS
as a "really funny show," Walden contended that ABC "didn't really prioritize" it. "We always wondered how it would do if it were given a better opportunity."
"I'm not sure if that cancellation had anything to do with politics," Newman added, citing "vertical integration" and "that network (ABC) wanting to own more of its schedule . . . It doesn't feel like a soapbox for any political point of view."
Fox's official publicity release on the new season makes no mention of the play-by-play team for
Thursday Night Football
. But when asked how the search was going, Newman somewhat surprisingly revealed that the main Sunday team of Joe Buck and Troy Aikman in fact also will be fronting
Thursday Night Football
. A half-hour, New York-based pre-game show, scheduled to start at 6:30 p.m. (central), will be hosted by Terry Bradshaw, Howie Long and Michael Strahan, with Sunday pre-game mainstays Curt Menefee and Jimmy Johnson not part of the mix.
Fox has renewed a quartet of freshman dramas from last season --
9-1-1, The Resident, The Gifted
and
The Orville
. All except
The Gifted
are more "traditional" self-contained "procedurals" than serial in nature, although some storylines spill over. Another drama series with weekly conclusions,
Lethal Weapon
returns for a third season without co-star Clayne Crawford, who was fired by Warner Bros. Television for alleged repeated misbehavior on the set. His replacement is former
American Pie
movies star Seann William Scott.
The Orville
and
Cosmos
will join
Gotham
as 2019 entries while a live musical production of
Rent
is now scheduled for Jan. 27 of next year after first being announced back in May 2017.
Here are Fox's two new fall series:
The Cool Kids
(comedy) -- Well-weathered vets Martin Mull, Vicki Lawrence, David Alan Grier and Leslie Jordan raise hell in a retirement home, with Grier's character, ringleader Hank, described as "a gruff, opinionated, 21st century Archie Bunker who will go to any lengths to have a good time." Lawrence's Margaret is billed as a "brash, confident woman who forces her way into their group and refuses to leave because she's not going to take crap from anyone," says Fox. The lead executive producer is Charlie Day, who formerly co-starred on the long-running
It's Always Sunny in Philadelphia
.
Rel
(comedy) -- Lil Rel Howery stars in a series based on his life as a Chicago West Sider who learns that his wife is having an affair -- with his barber. Sinbad plays Rel's father and Jess "Hilarious" Moore (yes, that's her name) is Rel's best friend, Brittany. Heretofore, please call me Uncle "Laugh Riot" Barky. Thank you.
Here is Fox's night-by-night new fall schedule:
Monday
The Resident
9-1-1
Tuesday
The Gifted
Lethal Weapon
Wednesday
Empire
Star
Thursday
Thursday Night Football Pregame Show
NFL Football
Friday
Last Man Standing
The Cool Kids
Hell's Kitchen
Saturday
Fox Sports Saturday: Fox College Football
Sunday
NFL on Fox
The OT/reruns
The Simpsons
Bob's Burgers
Family Guy
Rel
Fox also has announced these midseason series:
The Passage
(drama) -- Scientists play with fire in a secret medical facility. They're experimenting with a "dangerous virus that could lead to the cure for all disease, but also carries the potential to wipe out the human race." (Hate when that happens.) Saniyya Sidney and Mark-Paul Gosselaar head the cast.
Proven Innocent
(drama) -- Criminal defense lawyer Madeline Scott (Rachelle Lefevre from
Under the Dome
) has a "hunger for justice" and also a yen to free the innocent after she herself was wrongly convicted in a "sensational murder case." The defense team also includes Vince Kartheiser from
Mad Men
as investigator Bodie Quick.
Email comments or questions to:
unclebarky@verizon.net