Cinemax makes solid contact with J.K. Rowlings' C.B. Strike
06/01/18 09:34 AM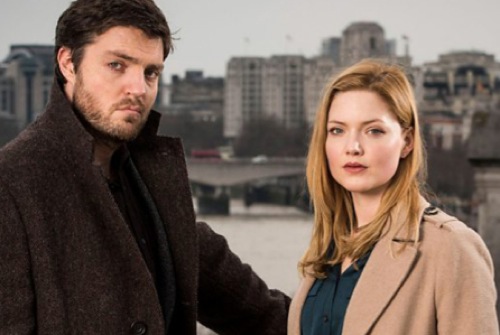 Tom Burke & Holliday Grainger star in crimesolving C.B. Strike.
Cinemax photo
Premiering:
Friday, June 1st at 9 p.m. (central) on Cinemax
Starring:
Tom Burke, Holliday Grainger, Kerr Logan, Ben Compton
Produced by:
J.K. Rowling, Neil Blair, Ruth Kenley-Letts, Elizabeth Kilgarriff
By ED BARK
@unclebarkycom on Twitter
How sweet it is to see a straight-ahead crime solving series starring a detective with no built-in superpowers, physical or otherwise.
The only "gimmick" in Cinemax's
C.B. Strike
is that the title character has a half-severed left leg, courtesy of his military service. And the prosthetic he wears makes it difficult and painful for him to chase bad guys or even climb stairs.
Adapted from three novels by J.K. Rowling under the pseudonym Robert Galbraith,
C.B. Strike
gets a seven-episode Season One divided into separate adaptations of
The Cuckoo's Calling, The Silkworm
and
Career of Evil
. Cinemax made all seven episodes available for review, and it was easy to get immersed in them. Some of the episode-ending "gotcha" wrap-ups are a bit contrived. But getting there is much more than half the fun.
Tom Burke plays Cormoran "C.B." Strike, a former military police investigator more or less operating out of a ramshackle London office. He's fond of his pints and behind on his debts. Luckily for him, plucky Robin Ellacott (Holliday Grainger) arrives one morning as an office "temp." But first we witness the death of supermodel Lula Landry (Elarica Johnson), whose plunge from the balcony of her posh penthouse flat has been ruled a suicide.
While Robin works to get C.B.'s office in shape, Lula's half-brother, John Bristow, drops in to solicit an investigation. He believes Lula was murdered, and his thousand pound downpayment is enough to get C.B. interested in the case.
The detective's personal back story is more of a shambles than his place of business. C.B.'s mother died of a heroin overdose and his father, who had him out of wedlock, is a world famous rock star from whom he's been long estranged. Our hero's off-and-on relationship with his volatile girlfriend -- currently very much off again -- also figures into his makeup. In contrast, Robin is engaged to her longstanding live-in boyfriend, Matthew Cunliffe (Kerr Logan). But she's restive career-wise, and has a yearning to be a private gumshoe. Matthew doesn't approve, and therein lies some of the other unfolding drama.
The Cuckoo's Case
arc takes up three episodes. C.B. and Robin then move on to the investigation of a shock/horror novelist's grisly murder in
The Silkworm
, which runs through hours 4 and 5. We wind up with the two-episode
Career of Evil
. It begins with Robin opening a package she signs for at the office. Within it is a severed leg and an accompanying note with Blue Oyster Cult lyrics. This is easily the most violent of the three stories, with both lead characters licking their wounds before the denouement. Meanwhile, clients quickly begin abandoning the agency because receipt of a severed limb is never good for business.
Rowling, also a co-executive producer of the series, is at work on additional C.B. Strike novels, and has said she hopes to pen 10 more of them. So Cinemax, in association with the BBC, should have ample material if these initial seven episodes prove to be popular.
Burke plays the lead character as doubly wounded, resourcefully deductive and always the perfect gentleman around Robin. He physically resembles Stacy Keach during his
Mike Hammer days
, cleft lip included. Grainger makes for a very winning Robin. The white wine-sipping apprentice brings out C.B.'s better sides while very much wanting to be an equal partner.
Is there a romance brewing? There are little glimmers of such, but nothing concrete so far. And an event at the end of
Career of Evil
throws a wrench into these possibilities.
A wide range of supporting characters move in and out of these mysteries. Some of the performances are more delicious than others, with the catty authors and book agents in "The Silkworm" taking the cake. "If you want peers who glory in your failure, work with novelists," says one.
The two protagonists carry the day, though. C.B. and Robin are well worth rooting for as they sift their way through both the crimes at hand and their own personal dilemmas. So keep writing these characters, J.K. Rowling. They're every bit as down to earth as Harry Potter was fantastical.
GRADE:
A-minus
Email comments or questions to:
unclebarky@verizon.net