Jimmy gets the job
05/12/08 11:48 AM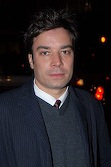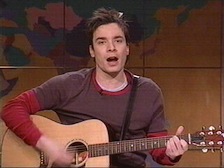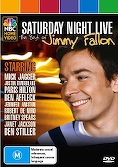 By ED BARK
Long-rumored to be Conan O'Brien's replacement on NBC's
Late Night
talk show,
Saturday Night Live
alum Jimmy Fallon officially got the gig Monday.
He's the hand-picked choice of
SNL
creator Lorne Michaels, who also tabbed a then virtually unknown O'Brien to replace David Letterman when he jumped to CBS in 1993.
"When you're good at it, it's the last job you'll ever have," Fallon said at a Manhattan press conference also made available to TV critics across the country. "You started my career. You might as well end it," he then told Michaels.
"NBC has identified the last piece in its late night succession plan," the network said in its official news release. But plenty of uncertainty remains.
It's been nearly five years since NBC announced that O'Brien would replace Jay Leno as
Tonight Show
host in 2009. But the exact takeover date is still up in the air, as is Fallon's debut on
Late Night
. Meanwhile, NBC still wants to somehow keep Leno on its team, although what the Peacock could offer him remains a puzzlement.
It's far more likely that Leno will join a rival network in hopes of re-dominating the late night ratings. He continues to beat Letterman by a substantial margin in most weeks, and the winning streak continued during the recent writers' strike. That was an impressive feat, considering that Letterman's show made a separate agreement that allowed him to book big name guests while Leno persevered without his writers and with little star power.
Fallon, 33, joined
SNL
in 1998 and became best-known for co-anchoring the show's
Weekend Update
segment with Tina Fey before leaving in 2006. He's since had a less than successful feature film career.
"It's going to be a grind," Fallon said of his return to a familiar building -- NBC's famed "30 Rock" studios -- but in an unfamiliar setting. His only previous talk show hosting experience came when he guest-hosted CBS'
Late Show with David Letterman
in 2003 while the incumbent recuperated from heart bypass surgery.
"It's one of the best opportunities you could ever get . . . I want it to happen tomorrow," Fallon said. "I can't wait. I've been doing monologues in my living room for the past three years."
For now, though, "it's just kind of surreal," he said.
Michaels said the challenge for any television show, particularly in late night, is to lure younger viewers away from their computers.
"The enemy," he said, isn't rival networks, but
Guitar Hero
and other diversions.
Fallon likely will take over
Late Night
sometime within the first six months of 2009, NBC executives said. The duration of his deal wasn't disclosed, but Fallon joked, "I have the same contract as Willard Scott -- 150 years."
***
NBC also announced Monday that it's getting into business with Ryan Seacrest.
The ubiquitous
American Idol
host and E! network personality will be co-executive producing the reality series
Are You a Momma's Boy?
, set to premiere "on the heels" of NBC's August presentation of the summer Olympics in Beijing.
The Peacock says that "tension mounts" when moms and their eligible bachelor sons are housed together with several potential brides. "The women will first have to get by mom," NBC says.
Seacrest says he's a "true momma's boy" who always wonders whether his own mother will approve of his professional and personal decisions.
"She is the most important woman in my life and she is never short of opinions," he says.
Somewhere Simon Cowell is laughing uproariously.