Starz's Power mixes/matches New York's club/drug scene
06/06/14 10:19 AM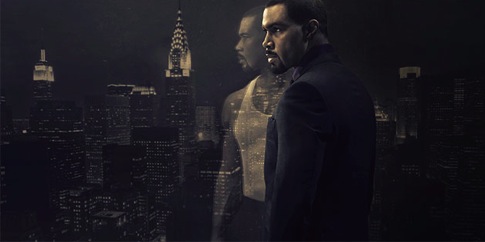 Omar Hardwick stars as drug runner/club owner in Power. Starz photo
Premiering:
Saturday, June 7th at 8 p.m. (central) on Starz
Starring:
Omar Hardwick, Lela Loren, Naturi Naughton, Enrique Murciano, Joseph Sikora, Donshea Hopkins, Michael Rainey Jr.
Produced by:
Curtis "50 Cent" Jackson, Courtney Kemp Agboh, David Knoller, Randall Emmett, Mark Canton
By ED BARK
@unclebarkycom on Twitter
Credit rapper and latter day TV producer Curtis "50 Cent" Jackson with making at least one successful pitch -- to Starz executives.
Billed by the network as a "visionary crime drama set in two different worlds,"
Power
premieres two weeks after 50 Cent threw his now
famously errant ceremonial first pitch
at a Mets-Pirates game. The video has gone viral with more than two million views. If
Power
's Saturday night launch does those kinds of numbers, then 50 Cent and Starz have themselves a hit.
The series revolves around dapper, debonair James "Ghost" St. Patrick (Omari Hardwick), owner of Manhattan's hot, customer-gouging Truth nightspot. But Ghost still makes most of his money working outside of the public eye as the New York drug distributor for demanding Mexican cartel kingpin Felipe Lobos (Enrique Murciano).
"Got a lotta shit on my plate at the moment," Ghost says succinctly.
Ghost is also a family man. He and his wife, Tasha (Naturi Naughton), have two kids and of course live very comfortably. The difference here is that Tasha is very much aware of her husband's lucrative side business and very much wants him to continue with it rather than go "legit." Not that Ghost seems all that intent on just being a club owner. In an early scene, he cold-bloodedly murders a Mexican drug shipment thief and is rather easily swayed to the dark side by his longtime, trigger-happy running mate, Tommy Egan (Joseph Sikora).
The other principal character is Angela Valdez (Lela Loren), an old high school flame whom Ghost instantly recognizes from afar at his club despite having not seen her for 18 years. He still hasn't gotten over her. And Tasha is immediately suspicious of this when she sees them embrace at Truth before he obtains Angela's phone number. She responds as any jealous woman would -- by leaving in a huff and then seductively pleasuring herself in full view of the St. Patricks' limo driver.
Anti-heroes are commonplace in today's television world. Still, it might be tough to develop any kind of empathy for Ghost, even if he's better looking and perhaps a smidge more honorable than the drug lord who's been paying him handsomely and fully expects business to continue as usual after an abrupt disruption.
Meanwhile, Angela Valdez not so surprisingly turns out to be a key member of the task force going hard after the drug cartel. She's unaware of Ghost's secret life yet, but does know his position exists. "This problem between Lobos and his local guy is exactly what we need to exploit . . . We can give him a way out but only if he decides to take it," she tells the task force.
So there you have it.
Power
has some pull, but maybe not enough to win a tug of war. Its overall pacing could use a perk-up and its portrayals of minorities (who twice drop the n-word) might take more heat if 50 Cent wasn't both calling the shots and rapping a theme song that includes the lyric, "I'm an undercover liar. I lie under the covers."
Starz so far has ordered eight episodes of
Power
from CBS Television Studios. It's a rare blast from the present on a still formative network whose most successful series --
Spartacus, Da Vinci's Demons
-- have embraced the distant past. In the here and now, though, ye olde bacchanal still very much exists.
"More champagne, more vodka, more everything," Mrs. Ghost commands upon arrival at the Truth club. Preferably in goblets.
GRADE:
C+
Email comments or questions to:
unclebarky@verizon.net