NBC's New Amsterdam needs a few injections
09/24/18 04:31 PM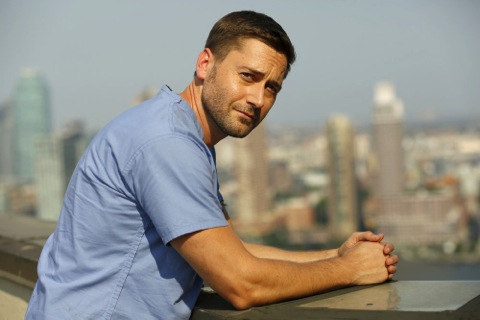 Ryan Eggold stars as TV's latest Dr. Do Too Much. NBC photo
Premiering:
Tuesday, Sept. 25th at 9 p.m. (central) on NBC
Starring:
Ryan Eggold, Freema Agyeman, Janet Montgomery, Jocko Sims, Anupam Kher, Tyler Labine
Produced by:
David Schulner, Peter Horton
By ED BARK
@unclebarkycom on Twitter
Another medical show is getting a shot in times when this enduring TV genre lately has amped up its vital signs again.
ABC's
The Good Doctor
and Fox's
The Resident
were instant hits last season while ABC's
Grey''s Anatomy
shows no signs of ceasing operations and will begin Season 15 later this week. Add the Fox mashup
9-1-1
, which also has saving lives at its core and returned Sunday night with series high numbers for its Season Two launch.
NBC's
New Amsterdam
arrives Tuesday, Sept. 25th on the network which once had the biggest hospital drama hit of all in
ER
. The lead practitioner, Dr. Max Goodwin (Ryan Eggold from the Peacock's quickly canceled
The Blacklist: Redemption
), is all about doing good at all costs, but has an aversion to billing patients. He's the new medical director at New York City's New Amsterdam public hospital, which is modeled after Bellevue (the original working title of this series).
For openers, Goodwin bounds out of bed to the tune of James Brown's "I Got You (I Feel Good)." It's his first day in this new position, and we soon learn that his tagline is "How Can I Help?" He also speaks fluent Spanish and vows to terminate any staffers who value billing over patient care. This turns out to be the entire cardiac department before Goodwin later relents and un-fires Dr. Floyd Reynolds (Jocko Sims), an African-American graduate of Yale med school.
The diverse cast also includes tart-tongued Dr. Laura Bloom (Janet Montgomery), who works in the emergency room and has had a budding intimate relationship with Dr. Reynolds before he tells her it can't work "because you're not black."
Dr. Hana Sharpe (Freema Agyeman), who is black, view herself as primarily a celebrity ambassador for the hospital rather than a hands-on participant with its patients. She first meets Goodwin while en route to an appearance on -- product placement -- Megyn Kelly's show and says she'll also be doing Ellen, Oprah and "anyone else powerful enough" to be known by just their first name. Goodwin doesn't like her style and says so -- but in a courteous manner. This is a guy who knows what he wants, but doesn't get in your face about it. Gregory House he's not.
The principal cast is rounded out by Dr. Iggy Frome (Tyler Labine), the almost painfully empathetic head of New Amsterdam's psychiatric unit, and Dr. Anil Kapoor (Anupam Kher), who's middle-aged, bald and wizened.
NBC made the first two episodes available for review, and they're also populated by patients ranging from a black boy from Liberia who shows symptoms of Ebola to a high-strung young woman in Frome's care to a kid who's been overly medicated after a violent incident at his school. There's also Goodwin himself, who's invariably too busy to address his life-threatening issue. "You better find time before you run out of it," Dr. Sharpe tells him.
There's another character in Goodwin's life, but it's probably best to let viewers discover that on their own.
New Amsterdam
tends to rather tidily resolve all of its patient crises in these first two episodes. It also can get treacly at times, particularly when Coldplay's "Fix You" hovers over the closing minutes of the premiere hour. The long-term diagnosis is iffy at best, with the main characters and their cases coming off as not that special or interesting. Some creative surgery is needed, lest
New Amsterdam
risk expiring prematurely on its own operating table.
GRADE:
C+
Email comments or questions to:
unclebarky@verizon.net