Some plain truths in HBO's My Dinner with Herve about the guy who briefly soared to fame on "De plane! De plane!"
10/19/18 09:42 AM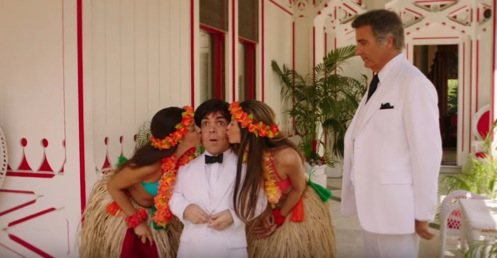 Herve Villechaize (Peter Dinklage) gets double-teamed on Fantasy Island while Ricardo Montalban (Andy Garcia) observes. HBO photo
By ED BARK
@unclebarkycom on Twitter
First let's get this out of the way -- and quickly.
Those who have accused HBO and Peter Dinklage of "whitewashing" the role of Herve Villechaize are at best uninformed idiots. They're under the assumption that the late co-star of
Fantasy Island
was Filipino. He wasn't. Villechaize, a native of Paris, had an English-born mother and a French-born father. Perhaps he "looked" Filipino in the eyes of those who still wear blinders when presented with the actual facts. Unfortunately, there's a lot of that going around these days.
Dinklage, best known for his Emmy-winning portrayal of Tyrion Lannister in HBO's
Game of Throne
, turns out to be pretty terrific in
My Dinner with Herve
, which premieres
Saturday, Oct. 20th at 7 p.m. (central)
. He's joined by Jamie Dornan as journalist Danny Tate, a pseudonym for the film's director and writer, Sacha Gervasi. For the record, Dinklage is a native of New Jersey, and not English, as some might perceive. Dornan is playing a Brit, but in fact is of Irish descent. Actors and their heritages for $100, Alex.
Replete with flashbacks,
Dinner with Herve
otherwise is set in Los Angeles, circa 1993. Tate, who's been clean and sober for 30 days after his latest bout with the bottle, gets a redemptive chance to interview author/personality Gore Vidal under the proviso that his piece be a cover story hatchet job. But before that, his thoroughly unlikeable editor, played by Harriet Walker, orders him to also write a throwaway 500-word piece about Villechaize on the 20th anniversary of the James Bond film
The Man with the Golden Gun
. Villechaize first came to fame as the henchman Nick Nack opposite Roger Moore's Bond before getting the star-making role of Tattoo on ABC's
Fantasy Island
.
Tate makes the mistake of interviewing Villechaize first -- and taking too much time to do so. He's thereby a bit late for his meeting with the thoroughly punctual Vidal, who walks out on him. Back at his hotel, a despondent Tate gets a middle of the night call from Villechaize, who isn't nearly done talking. Unable to sleep, he agrees to be picked up in five minutes, with Villechaize arriving in a white limo and wearing a purple "Bionic Midget" t shirt. He very publicly insisted on this derogatory term instead of dwarf. And yes, it's going to be quite a ride for both of the film's protagonists.
Villechaize tells Tate his life story from birth to what turned out to be his apparently planned suicide after the reporter documented it all. It's the saga of a kid shunned as a freak by his mother after his doting father tried in vain to induce a growth spurt through various treatments. A painter of some acclaim in his early years, Villechaize eventually makes his way to New York City and learns English by watching old John Wayne westerns,
Gilligan's Island
, etc.
His big break comes, at least as depicted in the movie, after a knife-wielding Villechaize barges into the office of William Morris Agency heavyweight Marty Rothstein (David Strathairn) and makes quite a scene within the scene he's acting out while the agent reaches for his desk drawer pistol. This rather suddenly leads to the Bond movie and little else for the next several years. Villechaize is living out of his car when Rothstein tells him he's going to be playing Tattoo to Montalban's (Andy Garcia) Mr. Roarke on hitmaker Aaron Spelling's (Wallace Langham)
Fantasy Island
.
Those of a certain vintage remember how big "De plane! De plane!" became in the history of indelible TV tag lines. Instantly rich, Villechaize fully indulges his appetites for food, booze and strip clubs while also coming to believe that "without me, there is no show." Montalban, portrayed as alternately vain and somewhat sympathetic, draws a line by both cutting Villechaize's lines and rebuffing his co-star's demands for equal pay.
"Perhaps there's another little man," he tells Spelling after both get on the same page regarding Villechaize's
Fantasy Island
future. Instead the tallish Christopher Hewett was cast in the final year of the show before making a bigger mark in the ABC sitcom
Mr. Belvedere
.
Dinner with Herve
also has a solid supporting role for Mireille Enos as Villechaize's good-hearted wardrobe assistant and eventual best friend after a marriage to starlet Camille Hagen (Ashleigh Brewer) quickly runs asunder. After all of those grimly unsmiling years on AMC's
The Killing
, it's good to see Enos finally brighten up while portraying the selfless Kathy Self.
Villechaize never rebounded from his
Fantasy Island
firing. He lived out the rest of his years in public denial of his self-destructive behavior. But
Dinner with Herve
affords him closure while Tate also comes to the self-realization that his marriage is over and he's entirely to blame for that. Their final scenes together are affecting and earned, even if the film sometimes moves too fast in its re-telling of Villechaize's past.
Dinklage excels in a very difficult role to pull off while Dornan keeps pace as his reluctant Boswell. Their love story, so to speak, is both an entertaining romp and a cautionary tale about a rocket ride to fame and the abundant excesses and afflictions that often are part and parcel. Villechaize did not die a happy man. But he also lived beyond his wildest dreams.
"You tell them I regret nothing," he softly/firmly tells Tate before they part ways. It's a scene that sticks and resonates -- and remains open to interpretation.
GRADE:
B+
Email comments or questions to:
unclebarky@verizon.net