Touched by ABC's Kevin (Probably) Saves the World
10/03/17 11:57 AM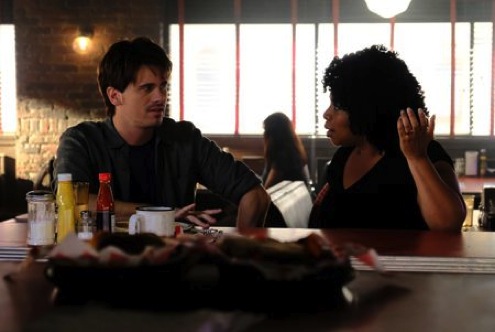 He's no angel & she is in Kevin (Probably) Saves the World. ABC photo
Premiering:
Tuesday, Oct. 3rd at 9 p.m. (central) on ABC
Starring:
Jason Ritter, Kimberly Hebert Gregory, JoAnna Garcia Swisher, Chloe East, J. August Richards, Dustin Ybarra, India de Beaufort
Produced by:
Michele Fazekas, Tara Butters
By ED BARK
@unclebarkycom on Twitter
Given all the tragedies at hand, none among us should object to what's essentially a remake of
Touched By An Angel
.
So rather than solve more heinous crimes or ramp up another backstabbing, scandal-ridden prime-time soap, ABC has a peace offering called
Kevin (Probably) Saves the World
, retitled from the originally announced
The Gospel of Kevin
.
A God-invoking, tough loving Earth angel remains very much a constant, though. Her name is Yvette (Kimberly Hebert Gregory) and she's determined to mold the wayward Kevin (Jason Ritter) into a strong-willed purveyor of good deeds and high hopes.
Ground Zero is Taylor, Texas, a real-life little city located a short drive from Austin. Kevin's recently widowed twin sister, Amy (JoAnna Garcia Swisher), lives in a rural setting there with her daughter, Reese (Chloe East), who's shut down emotionally after dad's death. Kevin, with nowhere else to go at the moment, comes calling after trying to commit suicide and then busting up with his girlfriend. It's going to be all about lost and found, even if not all of the pieces neatly fit together in the Tuesday, Oct. 3rd premiere episode. That's because
Saves the World
has been "reworked" since the pilot was filmed.
It all re-begins for Kevin after a meteor strikes in the dead of night shortly after Amy's been picked up by a chopper. She has something of a secret identity and mission that won't be fully revealed here. But it has to do with 35 worldwide meteor landings in a single day -- and whether this poses a clear and present danger.
While she's away, Kevin and Reese head off to where the meteor struck Texas and discover a huge hole in the ground plus a glowing space rock of some sort. He touches it, gets hurtled high into the air and hears the words "Transform yourself" from somewhere on high. It doesn't take long before Yvette, who only Kevin can see, pops up in the kitchen the next morning. "Haven't you always felt that you had a higher purpose, that you were meant for something greater?" she asks before informing Kevin that he's the only "righteous soul" remaining out of 36 while she's a bonafide "messenger from God."
Let's pause briefly to note that Taylor, Texas is in Williamson County, as you'll eventually see emblazoned on the side of a police car. And that the creator of
Touched By An Angel
, which ran for nine seasons on CBS before ending in 2003, is none other than Martha Williamson. She's otherwise not involved at all with this series. Unless you believe in extreme coincidences, though, this is
Saves the World
's way of paying homage to her.
Yvette also can be seen as a stand-in for Della Reese's supervising angel Tess from
Touched
. Both are/were saucy African-American women with little patience for nonsense. "Pull your head out of your ass. We've got work to do," Yvette barks in the face of Kevin's befuddlement. She's stuck with him, though, because "coming here was a one-way ticket. I gave up paradise for you."
Supporting characters include deputy sheriff Nathan Purcell (J. August Richards) and high school history teacher Kristin Allen (India de Beaufort), both of whom respectively had "things" for Amy and Kevin during their days as classmates. There's also a diner employee named Tyler (Dustin Ybarra), who's big-bearded and seemingly hapless. None of the three get much to do in the premise-setting premiere episode.
Ritter brings solid appeal to the title role while Herbert Gregory has a strong grip on her "warrior for God." Even so,
Saves the World
can be overly goofy at times and remains murky in terms of just what Kevin represents or is supposed to do as "the last of the righteous."
Whatever the potholes in the plot,
Saves the World
commendably aspires to be bracing and uplifting in times when a second coming of
Touched By An Angel
might just do a world of good. CBS, for one, has a re-do of
S.W.A.T.
coming in early November. In that context -- and in this very troubled world -- I'll side with the angels any time.
GRADE:
B
Email comments or questions to:
unclebarky@verizon.net