BBC America's The Musketeers breathes new life into timeless swordsmen
06/20/14 10:59 AM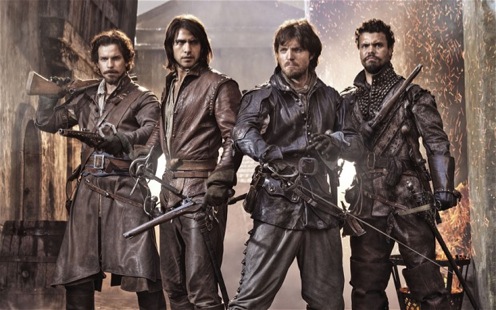 Swash your buckles. Or perhaps buckle your swashes. They're back.
BBC America photo
Premiering:
Sunday, June 22nd at 8 p.m. (central) on BBC America
Starring:
Santiago Cabrera, Luke Pasqualino, Tom Burke, Howard Charles, Tamla Kari, Hugo Speer, Peter Capaldi, Maimi McCoy, Ryan Gage, Alexandra Dowling
Produced by:
Adrian Hughes, Jessica Pope
By ED BARK
@unclebarkycom on Twitter
Charlie Sheen and Kiefer Sutherland respectively were Aramis and Athos. In an earlier big-screen era, so were Richard Chamberlain and Oliver Reed.
The Three Musketeers are never too far from another adaptation. Although in this case, they're simply
The Musketeers
in a lively and sometimes very serious-minded 10-episode series premiering Sunday, June 22nd on BBC America. A second season already has been ordered.
Set in 17th century France but filmed in the Czech Republic,
The Musketeers
has everything one would expect from Aramis (Santiago Cabrera), Athos (Tom Burke looking very much like a young Stacy Keach), Porthos (Howard Charles) and apprentice Musketeer D'Artagnan (Luke Pasqualino).
Sword fighting is plentiful and well-choreographed.
Bonhomie
is also on the menu, as are an array of comely women with bursting-to-get-out bosoms. Subterfuge figures heavily into storylines, with few things quite as they seem. All in all, Alexandre Dumas likely would approve of this latest incarnation while also lamenting his continued inability to collect any royalties for the characters he first brought to life in 1844.
BBC America sent the first four episodes for review. They sequentially get better and deeper, with the tragic back stories of Athos and Aramis fueling hours three and four.
The opening hour begins with D'Artagnan and his father riding to Paris on a miserably rainy day. Dad is murdered by a band of masked intruders after they seek shelter from the storm. His last word is "Athos," which sends D-Artagnan on a mission of revenge. Athos didn't do it, of course, because that's not how he rolls.
Aramis is the resident ladies' man among the Musketeers. But D'Artagnan's soulful eyes and cute puppy dog looks likewise are a magnet for both the scheming "Milady" (Maimie McCoy) and the virtuous but plucky Constance Bonacieux (Tamla Kari), who rents a room to him. She's not about to betray her distasteful husband, who is often away on business. Well, not yet at least. But the attraction to D'Artagnan blooms and grows. By Episode 4 he's teaching her how to shoot a pistol and handle a sword while remaining a tenant.
Musketeers
does a very nice job with their increasingly intimate scenes together.
Episode 2 is the quippiest of the four. It includes an opening sequence in which D'Artagnan is fleeing a batch of pursuing horsemen on foot while Aramis wryly tells Athos and Porthos, "He knows the Musketeer motto. Every man for himself." Don't worry. They're still very much "all for one and one for all" at crunch times.
Aramis and Porthos also trade nifty one-liners.
"You're a terrible judge of character -- especially when you're sober," Porthos is informed. He doesn't disagree.
Later in the hour, a smitten Queen Anne (Alexandra Dowling) looks longingly at Aramis after he saves her from a band of attackers.
"You know you were giving her 'The Stare,' " Porthos tells him. He doesn't disagree.
A whore also has Aramis in her sights. "Anytime you want your sword polished, handsome, just let me know," she purrs. No wonder they eventually named a
cologne
after him.
The Musketeers
also is populated by the weak-ish King Louis XIII (Ryan Gage), the middle-aged Musketeer Captain Treville (Hugo Speer) and diabolical Cardinal Richelieu (Peter Capaldi). (The latter actor subsequently nabbed the part of the 12th Dr. Who, forcing the producers to write Richelieu out in Season 2. He'll be replaced by Marc Warren as Comte de Rochefort.)
Many a man dies or is wounded during the first four episodes. But the killing is all but bloodless, save for a few trickles here and there. In Episode 2,
The Musketeers
also deploys the timeless dynamite fuse gambit, with D'Artagnan shackled in serious harm's way with 15 minutes to live before an explosion blows him to bits. Hmm, wonder if he'll escape.
Some of the plot machinations are more than a little far-fetched. But none are fatal to the overall thrust of a series that turns out to be much more than a series of romps and flirtations. Episode 3 deals with the issue of slavery while also fleshing out Athos' previously secret life. Episode 4 details how Aramis survived a Musketeer massacre five years earlier.
BBC America publicity materials say this all will come to a boil in Season 1's climactic Episode 10. "Can the Musketeers restore their team and bring Milady and the Cardinal to justice?" the network asks. "Or will Milady finally wreak her revenge?"
I think we know those answers. But how about this? Will the makers of Three Musketeers candy bars be savvy enough to buy commercials during the run of Season One?
They've always been my favorite anyway.
GRADE:
B
Email comments or questions to:
unclebarky@verizon.net