Breaking In goes from locked out to last call on Fox's new comedy Tuesday
03/05/12 12:21 PM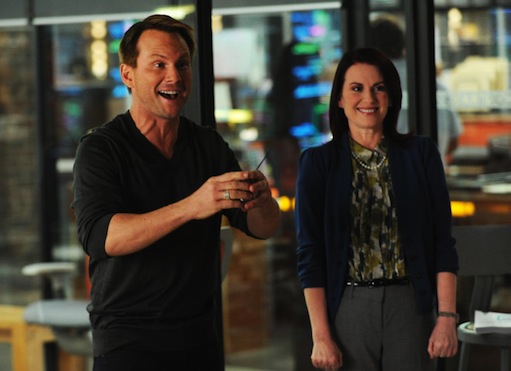 Megan Mullally & Christian Slater in retooled Breaking In. Fox photo
By ED BARK
Uncanceled by the same network that exhumed
Family Guy
, Fox's
Breaking In
likely will be out of options if it doesn't perform as the caboose on a place-holding comedy Tuesday.
While
Glee
takes its latest winter/spring break -- with an April 10th return scheduled -- Fox is filling the night with a quartet of incumbent and returning sitcoms, starting on March 6th.
Raising Hope
becomes Tuesday's new lead-off hitter, moving all the way up from 8:30 p.m. (central). Following in order are the return of
I Hate My Teenage Daughter, New Girl
(the only comedy to stay in place) and
Breaking In
.
Your friendly content provider gave the latter series
a Grade of F
when it first appeared on April 6th of last season. Fox eventually dropped
Breaking In
in mid-May when it announced its 2011-12 programming plans. Then came second thoughts, which certainly proved to be wise in the case of
Family Guy
. But this isn't likely to be an instance of lightening striking twice, even with the addition of Megan Mullally as the new head of Contra Security.
There are signs of improvement, though, even if Mullally tends to over-do it in the "brash and bold" department while holdover Christian Slater remains in place as the downgraded former head dude known only as Oz.
"Greetings and salutations," he says for openers while blowing smoke from a stogie. "I'm happy to see you finally came to your senses and gave us another shot."
He's talking to a former client who's back in the Contra fold while also giving a shout-out to Fox and any viewers who might be back on board.
Mullally, whose career has experienced some downhill sledding since
Will & Grace
, looks fit and ready to go in this new very broad role. Her Veronica Mann at first is undercover as Contra's new "sassy receptionist." But she's really part of Optimal Consumer Products, a far-flung corporate conglomerate specializing in takeovers. OCP swoops in after Oz finds that his lavish lifestyle has left him broke.
Breaking In
's three principal young break-in specialists -- Cam, Cash and Melanie -- all return to this revamp, as do the actors playing them -- Bret Harrison, Alphonso McCauley and Odette Annable.
But Annable is dubbed a "guest star" in Fox publicity materials, so perhaps some of her screen time is being forfeited to Erin Richards as Veronica's cat-cradling British assistant, Molly. She's billed as a new series regular. There's also Contra underling "Creepy Carol" (Jennifer Irwin), who's said to "smell like soup." Which means that everyone's cruel to her in ways that seem pretty unseemly.
Tuesday's first episode of the revamped
Breaking In
is mostly shorn of its predecessor's constant headache-inducing jump-cuts. This helps on a journey from
Breaking
really bad to
Breaking
not as bad -- with apologies to AMC's
Breaking Bad
.
Mullally's presence both bolsters and afflicts her first episode. At times she and the writers seem to be trying way too hard. At other times she hits the mark, with Cash fretting about Veronica "givin' me a fear boner."
It's still hard to envision
Breaking In
as anything close to a long-distance runner. But for now it's back from the dead -- and not as deadly as its last time around.
GRADE:
C