Ampersands unite with returns of TNT's Rizzoli & Isles, Franklin & Bash
06/04/12 03:49 PM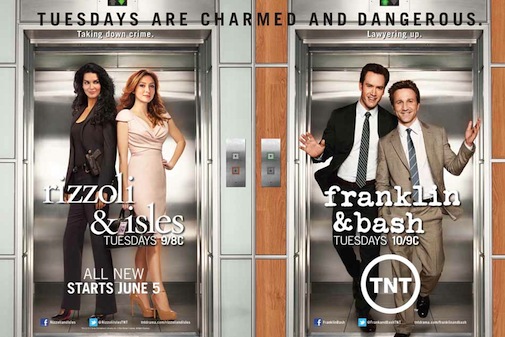 By ED BARK
@unclebarkycom
Ampersand Tuesdays are coming to TNT with the June 5th returns of
Rizzoli & Isles
(not an entree at Olive Garden) and
Franklin & Bash
(not a heavy metal band).
For those who haven't yet met them, Jane Rizzoli and Maura Isles are Boston-based murder mystery solvers while Jared Franklin and Peter Bash are fun-loving L.A. lawyer dudes. You could do worse than while away a summer night with them. Neither series is in the upper echelon of quality TV dramas but both are driven by interesting lead characters and nicely drizzled with familiar-faced guest stars and recurring characters.
Rizzoli & Isles
, firing up its third season at 8 p.m. (central), is paced by Dallas-born Angie Harmon's hard-bitten, scratchy-voiced detective Rizzoli. Isles (Sasha Alexander), her medical examiner pal, is girlier and snootier. It all makes for weekly doses of "offbeat chemistry," as they say in the biz and as TNT says in publicity materials.
They're on the outs, however, as Season 3 begins. During an undercover sting at the close of Season 2, Rizzoli shot an Irish mob boss named Paddy Doyle (John Doman), who turned out to be Isles' biological dad. Isles is miffed and Rizzoli worries that their friendship could be broken.
"You guys'll make up," assures her veteran street partner, Sgt. Vince Korsak (Bruce McGill).
"Yeah, that's what they said about The Beatles," Rizzoli retorts.
This is also the series where it's still hard to get used to Lorraine Bracco (of Dr. Jennifer Melfi fame on
The Sopranos
) in the recurring role of Rizzoli's matronly mother, Angela. She's a tongue-wagging compulsive hugger whose less than smooth relationship with her daughter is both grin-worthy and cringe-worthy. Small on-screen doses would be best for all concerned but Tuesday's episode instead heaps on their scenes together.
Also dropping in and out are the likes of Ed Begley Jr., Jacqueline Bisset (as a barely recognizable, beaten-up hospital patient) and Alan Rachins, formerly a key player on
L.A. Law
. The episode, in addition to the Rizzoli/Isles falling out, blends an internal affairs investigation with a convenience store shooting that leaves a clerk and a cop dead. It's strictly so-so stuff, but Harmon still merits your attendance. Even when she's required to say, "Oh, for the love of Pete."
Franklin & Bash
(9 p.m. central) is appreciably lighter in tone, with the always employed Mark-Paul Gosselaar (as Bash) teaming with co-star Breckin Meyer for more courtroom hijinks spiced with nimble banter and occasional soul-searching.
Malcolm McDowell likewise is back in play as the hard-driving Stanton Infeld, whose high-dollar Infeld-Daniels law firm is dangling an offer of full partnerships for both Franklin and Bash.
"More power, more money, more everything," he reasons. But there will be prices to pay -- both hidden and otherwise.
Tuesday's lively Season 2 return also includes an opening speck of Martin Mull as a judge. Kevin Nealon also drops in -- for longer and to better effect -- as a beverage company magnate whom the boys are ordered to woo as a client in order to enhance their chances to become Infeld partners.
Next week's episode will include a guest shot by Jane Seymour as Bash's meddling mom, Colleen. Her first meddle concerns son Peter's budding romantic relationship with a cop (played by Kat Foster), who first shows up Tuesday night as a courtroom adversary.
Franklin & Bash
is a welcome summer breeze with agreeable lead actors who both look as though they're having the times of their lives.
Rizzoli & Isles
has a big plus in Harmon, who ably fights her way through hit-and-miss story lines.
TNT's decision to team the two shows on Tuesdays, with
Rizzoli & Isles
moving from Mondays, gives the network a nice new summer season duo while also getting its only pair of ampersands together.