Grammys go long, stay on track
02/11/07 11:33 PM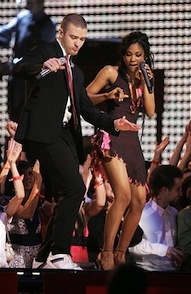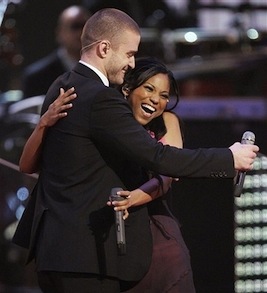 Trouper Robyn Troup, 18, of Houston, has her "My Grammy Moment" with Justin Timberlake and without any wardrobe malfunctions.
By ED BARK
Television's best and brightest awards show takes the longest time to hand out the least hardware.
That would be Sunday night's performance-rich 49th annual Grammys on CBS, where just 11 acceptance speeches were made in three-and-a-half hours. Now that's entertainment. And you can always go
here
to revisit all those other winners whose names flashed briefly on the bottoms of home screens.
The show went on and on without becoming a drag. It helps not to have a wisecracking host when you have so many recording artists willing to promenade before their peers. The Grammys are the place to play your hardest, whether you're Chris Brown ramping it way up for "Run It" or The Police reuniting at show's start for a rousing "Roxanne."
The politically charged Dixie Chicks officially were the night's biggest victors, taking home four of Grammy's on-camera awards while also performing "Not Ready to Make Nice." But 18-year-old Robyn Troup of Houston may have gained the most by winning the show's
American Idol
-esque "My Grammy Moment" contest. It launched her onstage to confidently sing "Ain't No Sunshine" and "My Love" with Justin Timberlake. So how did
Idol
miss this kid?
This was a night when even Lionel Richie sounded damn fine singing one of his old chestnuts, "Hello." Then Christina Aguilera tore it up with James Brown's "It's A Man's World."
Mary J. Blige had her pipes smokin' again while John Legend, John Mayer and newcomer Corinne Bailey Rae were terrific both together and apart.
OK, you're getting all this from a lowly TV critic whose musical expertise isn't what brought me to this party. But the Grammys definitely have come a long way since being threatened by Dick Clark's made-for-TV American Music Awards. They're now far more in touch, in tune and invigorating from a performance standpoint.
Anybody wanna give me an earful on that?