Patsy Cline gets an overdue American Masters tribute
03/07/17 12:01 PM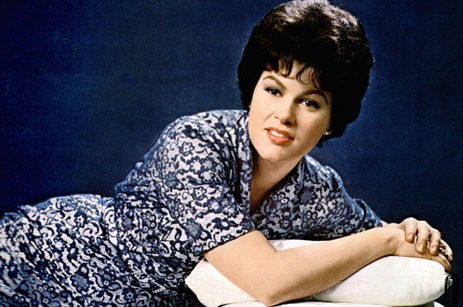 By ED BARK
@unclebarkycom on Twitter
The
American Masters'
appreciation of Patsy Cline brings to mind an all too lengthy list of music stars whose careers were cut short by fatal airplane or helicopter crashes.
Otis Redding. Buddy Holly. Rick Nelson. Stevie Ray Vaughn. John Denver. The Big Bopper. Richie Valens. Lynyrd Skynyrd members Ronnie Van Zant and Steve Gaines. Jim Croce.
Cline met that fate on March 5, 1963 after performing in a benefit concert for the family of deceased disc jockey "Cactus" Jack Call. At age 30 she was just getting started, but had recorded timeless hits such as "Crazy, I Fall to Pieces," and "Walkin' After Midnight." Another chart-topper, "Sweet Dreams," was released after her death.
Narrated by Roseanne Cash, the one-hour
American Masters
presentation (
Wednesday, March 8th at 7 p.m. on KERA13 in Dallas
) fittingly is being paired with another reprise of
Roy Orbison: A Black and White Night
during the PBS station's latest pledge drive. Both had soaring, piercing and inimitable voices. One could feel their hearts breaking -- or so it seemed -- while they wailed their most memorable ballads. "I fall to pieces each time I see you again. I fall to pieces. How can I just be your friend?"
Cline's life is recalled in straightforward, workmanlike fashion. The title is simply
Patsy Cline
without any further add-on. What's surprising is the ample footage available of her television performances, several of which are replayed at considerable length. This somewhat compensates for the absence of even a single recorded Q & A with the woman born Virginia Patterson Hensley.
Reba McEntire, who contributes a new interview, chortles after saying, "Her voice was strong. Her attitude was strong. And I wouldn't want to go against her in any way."
Cline was married twice, briefly to contractor Gerald Cline and then, until her death, to linotype operator Charlie Dick, who died in 2015 and is seen frequently in an archival interview.
The 1985 feature film,
Sweet Dreams
, controversially depicted their marriage as abusive, mostly on his part. Dick, played by Ed Harris in the movie, labeled it "fiction" at the time. Jessica Lange received an Oscar nomination as Cline. And in a clip shown in the
American Masters
bio, the late Jerry Haynes (longtime star of Dallas-based WFAA8's
Mr. Peppermint
children's show), can be seen in the role of Cline's record producer, Owen Bradley.
Lange doesn't participate in the PBS film. Willie Nelson, who wrote
Crazy
for Cline, is seen only briefly in archival footage.
She first came to national prominence on a 1957 edition of TV's
Arthur Godfrey's Talent Scouts
, which was hugely influential at the time as a primitive prelude of sorts to
American Idol
. Cline's mother, Hilda, introduced her to Godfrey without identifying herself as such. She then performed "Walkin' After Midnight" and received a big ovation from the audience before Godfrey stepped in to tell her, "Don't go away, Patsy, honey. You done won this."
But a restrictive contract with 4 Star Records, which paid her pennies on the dollar and stuck Cline with a series of mostly junk songs, kept her from flourishing until she finally completed her obligations. Bradley and her new agent, Randy Hughes, then helped to take her to the top.
A serious 1961 car wreck put Cline in the hospital for a month just as "I Fall to Pieces" hit it big. Then came "Crazy." And who knows how many other hits would have followed had she not boarded that plane with Hughes as its pilot? It crashed in bad weather while they were en route to her home in Nashville.
Cline became a star in times when women struggled to gain footholds in a recording industry dominated by male powerbrokers.
Patsy Cline
portrays her as both independent-minded and also insecure in breaking away from the traditional country music mold and those cowgirl outfits her mother used to make for her early stage performances.
In 1973, Cline became the first solo woman artist to be inducted into the Country Music Hall of Fame. Her most enduring songs have been covered by the likes of LeAnn Rimes, Mickey Guyton and Rhiannon Giddens, all of whom newly extoll her in the
American Masters
film.
In the end -- and it's certainly a tragic end --
Patsy Cline
is a serviceable but not particularly exceptional presentation. It seems that she'll always be an artist who deserved and still deserves better. But at least she's finally on the
American Masters
map -- some 54 years after she had only just begun.
GRADE:
B+
Email comments or questions to:
unclebarky@verizon.net