Eva Longoria's in fine form in a funny forum on NBC's Telenovela
12/04/15 01:35 PM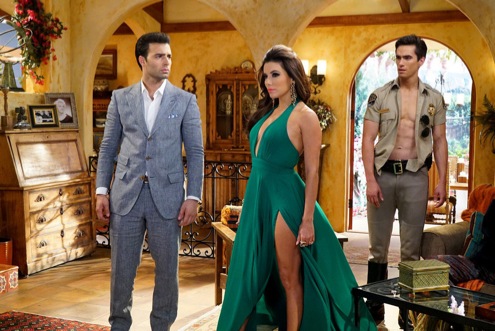 Dressing the part: Eva Longoria in Telenovela. NBC photo
Premiering:
Sneak-previewing with back-to-back episodes on Monday, Dec. 7th at 9 p.m. (central) on NBC before returning on Monday, Jan. 4th
Starring:
Eva Longoria, Jencarlos Canela, Diana Maria Riva, Amaury Nolasco, Jose Moreno Brooks, Alex Meneses, Jaclyn Douglas, Izzy Diaz
Produced by:
Eva Longoria, Chrissy Pietrosh, Jessica Goldstein, Ben Spector, Josh Bycel, Jonathan Fener
By ED BARK
@unclebarkycom on Twitter
Eva Longoria still looks fabulous, as do her many-splendored outfits in NBC's intendedly over-the-top
Telenovela
.
The show also wears well, with Longoria vigorously in the forefront and a solid supporting cast led by scene-stealers Diana Maria Riva and Alex Meneses. NBC made four episodes available for review, with two of them being sneak-previewed on Monday, Dec. 7th following
The Voice
before
Telenovela
disappears until Jan. 4th. The Peacock used the same method of attack on Nov. 30th with the notably inferior
Superstore
, which will be paired with
Telenovela
when both return.
Longoria, who remains off-camera as a co-executive producer of Lifetime's
Devious Maids
, struts her star quality in
Telenovela
as Vivavision Spanish language soap star Ana Sofia Calderon. It's her first full-time TV series stint since
Desperate Housewives
left ABC in 2012. And Longoria runs with it, whether engaging in a "stare-off" on the set of
Las Reyes de Pasion
or trying to stifle a gag reflex whenever the sex act is described with specifics.
Ana Sofia has a built-in problem (she doesn't speak Spanish) and a vexing new one when her philandering ex-husband Xavier (Jencarlos Canela) joins the soap's cast as the star's latest love interest. Consoling and counseling her is trusted wardrobe lady Mimi (Diana Maria Riva). Conspiring against her is the aging Isabela (Alex Meneses), whose leading lady status was usurped by Ana Sofia.
Both Riva and Meneses are terrific in these roles, giving
Telenovela
two prime fallback positions. Isabela's defense mechanism cat hisses are especially amusing. The cast also includes former
Prison Break
star Amaury Nolasco as Rodrigo, who has an array of false mustaches for his on-camera soap role. Add Jose Moreno Brooks as the openly gay Gael, who plays a uniformed cop with a penchant for stripping to the waist. The ensemble is completed by Jadyn Douglas as ditzy Roxie and Izzy Diaz as off-camera crew member Isaac.
There are some problems with continuity after NBC's decision to air the episodes out of their original order. Episode 4, subtitled "Evil Twin," has been moved up to the No. 2 spot on Monday night. It includes a hot and seemingly continuing off-the-set romance between Mimi and Rodrigo, which wasn't supposed to kick in until the fourth half-hour. Which means that the reconfigured Episodes 3 and 4 now will play as though this never happened.
Former
Chuck
star Zachary Levi, who's not listed as a regular character, is first seen in the premiere episode as Anglo Vivavision network president James McMahon, who also speaks fluent Spanish. In the initial scheme of things, he was supposed to also be in Episode 2, "The Kiss," in which McMahon and Ana Sofia start dating and then take it beyond that. As things now stand, McMahon is altogether missing in Monday's second episode, returns for Episode 3 and is completely out of the picture again in Episode 4.
Perhaps the nearly one-month gap between the first two episodes and the resumption of
Telenovela
on Jan. 4th will make continuity beside the point. But sticklers with relatively long memories might well notice and wonder what happened to both romances.
In real life, Longoria found herself on the receiving end of alleged infidelities by her now ex-husband Tony Parker, who still plays point guard for the San Antonio Spurs. So perhaps her character's circumstances in
Telenovela
are meant to mirror that experience in some respects. Whatever the motivation, it's good to see Longoria back in fine form, both comedically and in all those eye-catching costumes.
"I may not be your wife, but I'm still in charge here," Ana Sofia tells Xavier in the opening episode. She's not as in charge as she thinks, in terms of all the machinations in play. But Longoria most assuredly commands center stage, with very able assistance from a talented ensemble. They all serve
Telenovela
very well, making this a much-needed bright spot on NBC's midseason schedule. Added plus: the all-Hispanic cast of regular characters marks a first for the Peacock. After 70 years as a network, that's not
muy bueno
. But it sure is about time.
GRADE:
B
Email comments or questions to:
unclebarky@verizon.net