Opposite of escapism: Season 3 of ABC's American Crime
03/09/17 02:33 PM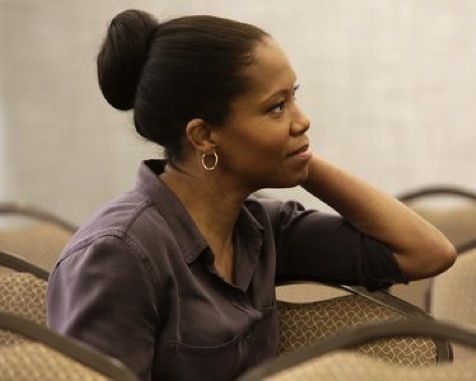 Regina King again is a standout in grim Season 3 of American Crime.
ABC photo
By ED BARK
@unclebarkycom on Twitter
Season 3 of
American Crime
looks like a very tough, if not an impossible sell.
Which in its own way is commendable on the part of ABC but not exactly heartening news for the Disney-owned network's sales force or stockholders. Broadcast networks generally are loathe to present a decidedly "non-commercial" venture. But ABC lately stands alone in this respect after a substantial and likely anticipated ratings shortfall for last week's
When We Rise
, a four-night, eight-hour miniseries that dramatized the history of the LGBT(Q) movement.
Created by John Ridley (
12 Years A Slave
),
American Crime
ended up being pretty much a ratings loss-leader in its first two seasons. But the series also deservedly received widespread acclaim for its autopsy-like dissections of race, class, gender and sexual preference. This season (launching on
Sunday, March 12th at 9 p.m. central
) is the starkest and grimmest yet with its depictions of migrant worker and teen girl trafficking. So don't anticipate any "entertainment value" if you're among the many who view television first and foremost as an escape mechanism, not a teaching tool.
American Crime
continues to draw on the model of FX's
American Horror Story
, with a core repertory company returning in entirely different roles. Principal charter cast members Felicity Huffman, Timothy Hutton and Regina King are all back, as are Benito Martinez, Lili Taylor and Richard Cabral. Another notable returnee, Connor Jessup, joined
American Crime
in Season 2, and is back as another tragic, anchor-less teen.
Season 3 has been downsized to eight episodes, with filming shifting to Los Angeles after the first two installment were produced in Austin but respectively set in California and Indiana. This time out, L.A. is a stand-in for North Carolina, which currently is being shunned by Hollywood, major music artists and pro sports leagues for its divisive transgender bathroom law.
ABC made Season 3's initial four episodes available for review. King, who won supporting actress Emmys in each of the first two seasons, is the first major presence as social worker Kimara Walters. She's hard-pressed to either pay her cable bill or persuade recalcitrant teens that she can help them. Case in point: 17-year-old Shae Reese (Ana Mulvoy-Ten), who still clings to her pimp and also again is pregnant with an unwanted child. Kimara, on the other hand, longs to be a mother but remains barren in her 40s. Expect these twains to inevitably meet, although they haven't yet by the end of Episode 4.
A companion storyline centers on Luis Salazar (Martinez), who's smuggled into North Carolina and soon is picking tomatoes for Hesby Farms. But Salazar's primary objective is finding his missing 17-year-old son, Teo. Meanwhile, Hesby Farms matriarch Laurie Ann Hesby (Cherry Jones) is facing higher costs and diminished profits. She demands even cheaper labor, with the already underpaid pickers living in unfit-for-human-habitation trailer homes prone to flash fires.
Huffman plays Laurie's daughter-in-law, Jeanette Hesby, who's long looked the other way but is increasingly guilt-ridden. Her husband, Carson (Dallas Roberts), keeps telling her to back off while another family member, JD Hesby (Tim DeKay), has turned to heavy drinking to ease his conscience.
Jessup is Coy Henson, an aimless drug addict who falls prey to the recruiting techniques of Isaac Castillo (Cabral). Hutton and Taylor are out of the picture until Episode 4, when they first appear as husband and wife Nicholas and Clair Coates. His moneymaking furniture company also has fallen on hard times of late. Making ends meet in a deteriorating economy is a recurring theme this season.
American Crime
goes about this oft-dreary business in stark, spare fashion with only scant use of mood music and repeated use of subtitles during the migrant worker segments. Martinez, former co-star of
The Shield
, contributes the most poignant and affecting characterization as an increasingly desperately seeking father. King and Jessup also are first-rate as expected while the accomplished Huffman's Jeanette is slower to percolate but eventually gets there.
A great majority of potential viewers no doubt will pass on all of this, which is perfectly understandable. But let the record show that ABC rather amazingly has dared to get behind
American Crime
for a third time while its Big Four broadcast network rivals -- CBS, Fox and NBC -- perhaps would sooner subject themselves to medieval torturing. So as with
When We Rise
, applause, applause -- even if it sometimes feels like one hand clapping.
GRADE:
A-minus
Email comments or questions to:
unclebarky@verizon.net