Fox adds a couple for fall, puts 24 in play with two-hour prequel
05/15/08 11:25 AM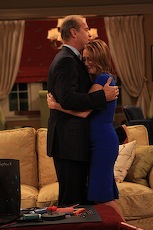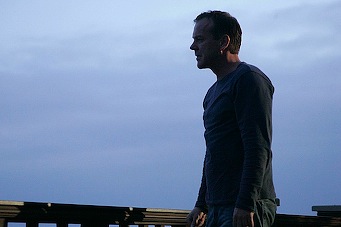 It's curtains for Back to You, but 24 will get a dress rehearsal.
By ED BARK
No. 1-rated Fox, with just two new series for this fall, made bigger news Thursday with announcements of a cancelation and a prequel.
The casualty is
Back to You
, last fall's highest-profile freshman comedy series due to the teaming of Kelsey Grammer and Patricia Heaton as battling Pittsburgh news anchors.
The big twist is
24
, which makes an early return on Nov. 23 with a self-standing, two-hour Sunday night movie that Fox says "will set the stage and raise the stakes" for January's launch of the show's "Day 7" on Monday nights.
24
didn't air at all this season because of the writers' strike. "We think we can jump-start it," Fox entertainment president Kevin Reilly said during a teleconference with TV critics. The
24
movie, being shot on location in South Africa, is "a really cool piece of business," he said.
An accompanying Fox news release says that Jack Bauer (Kiefer Sutherland) will battle yet another international crisis while incoming new president Allison Taylor (Cherry Jones) prepares for her inauguration. As announced earlier, Carlos Bernard is returning to the cast as the previously presumed dead Tony Almeida. CTU otherwise in fact is dead, and Day 7 will begin with Bauer on trial.
Back to You
, which still has three unaired episodes, failed to fulfill the network's high expectations after a "major marketing launch," Reilly said.
"The show did not seem to be striking a chord" and its creative direction looked wobbly, he said. The overall expense of a high-profile cast and older-skewing audience demographics also worked against
Back to You
.
"It was a factor, not the ultimate factor," Reilly said.
Fox executives also confirmed that they'll be tinkering with
American Idol
during the off-season after a ratings downturn for its seventh edition, which climaxes Wednesday with a showdown between the show's King Davids -- Archuleta and Cook.
"I would say I'm satisfied creatively, but not necessarily satisfied with the audience," said Fox entertainment chairman Peter Liguori. "I do think the show has somewhat suffered with the post-strike
malaise
."
Plans to keep
Idol
clicking as "the most relevant, 'zeitgeisty' show on TV" do not include the ejection of judge Paula Abdul, whom various reports again have put on the chopping block.
"We love Paula. She's coming back," Liguori said unequivocally.
"It's not like it's in its death throes," Reilly added.
Fox otherwise is accentuating "stability" this fall after the writers' strike impaired programming development at all five major broadcast networks. Fox, NBC, ABC and CBS are launching a combined 13 new series, easily their lowest total ever. The CW, which doesn't play in their league, will have three newcomers.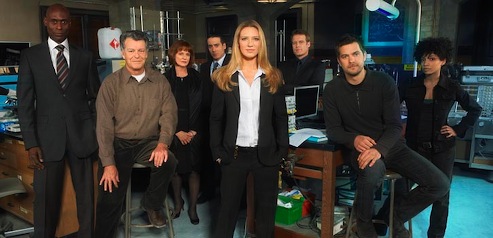 Lost creator J.J. Abrams is readying Fringe for Fox this fall.
Fox's biggest fall splash will be
Fringe
, from
Lost
creator J. J. Abrams.
A passenger jet again figures prominently in the proceedings. This time it's an international flight that lands at Boston's Logan Airport with all of its inhabitants victims of "grisly deaths."
An investigation ensues, with Fox promising a drama that "will thrill, terrify and explore the blurring line between science fiction and reality."
Fringe
's ensemble cast includes Joshua Jackson (Pacey from
Dawson's Creek
) and Blair Brown (
The Days and Nights of Molly Dodd
).
Fox also will pair the returning
'Til Death
-- star Brad Garrett must have compromising pictures of Fox execs -- with the new workplace comedy
Do Not Disturb
. It's set in a hot, hip New York hotel, with Jerry O'Connell playing the place's "egotistical, hyper-stylish, detail-oriented" general manager. Graybeard Robert Wagner occasionally will drop in as the hotel's owner.
Fox's tentative January plans include removing two fall returnees --
Prison Break, Terminator: The Sarah Connor Chronicles
-- and replacing them on Monday nights with
24
and the new
Dollhouse
from
Buffy, the Vampire Slayer
maestro Joss Whedon.
Buffy
alum Eliza Dushku will star as Echo, who's an "Active." She's also a "member of a highly illegal and underground group who have had their personalities wiped clean so they can be imprinted with any number of new personas." Etc.
Besides
Back to You
, Fox has canceled
New Amsterdam, Canterbury's Law, Unhitched, the Return of Jezebel James and K-Ville.

Here's the fall lineup, with new shows in boldface:

MONDAY
Terminator: The Sarah Connor Chronicles
Prison Break

TUESDAY
House
Fringe

WEDNESDAY
Bones
'Til Death
Do Not Disturb

THURSDAY
The Moment of Truth
Kitchen Nightmares

FRIDAY
Are You Smarter Than a 5th Grader?
Don't Forget the Lyrics!

SATURDAY
Cops
Cops
America's Most Wanted: America Fights Back

SUNDAY
The OT (NFL post-game show)
The Simpsons
King of the Hill
Family Guy
American Dad