Girlfriends' Guide to Divorce in a class of its own as Bravo's first original scripted series
11/26/14 12:38 PM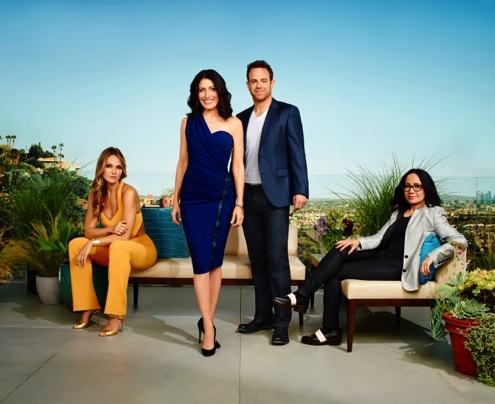 Lisa Edelstein (center) heads cast of Girlfriends' Guide to Divorce
. Bravo photo
Premiering:
Tuesday, Dec. 2nd at 9 p.m. (central)
Starring:
Lisa Edelstein, Paul Adelstein, Janeane Garofalo, Beau Garrett, Necar Zadegan, Conner Dwelly, Dylan Schombing, Michael Weaver, Patrick Huesinger, Julianna Guill
Produced by:
Marti Noxon, Vicki Iovine, Meryl Poster, Robert Duncan McNeill, Liz Kruger, Craig Shapiro
By ED BARK
@unclebarkycom on Twitter
Bravo's first original scripted series arrives 12 years after NBC took control of the onetime fine arts network and later began fouling it with an onslaught of
Real Housewives
series.
Turns out it was well worth the wait.
Girlfriends' Guide to Divorce
is a gem of a one-hour dramedy starring Lisa Edelstein of
House
fame as a bestselling self-help author who's lately living a lie.
Abby McCarthy (Edelstein) and her husband, Jake (Paul Adelstein), are separated while still living under the same roof for the purposes of maintaining her image and ostensibly making it easier on their two kids. Another book tour is nearing for the latest in Abby's
Girlfriends Guide
series, this one on "Getting Your Groove Back."
"Jake and I, we're just connecting in a whole new way," she fibs to Kathie Lee Gifford and Hoda Kotb on NBC's
Today
. But in real life, Jake is tumbling back into bed after another late night arrival. "You smell like sex," she tells him. True enough.
But Abby's had her own fling -- still absent the sex -- with a married man who very much wants to close the deal. Her two divorced best friends, Lyla and Phoebe (Janeane Garofalo, Beau Garrett), are both intent on making Abby one of them. Lyla's a sardonic shrew whose headlong pursuit of full child custody knows no bounds. Phoebe's outwardly a semi-ditz, but a genius at playing the field to her full advantage.
Edelstein hits all the right notes as an insecure family breadwinner who's both feeling guilty and feeling her age. But her disinclination to end it with Jake is weakened upon learning he's been dating a knockout young CW network star named Becca Riley (Julianna Guill).
Girlfriends' Guide
is amusing, searing at times and about as "adult" as one can get on an advertiser-supported cable network.
In the second of two episodes sent for review, Abby tells her gay brother, Max (Patrick Huesinger), that she has no abiding interest in sleeping with a woman.
"For better or worse, I'm all about the dick," she tells him.
"You and me both, sister," he replies.
In the same episode, Lyla's ex-, the dominatrix-craving Dan (Michael Weaver), counters her down-and-dirty child custody tactics by having Lyla's car affixed with a gaudy "Bitch on Wheels" tat. "I finally got my sack back," he proclaims. "And it's bigger than yours."
On
Real Housewives
, this would come off as cheap and sordid. On
Girlfriends' Guide
, it's ribald without being dirty to the touch.
The performances, including a cameo in Episode 1 by Carrie Fisher as Abby's longtime book editor, are uniformly solid with the exception of Edelstein. Her portrayal of Abby goes well beyond that, giving
Girlfriends' Guide
a central character with both appeal and sex appeal.
Her awkwardness with a younger man is acted naturally, as are the blowups at home and the bemused reactions to Lyla's tart asides. Edelstein has full control of her character after years of being half-submerged on
House
while star Hugh Laurie inhaled deeply. This is her show through and through. And Edelstein's pitch-perfect performance elevates
Girlfriends' Guide
to one of the best new series of the season.
GRADE:
A-minus
Email comments or questions to:
unclebarky@verizon.net