CBS' semi-offbeat Battle Creek shows some signs of being from Breaking Bad creator Vince Gilligan
02/27/15 01:15 PM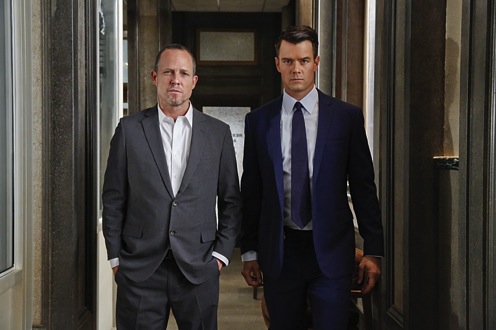 More odd couple cops: Dean Winters, Josh Duhamel of Battle Creek
CBS photo
Premiering:
Sunday, March 1st at 9 p.m. (central) on CBS
Starring:
Dean Winters, Josh Duhamel, Janet McTeer, Kal Penn, Edward Fordham, Aubrey Dollar, Damon Herriman, Liza Lapira
Produced by:
Vince Gilligan, David Shore, Mark Johnson, Bryan Singer, Russel Friend
By ED BARK
@unclebarkycom on Twitter
The small city best known for mass-producing Froot Loops, Frosted Flakes, Rice Krispies, Pop Tarts and Corn Pops also turns out to be awash in homicides and drug-running.
That's the Battle Creek (population 52,347) of CBS'
Battle Creek
, a good but certainly not great seriocomic cop series from the creator of
Breaking Bad
and its recently launched prequel,
Better Call Saul
.
The gist is this. Ill-tempered detective Russ Agnew (Dean Winters) is toiling away in the Battle Creek cop shop while grousing about the department's outdated, malfunctioning equipment. Into this breech steps the streamlined Milton Chamberlain (Josh Duhamel), who's just been transferred from Detroit's FBI branch.
Milton has an array of state-of-the-art crime-solving gizmos at his disposal. But Russ takes an immediate disliking to him because their temperaments and methods are entirely different. Milton also is killer handsome, which makes Russ feel like a soggy bowl of Kellogg's cornflakes.
Many cop shows have taken this route, including Fox's
made-in-Dallas The Good Guys
, a short-lived 2010 effort that starred Bradley Whitford as a gruff, set-in-his-ways detective and Colin Hanks as his buttoned-down, by-the-book partner. That series also had an off-beat,
auteur
executive producer,
Burn Notice
maestro Matt Nix.
Vince Gilligan and his principal producer partner, David Shore, say in a cover letter to TV critics that CBS suggested sending all 13 Season 1 episodes of
Battle Creek
for review. Unfortunately they didn't arrive until mid-February during a very busy time for watching and writing about new series. ABC's
Secrets and Lies
and Fox's
The Last Man On Earth
also share
Battle Creek
's premiere date. And WE tv's Friday, Feb. 27th launch of
Sex Box
also cried out for a disparaging review.
But your friendly content provider did find time to view the first four episodes of Battle Creek, plus an Episode 9 subtitled "Cereal Killer." In that one, Battle Creek's 31st annual "Breakfast Day," which celebrates what's made the city famous, is interrupted by the shootings of the mayor (who turns out to be a Rob Ford-like coke addict) and a costumed mascot. Oh well. The carping Russ didn't want to be there anyway.
Sunday's
Battle Creek
premiere quickly segues to a drug-related double homicide after a scene-setting demonstration of the department's decrepit crook-catching devices. Russ becomes Milton's very reluctant partner in the case. He's equally interested in solving the mystery of why the new guy got demoted by the FBI. (Some of this will be revealed in Episode 4.)
Battle Creek
has a solid group of supporting players, most notably the Oscar-nominated Janet McTeer as Commander Guziewicz and Kal Penn (
House
) as detective Fontanelle "Font" White. The police department ensemble also includes sweets-loving detective Aaron "Funk" Funkhauser (Edward Fordham) and true-blue office manager Holly Dale (Aubrey Dollar), who Russ likes more than a little.
Episodes 2 and 3 likewise center on homicides before Episode 4 delves into a heroin ring. Some of them snap, crackle and pop more than others. The best line in the early going comes from Funk after investigators are told in Episode 3 that a suspect "died of a heart attack two days ago."
"Talk about an excellent alibi," he deadpans.
Creator Gilligan of course has been very busy with the high-pressure task of getting
Better Call Saul
off the ground. So CBS may be getting something of a half a loaf here, even though
Battle Creek
still qualifies as something of an art house series on a network that's mostly been painting by the numbers.
The series will sink or swim on the Russ-Milton relationship, which thaws in some amusing ways but remains resistant to room temperature.
"You're a good cop and a good partner," Milton tells Russ in Episode 3. "But you have no interest in being a friend."
Unlike
Breaking Bad
and
Better Call Saul
,
Battle Creek
otherwise is without serial or, for the most part, cereal components. Crimes of the week are solved and put aside, even though the deductions and evidence don't always stack up. Episode 3 is especially deficient in these respects, with the bad guys panicking and running after Russ and Milton confront them with not all that much. But numerous other ongoing TV cop dramas share such deficiencies. The supply of twists and turns has reached nearly total exhaustion.
Still, the five episodes I've seen have enough small pleasures to carry them to their finish lines. Just don't expect to be blown away.
Battle Creek
isn't about to approach the ratings of CBS' three
NCIS
series or the upcoming
CSI: Cyber
with new Oscar-winner Patricia Arquette. But maybe it will hang in there as something a little offbeat on a network with little of that going around.
GRADE:
B
Email comments or questions to:
unclebarky@verizon.net