ABC's "new" fall season -- more or less
05/13/08 09:04 AM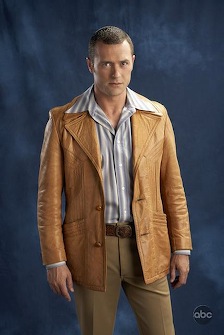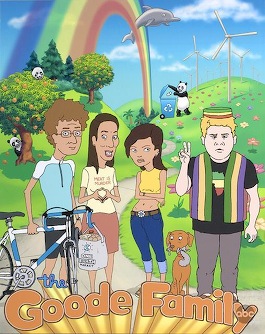 Jason O'Mara of Life on Mars and midseason's The Goode Family.
By ED BARK
No big-time broadcast network has ever stood this pat.
ABC's new fall lineup, announced Tuesday morning, makes room for just two new prime-time series, with only one featuring actors and their roles.
That would be
Life on Mars
, whose executive producers include
Boston Legal
creator David E. Kelley. Shades of NBC's canceled
Journeyman
, it's about a police detective who's mysteriously transported back to 1973 after a car wreck.
Slotted on Thursdays at 9 p.m. (central) following
Grey's Anatomy
, the hour-long drama is adapted from a same-named BBC series. Featured detective Sam Tyler is played by Jason O'Mara, who played recurring character Stuart Maxson on ABC's canceled
Men In Trees
.
ABC also has dipped into the mostly mindless Ashton Kutcher well for the reality series
Opportunity Knocks
, which leads off Tuesday's schedule.
"Hollywood will invade a suburban neighborhood and each week one lucky family will play the game of a lifetime in front of all their friends and neighbors," the network says. They'll have a chance to win an array of prizes packed into a semi-truck, but first must answer trivia questions "based directly on their lives, each other and articles found in and around their home." Kutcher's previous producing efforts include
Punk'd, Beauty and the Geek
and NBC's short-lived
The Real Wedding Crashers
.
ABC's cancelation corral houses the aforementioned
Men In Trees
, plus
Women's Murder Club
(somewhat surprisingly),
Miss Guided, Big Shots, Cavemen, Carpoolers, Notes from the Underbelly, October Road, Cashmere Mafia
and the big-money game show
Duel
.
Just one half-hour comedy,
Samantha Who?
, has made ABC's fall cut. That's a telling turn of events for a network with a long legacy of comedy hits. In the 1993-94 season, ABC still had four sitcoms --
Home Improvement, Roseanne, Grace Under Fire
and
Coach
-- among Nielsen's Top 10 most popular programs.
The network plans to again add
According to Jim
at some point in mid-season. And it's picked up
Scrubs
for later in the year after NBC dropped the long-running comedy. That's largely because ABC Studios produces it and wants to get an extra season in the books for syndication purposes.
ABC also announced two new midseason series. One of them is an untitled Kutcher project built around "a beauty pageant unlike any you've ever seen." The other is
The Goode Family
, an animated half-hour from Austin-based
King of the Hill
creator Mike Judge, who will voice a Dad named Gerald. ABC says the Goodes are "obsessed with doing the 'right' thing, whether it's environmentally, politically or socially. Unfortunately, their efforts often have unintended comic consequences." Wah, wah, wah.
As with this season,
Lost
again is scheduled to return in January with an uninterrupted string of episodes.
The Bachelor
and
Primetime: What Would You Do?
, from ABC's news division, also are slated for later.
Here's ABC's fall lineup, with new series in boldface:
MONDAY
Dancing with the Stars
Samantha Who?
Boston Legal (new night)
TUESDAYOpportunity Knocks
Dancing with the Stars results show
Eli Stone (new night)
WEDNESDAY
Pushing Daisies
Private Practice
Dirty Sexy Money
THURSDAY
Ugly Betty
Grey's Anatomy
Life on MarsFRIDAY
Wife Swap (new night)
Supernanny (new night)
20/20
SATURDAY
Saturday Night College Football
SUNDAY
America's Funniest Home Videos
Extreme Makeover: Home Edition
Desperate Housewives
Brothers & Sisters