Going medieval and grandly succeeding with BBC America's The Last Kingdom
10/09/15 01:44 PM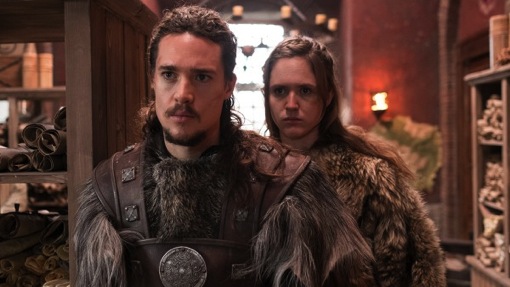 Uhtred and Brida make for a formidable team in The Last Kingdom.
BBC America photo
Premiering:
Saturday, Oct. 10th at 9 p.m. (central) on BBC America
Starring:
Alexander Dreymon, Emily Cox, David Dawson, Ian Hart, Peter Gantzler, Tobias Santelmann, Rune Temte, Thomas W. Gabrielson, Rutger Hauer, Matthew MacFadyen, Joseph Millson, Simon Kunz, Brian Vernel, Adrian Bower
Produced by:
Gareth Neame, Nigel Marchant, Stephen Butchard
By ED BARK
@unclebarkycom on Twitter
Bracingly bold and well told, BBC America's
The Last Kingdom
has the added plusses of being breathtakingly shot and very capably acted out.
The eight-episode Season One, with half of them made available for review, pits two familiar enemies whose warfare is already well under way in the History network's
Vikings
. But
Last Kingdom
, drawn from Bernard Cornwell's
The Saxon Stories
, more than stands on its own as the tale of a disenfranchised young heir torn between loyalties.
Uhtred (principally played by Alexander Dreymon as a young adult), is a headstrong 12-year-old when he witnesses his father killed in battle by the invading Danes, a k a Vikings. He's spared after impressing Earl Ragnar (Peter Gantzler) with his formative courage. A fellow Saxon named Brida (Emily Cox) also is captured and made part of the very hard-edged Viking family. Other adult captives are killed after a little foreplay known as torture.
The year initially is 866 A.D., with Earl Ragnar's blind and heavily tattooed father, Ravn (a barely recognizable Rutger Hauer) taking a strong liking to Uhtred. Even so, "Soon all the kings of England shall be kings of nothing," he warns the boy.
Uhtred yearns to reclaim what's his, namely the Northern England kingdom of Northumbria. But many trials and travails will test both him and the plucky Brida, who blossoms into his comrade in arms and other things.
Cox is excellent in this role, whether flashing her hot temper or playfully bantering with Uhtred in an Episode 2 exchange that goes like this:
She: "You're talking through your ass."
He: "I'm sitting on my ass."
She: "So your ass is cleverer than you and can do two things at once."
Last Kingdom
can be more than a little contemporary at times, with a Viking saying, "Just saying" in Saturday's premiere episode. It's very doubtful that saying was in use all those centuries ago. But this is merely a quibble, and at least no one says, "Gimme five" after a particularly satisfying battlefield triumph.
The violence in
Last Kingdom
can be pointed, with most of it having to do with bodies on receiving ends of swords or arrows. But the cameras tend to pull back rather than gleefully wallow in it. A sense of menace can be conveyed without getting all medieval about it.
Uhtred gradually establishes himself as an emotionally vulnerable warrior and dealmaker with a mercenary bent. His soft spots are mostly for Brida, who's been "half my life, all of my madness."
The camera work is regularly majestic, whether capturing Uhtred and Brida from afar on horseback or depicting the Viking armada on the prowl. It's a full immersion in those times, with the human principals sometimes dots on a sprawling landscape and other times in full closeup with their weapons at the ready.
Connivers and brutalizers abound, including the would-be King Alfred of Wessex (David Dawson) or Ubba the Viking (Rune Temte), who doesn't mess around when plunder is in play. A veteran priest named Beocca (Ian Hart) seems reasonably honorable and trustworthy, but guys wearing crosses in those times are generally capable of a double-cross.
It all meshes together in enthralling fashion with a tale that's understandable and a setting that's tailor made for picturesque vistas.
Last Kingdom
livens up Saturday nights with Emmy caliber storytelling and oft-sumptuous production values. It's worth activating ye olde DVR if you're otherwise out and about.
GRADE:
A-minus
Email comments or questions to:
unclebarky@verizon.net