Bombshell: Charles Gibson leaving ABC's World News, with Diane Sawyer succeeding him in January
09/02/09 10:35 AM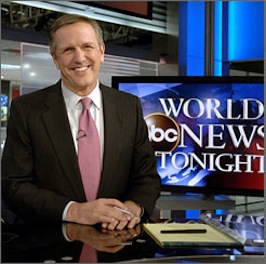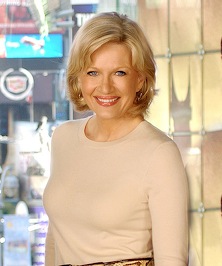 By ED BARK
Charles Gibson, who has helmed ABC's
World News
since May 29, 2006, will be stepping down and retiring from full-time employment with the news division, the network announced Wednesday.
Succeeding him is ABC veteran and
Good Morning America
co-anchor Diane Sawyer, leaving two of the three longstanding network dinner hour newscasts in the hands of women anchors when she takes charge of
World News
in January. Katie Couric has presided over the
CBS Evening News
since September 5, 2006, when she made history by becoming the first woman to solo in "The Chair."
In an email to ABC News staffers, Gibson, 66, said, "It has not been an easy decision to make. This has been my professional home for almost 35 years. And I love this news department, and all who work in it, to the depths of my soul."
During a March 2008 stop in Dallas, Gibson hinted at a possibly early retirement during an
interview with unclebarky.com
.
"I don't know how long I'll do this, but I'm still having a great time," he said. "It's not as hard as I expected it to be, and this is all like an added chapter that I thought I'd never have . . . But I think I'll know when the time comes. You don't want to stay as long as (David) Brinkley did. David stayed too long. He had a great career, and you've got to know when it's time to leave."
ABC News president David Westin said that he and Gibson had discussed the matter for several weeks, and that Gibson "has persuaded me that this is both what he wants and what is best for him."
Gibson had been co-hosting
GMA
with Sawyer before agreeing to helm
World News
"during a difficult and turbulent time," Westin noted in an email to staffers. The program's co-anchors, Bob Woodruff and Elizabeth Vargas, had been expected to head
World News
for years to come. But Woodruff was seriously injured while covering the war in Iraq and Vargas stepped down after an unplanned pregnancy.
Gibson's
World News
and NBC's
Nightly News
, anchored by Brian Williams, for a while waged a seesaw battle for ratings supremacy. But
Nightly News
lately has re-taken the stop spot and widened the gap over second-place
World News
. Last week,
Nightly News
averaged 7.9 millon viewers while
World News
had 7.1 million.
Sawyer, 63, has been co-anchoring
GMA
for the past 10 years. On Wednesday's program, she could be seen cooing over a concert appearance by Whitney Houston, whose comeback CD is new in stores. Couric also rose from the softer early morning ranks, becoming famous on NBC's No. 1-rated
Today
show before moving to CBS News.
"Diane Sawyer is the right person to succeed Charlie and build on what he has accomplished," Westin said in the ABC email before lauding her hard news accomplishments. "We are fortunate to have a journalist of Diane's proven ability and passion to step into the important position of anchor of
World News
. She will continue with her documentaries in her new role."
Westin said the network will make further announcements "well before any changes are made" on
GMA
.
"We are fortunate that both Charlie and Diane will remain with their current broadcasts for the next four months," he said.