FX's Pose charts new territory but sometimes groaningly so
06/03/18 12:15 PM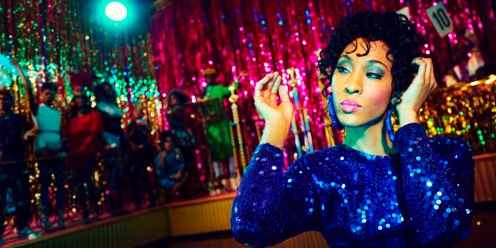 House of Evangelista "mother" Blanca Rodriguez (Mj Rodriguez) gets dolled up for another ball competition in Reagan era New York City.
FX photo
Premiering:
Sunday, June 3rd at 8 p.m. (central) on FX
Starring:
Mj Rodriguez, Dominique Jackson, Evan Peters, James Van Der Beek, Indya Moore, Ryan Jamaal Swain, Billy Porter, Kate Mara, Angelica Ross, Hailie Sahar, Dyllon Burnside, Charlayne Woodard, Angel Bismark Curiel
Produced by:
Ryan Murphy, Brad Falchuk, Steven Canals, Nina Jacobson, Brad Simpson, Alexis Martin Woodall, Sherry Marsh, Silas Howard
By ED BARK
@unclebarkycom on Twitter
FX offers a case study in counter programming with Sunday's premiere of
Pose
opposite Game 2 of the NBA Finals.
It's the prototypically manly pursuit of pro basketball's season-ending championship versus a full immersion in Reagan era New York City's trophy-chasing "ball culture world" -- with a proclaimed largest ever cast of transgender actors in series regular roles.
As such,
Pose
is history-making, groundbreaking, but at times also lamentably wobbly on dialogue and story structure. Its melodramatic plot turns can be as predictable as LeBron James leading the Cleveland Cavaliers in scoring. Seen that coming. Seen that coming, too. Season One consists of eight episodes, and FX made the first four available for review.
The flamboyant, theme-driven competitions in
Pose
("Royalty, Executive Realness, Femme Queen in Pumps," etc.) are waged between various Houses headed by "Mothers" and their "children." Elektra Abundance (Dominique Jackson) is the imperious Queen Bee of this scene, with her House of Elektra rolling over rivals while she treats her minions like fingernail dirt. One of them, Blanca Rodriguez (Mj Rodriguez), has had enough, particularly after learning she's HIV Positive. Fearing that life could be very short for her, she sets out to "build my own legendary House" in the face of Elektra thundering, "No! I do not give you my blessing!"
Meanwhile, 17-year-old Damon Richards (Ryan Jamaal Swain) is being booted out of his Allentown, PA home after his brutish father first beats him for the perceived sin of being gay. Longing to be a professional dancer, Damon journeys to NYC, winds up sleeping on a park bench and eventually is recruited by Blanca to be one of her live-in children. Blanca, who like Elektra, is transgender, also knows the sting of rejection. Her mother, she tells Damon, "banished me from her home and her heart."
Another of Blanca's adoptees, a transgender streetwalker known as Angel (Indya Moore), is viewed as a walk-on-his-wild side by Stan Bowes (Evan Peters), who's just been hired as a junior executive by the Trump organization. Stan has a wife, Patty (Kate Mara), and two pre-teen daughters. This leaves him feeling unfulfilled. Or as he tells Angel in an overwrought scene, "I stand for nothing . . . I don't live. I don't believe. I accumulate. I'm a brand, a middle-class white guy." So is it wrong, he asks, to want "one person in my life who I know is real?"
Stan's boss is Matt Bromley (James Van Der Beek), a greed-is-good exemplar of amorality. "God bless Ronald Reagan" he says after snorting a line of coke in his Trump Tower office during the course of interviewing Stan for a position.
Other key characters are Pray Tell (Billy Porter), who both forcefully emcees the balls and dreams of having his own fashion line; dance school instructor Helena St. Rogers (Charlayne Woodard); Damon's new boyfriend, Ricky (Dyllon Burnside); and another House of Evangelista recruit known as Lil Papi (Angel Bismark Curiel).
The principal creator and executive producer of
Pose
is Ryan Murphy, whose other shows include FX's
American Horror Story, American Crime Story
and
Feud
anthologies, plus the new Fox breakout hit
9-1-1
. Murphy, who is openly gay, can never be accused of being dull. His series pop with energy and oftentimes are rewarded with multiple Emmy nominations (and in the case of
The People v O. J. Simpson: American Crime Story
, a sweeping parade of victories).
Pose
is praiseworthy in terms of its unique diversity and overall style. The ball competitions, which are frequent, could well be a show in themselves. Porter as Pray Tell is grandly in charge and a great deal of fun as the emcee. In Episode 2, he deliciously scolds a competitor with "I repeat, the category is
Dynasty
, not goddamn
Falcon Crest
."
But man,
Pose
also can be cloying at times while also being as broad as, well,
Dynasty
with both its story telling and some of the acting. Jackson's Elektra Abundance is cartoonishly imperious with her troops, but hits her mark in an effective nail salon heart-to-heart with Blanca, whom she both dismisses as a pretender and savors as a growingly formidable rival. To be somebody you've got to beat somebody.
Both Jackson and Rodriguez, as Blanca, get stuck with some real groaners during the uneven course of
Pose
. "I'm going to eat you like an after-dinner Rolaid," Elektra trumpets before their respective Houses engage in their first big ball face-off.
Blanca, early in Episode 2, somehow maintains a straight face while saying, "I've felt the wind in my face all my life, which means I know when it's at my back?" Really?
Van Der Beek, who's bounced through numerous short-lived TV series since
Dawson's Creek
, brings some special sauce to his latest outing as the Trump-idolizing Bromley. "Our boss is in the
Post
again," he tells Stan, marveling at how easily he stays in the public eye. And when you strike it rich working for him, "the pussy starts flowing like Niagra Falls."
Trump, and Bromley as his like-minded worshipper of wealth, are easy lays for the scriptwriters of
Pose
. Still, Van Der Beek crackles during his comparatively limited time on-screen. The series isn't primarily about him, of course. Still,
Pose
could use a little more of Bromley, whether he's calculatingly trying to seduce Stan's wife at Christmastime or talking up the virtues of having a woman on the side.
Another subplot finds Blanca trying to integrate a bar, the Boy Lounge, whose owner admits only gay men. "I'm sorry. I'm not throwing a costume party," he tells Blanca, who keeps returning and getting thrown out.
The series can be quite cavalier about thievery, whether it's looting a museum to obtain royal costuming for a ball or stealing $2,300 from a Salvation Army kettle for what turns out to be Elektra's downpayment for "sexual reassignment surgery." But the Christmas-themed third episode also has a poignant gift exchange among House of Evangelista residents, who have gathered at a restaurant after the centerpiece turkey of a big dinner at home gets burned to a crisp.
Through this opening quartet of episodes,
Pose
is both a unique breakthrough in casting and subject matter, and too often a Brand X journey through forced or telegraphed plotting. Invigorating or emotionally affecting at its best, it's also clunky and rote-like with unbecoming frequency. Like its transgender characters,
Pose
is a work in progress that still needs to find itself.
GRADE:
B
Email comments or questions to:
unclebarky@verizon.net