Souped-up Password returns: Uma/Oprah; egg/yolk
05/29/08 12:36 PM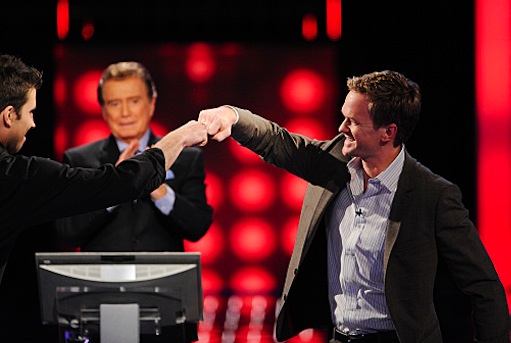 Celeb player Neil Patrick Harris fists up as host Regis Philbin claps.
Premiering:
Sunday, June 1st at 7 p.m. (central) on CBS
Hosted by:
Regis Philbin with opening night celebrity players Neil Patrick Harris and Rachael Ray
Produced by:
Vin Rubino
By ED BARK
Old hit game shows don't fade away. They keep returning with bigger jackpots, brighter lights and tricked-up formats.
So here comes
Million Dollar Password
for at least a six-week summer run after premiering on CBS in 1961 with bespectacled Allen Ludden in its driver's seat.
Back then, during the show's breathtaking "Lightning Round," commoners and their celebrity partners could amass a swingin' sum of $250 if they connected in one minute's time on all five words given to them. Nearly a half-century later, $250 might buy a dress shirt for host Regis Philbin, but only if he's slummmin' it. Reege plays the part by striding grandly into the show's red-lit district to proclaim, "It's top celebrities and razor-sharp contestants in a quest for the big money."
Sunday night's opening star twosome are Neil Patrick Harris and Rachael Ray, both of whom work for CBS Corporation properties. Without giving too much away, let's just say that Harris turns out to be a glib, able-bodied
Password
player.
Here's how it works -- and it works pretty well. Celebs and their partners initially get 30 seconds to guess five words. Everyone on Planet Earth presumably is familiar with the game. But just in case, it goes like this: You throw out a word that's supposed to prompt your partner to guess the password. Only single words are fair game. So you can't say "Danny Bonaduce" in hopes that the guesser will respond, "Idiot." Although that would be a perfectly logical answer.
The non-celebrity contestant with the most points after four rounds gets to play for cash money that starts at $10 grand and escalates in five steps to $1 million. But CBS of course has made it virtually impossible to win a mil. You'll see.
Even so, the game hums along nicely, and there's genuine suspense when a commoner dubbed _______ goes for ________ in partnership with _________.
Upcoming celebrity players include Rosie O'Donnell, Tony Hawk, Steven Weber and venerable Betty White, widow of the late, aforementioned Ludden. That's sure to be mentioned, and it's a nice touch to have her on.
It's kinda nice to have
Password
back, too. There's nothing overly cerebral about it, but the game's certainly brainy enough. And if you think it's easy guessing those words, try playing along with your eyes closed. What would you say, for instance, in response to the word "chit?" Actually, _______ should have gotten that one, but read something else into the pronunciation.
Grade:
B