Three men and a fatality in ABC's A Million Little Things
09/26/18 03:04 PM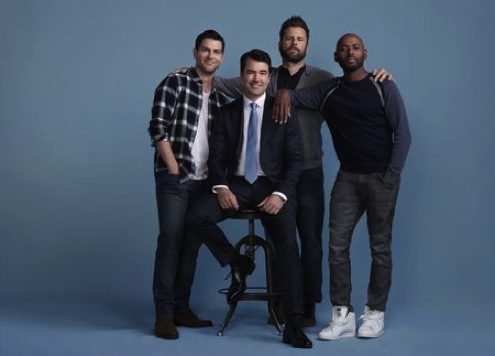 At the heart of A Million Little Things is the guy who's abruptly dead.
ABC photo
Premiering;
Wednesday, Sept. 26th at 9 p.m. (central) on ABC
Starring:
David Giuntoli, Romany Malco, James Roday, Ron Livingston, Stephanie Szostak, Christina Moses, Allison Miller, Grace Park, Christina Ochoa, Lizzy Greene, Tristan Byon, Chance Hurstfield
Produced by:
DJ Nash, Aaron Kaplan, Dana Honor, James Griffiths
By ED BARK
@unclebarkycom on Twitter
Sometimes there's no way around just stating the obvious. Which is: ABC very much wanted a
This Is Us
of its own. And the network thinks it has one in
A Million Little Things
.
Set in Boston, this is an at times affecting but too often overwrought drama series initially built around four dedicated Bruins hockey team fans, one of whom is subtracted in the early going when he plunges off the ledge of his high-rise office and onto a car hood.
Which means that the seemingly benevolent Jon Dixon (Ron Livingston), also dubbed "Perfect Jon," no longer will be able to do everything for everybody. But why did he do himself in? As with the late Jack Pearson of
This Is Us
, unanswered questions abound for now. But Jon remains alive via flashbacks that flesh out the history of his relationships with best buds Eddie Saville (David Giuntoli), Rome Howard (Romany Malco) and Gary Mendez (James Roday).
All three survivors have issues.
Eddie is having an affair and believes he has fallen in love with someone whose identity is revealed in the first of three episodes made available for review. It's meant to be a jolt, and it pretty much is. His wife, career-driven Katherine Kim (Grace Park), has kept her surname and her distance lately.
Rome, whose marriage to Regina Howard (Christina Moses) is legitimately fulfilling, finds himself otherwise depressed about the snail-like progress of his filmmaking career. So much so that he's just put a lethal handful of pills in his mouth before receiving a call that Jon has committed suicide. He then does the ultimate spit take.
The call comes from Gary, who is single and has a rare form of breast cancer that's currently in remission. He's first seen in an inattentive doctor's office awaiting the latest verdict. Gary also is a cynical wisecracker who's despaired of ever finding true love until he meets fellow cancer survivor Maggie Bloom (Allison Miller) at a group meeting. They're pawing at each other faster than you can say
This Is Us
. Maggie also is a clinical psychologist, which makes her handy for possibly addressing some of Rome's problems. As to why Ron killed himself, Maggie poses a question: "Maybe he just lost sight of the horizon?"
Ron has left behind wife Delilah Dixon (Stephanie Szostak) and their two children, Sophie (Lizzy Green) and Danny (Chance Hurstfield). At his funeral, Sophie strums and sings "Both Sides Now" while her little brother sobs. It's a moving moment in a series where pop tunes otherwise are strewn throughout to considerably lesser effect.
In Episode 2, Eddie, Rome and Gary form an impromptu "band of dads" to step in when Ron's kids need someone to lean on. Delilah otherwise can't get out of the way of all the food being brought in by Regina, who dreams of owning a restaurant. Jon's other friends also won't give her a moment's peace. It's enough to trigger another reflexive pop tune.
One thing
A Million Little Things
doesn't do so far is unduly dawdle. Revelations and recriminations come at a fast pace. By the end of Episode 3, Eddie already is on the receiving end of a face slap from wife Katherine, who now knows all.
A Million Little Things
otherwise still has unanswered questions about Jon's business dealings and the overall state of his psyche. As viewers learn during Eddie's eulogy, they all met through total happenstance after being trapped together on a stalled elevator. Thus began what seemed like a beautiful friendship. It's now all shattered and tattered -- and with just enough pulling power to possibly sustain a viewers' long-term interest.
GRADE:
B-minus
Email comments or questions to:
unclebarky@verizon.net