NBC strikes again with Elf: Buddy's Musical Christmas
12/15/14 04:33 PM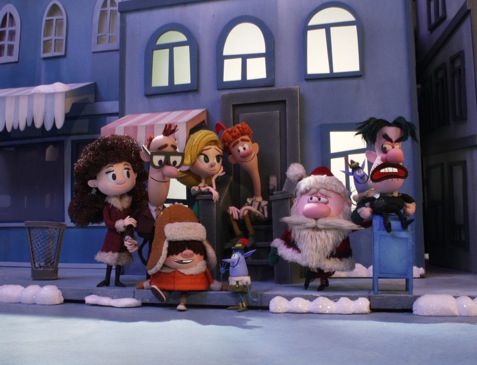 The "stop-motion" cast of Elf: Buddy's Musical Christmas. NBC photo
Premiering:
Tuesday, Dec. 16th at 7 p.m. (central) on NBC
Voiced by:
Jim Parsons, Ed Asner, Mark Hamill, Gilbert Gottfried, Fred Armisen, Jay Leno, Matt Lauer, Rachael MacFarlane, Max Charles, Kate Micucci, Steve Higgins
Produced by:
Sam Register, Toby Emmerich, Mark Kaufman
By ED BARK
@unclebarkycom on Twitter
While rival networks are mostly content to reprise their arsenals of holiday chestnuts, NBC seems intent on presenting new would-be gifts that keep on giving.
The latest is
Elf: Buddy's Musical Christmas
after the Peacock earlier stepped out with
Peter Pan Live!
and
How Murray Saved Christmas
. All three are musicals, befitting the tastes of entertainment chairman Bob Greenblatt, who earlier developed a musical adaptation of
9 to 5
for Broadway and championed
Smash
as his first passion project for NBC.
Another of Greenblatt's initiatives, last season's
The Sound of Music
starring Carrie Underwood, became an unexpected ratings hit. Since then, not so much.
Peter Pan Live!
drew slightly less than half the 18.5 million viewers for
Sound of Music
, although it performed decently compared to previous NBC Thursday night offerings this season.
How Murray Saved Christmas
, shown on Friday, Dec. 6th, bombed with just 3.6 million viewers nationally while also faring poorly among advertiser-prized 18-to-49-year-olds.
Buddy's Musical Christmas
, featuring an enthusiastic performance by Jim Parsons in the title role, is appreciably easier to take than
Murray
. Drawn from the hit movie
Elf
and Broadway's
Elf: The Musical
, it utilizes "stop-motion animation" in a manner somewhat similar to
Rudolph the Red-Nosed Reindeer
. But
Buddy's Musical Christmas
lacks the vivid, primary color palette of
Rudolph
, even if Parson's performance is very merry and bright as the giraffe-necked, orphaned central character. Those who remember the late Paul Lynde will definitely hear similarities here.
The orphaned Buddy's ad hoc father is Santa Claus (Ed Asner), who discovered him in his bag of toys during one of his trips down the chimney. Buddy's real dad, Walter Hobbs (Mark Hamill), has long been on the "Naughty List" after losing his Christmas spirit. So Buddy heads off to New York City to reunite with the father who never knew of his existence. He continues to sing agreeably merry tunes, even after being hit by a series of Manhattan vehicles.
Hobbs works for the Greenway Publishing Company, whose very disagreeable boss is voiced by Gilbert Gottfried. Jay Leno chips in as one of NYC's "Fake Santas" and Matt Lauer has very few words to say as Mr. Sea Serpent in an easily forgettable early scene.
It all goes down fairly well, with Santa getting his "mojo back" while Buddy slowly defrosts his initially resistant father. There are nine songs in all, including "Happy All the Time" and "Nobody Cares About Santa Claus."
Buddy's Musical Christmas
faces very tough sledding Tuesday night in a time slot opposite new episodes of
NCIS
and
MasterChef Junior
plus another ABC showing of
A Charlie Brown Christmas
. So NBC probably can't hope for much if anything ratings-wise -- at least not at the appointed 7 p.m. (central) hour. You might want to activate your recording device, though. As holiday newcomers go, this is much better than socks and underwear from Grandma. Just don't expect a shiny new train set.
GRADE:
B-minus
Email comments or questions to:
unclebarky@verizon.net