ABC's GCB gets C-plus for its typical depiction of Big D
03/02/12 06:54 AM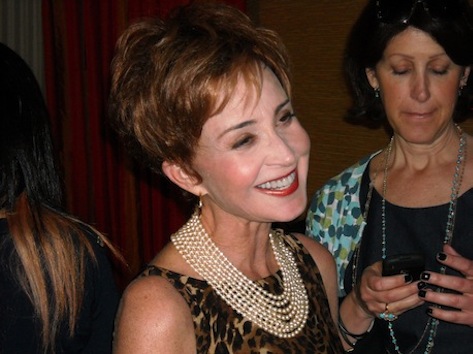 GCB's Annie Potts during ABC's portion of TV critics "press tour."
Photos: Ed Bark
Premiering:
Sunday, March 4th at 9 p.m. (central) on ABC
Starring:
Amanda Vaughn, Annie Potts, Kristin Chenoweth, David James Elliott, Jennifer Aspen, Miriam Shor, Marisol Nichols, Mark Deklin, Brad Beyer
Produced by:
Darren Star, Robert Harling, aron Kaplan, Gretchen J. Berg, Aaron Harberts, Victor Nelli
By ED BARK
Broader than
Dallas
at its broadest, ABC's
GCB
won't be selling smart, stylized urban sophistication when it premieres Sunday night.
Whether scripted or unscripted, no network TV series would ever dare do that. So Big D again gets the once over, with ABC publicity materials bragging, "The soap returns to Dallas in this delicious fun, wicked new drama."
There is some fun to be had, particularly when Annie Potts is on screen as a pistol-packin', creature-comforted, tart-tongued Highland Park mama (for the purposes of
GCB
it's Hillside Park) whose prodigal daughter Amanda (Leslie Bibb) is back in town 18 years after being a high school bee-yotch. Her Ponzi-scheming, two-timing husband inadvertently drove off a cliff while a girlfriend was going down South on him in the front seat of his moving motor vehicle. Things happen.
Potts, who drawled her way through multiple seasons of
Designing Women
, knows this territory and knows it well. As Gigi Stopper, she starts off her festivities by wondering aloud to Amanda, "Why would anybody in their right mind leave Dallas for Southern California? We've got the same weather without the liberals."
Well, yeah, except that . . . never mind, what's the dif?
Adapted from Kim Gatlin's
Good Christian Bitches
, the sanitized soap (in title at least) replaces ABC's grounded
Pan Am
and follows another scheme-based distaff serial,
Desperate Housewives
.
The
GCB
pilot was filmed in Dallas, as demonstrated by its multiple exterior shots of the city. But the rest of the series is being shot in L.A., and the second episode made available for review is shorn of Dallas skyline shots.
Amanda, now the widowed mom of a teenaged boy and girl, is determined to remain in L.A. and away from her "mentally overbearing, smothering nightmare" of a mother. No sooner does she say this than she's back, with one of mama's snarling Dobermans serving as a greeter.
Gigi, who recoils at being called grandma, lives next door to Carlene and Ripp Cockburn (Kristin Chenoweth, David James Elliott). He's a millionaire whose well-kept, surgically enhanced wife ("A little work? That's a tear-down," Amanda observes) is determined to make life miserable for the "mean girl" who used to make her feel like an ugly duckling.
She has ample help from fellow former classmates Crickett Caruth-Reilly (Miriam Shor) and Sharon Peacham (Jennifer Aspen). But another of their ilk, realtor Heather Cruz (Marisol Nichols), gradually finds herself on the fence during the ongoing mission to make Amanda pay for all of her high school misdeeds.
"Was I that bad back then?" Amanda asks her mom.
"Oh, darlin', you were a bitch with teeth," she's assured.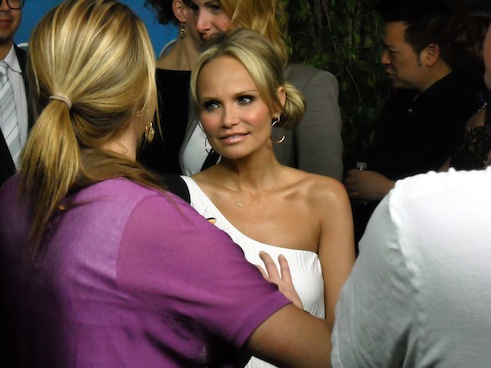 Kristin Chenoweth at ABC's "All-Star" party during press tour.
Whatever their differences, everyone gathers at the Hillside Park Church on Sundays to further sharpen their claws. This brings a nicely tuned sequence during the opening minutes of Episode 2, with lead choir singer Carlene belting out "Jesus Take The Wheel" before Amanda dresses her down.
"Well, well, well, Carlene, I think Amanda just out-Christianed ya," Cricket says. Hallelujah.
But alas, poor Amanda. With the girls conspiring to waylay all of her job opportunities -- Dallas is a small town after all -- she impulsively resorts to becoming a waitress at the Boobylicious bar-restaurant. It's a Hooters-like emporium where the outfits are skimpy but the tips are tops. It also just happens to be one of the many businesses owned by Carlene's hubby, who has tried to keep this on the down-low.
Back at the manse, Gigi is busily remaking Amanda's daughter into a properly outfitted young lady with a bra more suited to her burgeoning needs. In another line that keeps
GCB
humming, Gigi has this to say to a mortified Amanda: "And the best part? Hers are real. That's gonna save you some money, missy."
It does start to bog down, though, amid all the many layers of hypocrisy, teen boob jobs, companion breast jokes, Sharon's compulsive over-eating in virtually every scene and uniformed, mute Hispanic maids ("Carmelita, get in here!")
Episode 2 includes a queasy scene in which Cricket's teenage daughter is nearing her debut as Hillside High's head cheerleader. But her costume is now over-stuffed, prompting mom to lecture, "You can't wear that uniform with this year's breasts."
Sharon's jealous daughter also wants an enhancement. "Christmas is comin!" she's assured before Cricket's artificially endowed daughter inevitably has a major wardrobe malfunction at the big game. The moms shriek in horror while the basketball players applaud. Perhaps you've already seen this scene in on-air promos for
GCB
.
Remember, it's "deliciously fun," as ABC says. Indeed, some of it is. And you can always count on Potts to deliver the goods, whether she's cocking a silver-plated shotgun in Episode 2 or telling her daughter in Sunday's premiere, "God often speaks to me through Christian Dior."
Which means she can't stand having Amanda shop at the thrifty Armadillo Mart, but will melt down enough to help her daughter during a time of need at Boobylicious.
It's all in a day's stereotyping, with
GCB
also holding the big annual Longhorn Ball at the State Fair of Texas. Everyone dresses the part, and Bibb's Amanda looks great in a spangly silver cowgirl outfit. Yeah, we must be in network TV's eternal vision of Dallas. At least they could have kept shooting the damn thing here and pumped up the area economy.
GRADE:
C+