Schitt's Creek an attention-getter for yet another new network
02/10/15 02:59 PM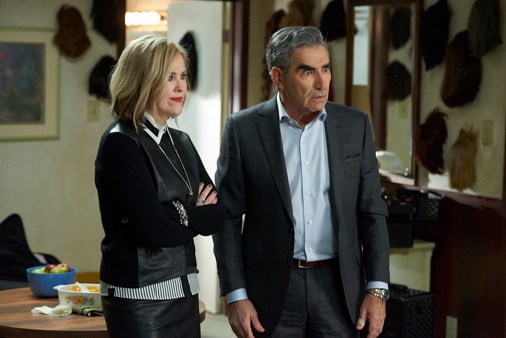 Catherine O'Hara & Eugene Levy are deep in Schitt's Creek. Pop photo
Premiering:
Wednesday, Feb. 11th at 9 p.m. (central) on Pop (formerly the TV Guide Network
Starring:
Catherine O'Hara, Eugene Levy, Daniel Levy, Annie Murphy, Chris Elliot, Emily Hampshire, Jennifer Robertson, Sarah Levy
Produced by:
Eugene Levy, Daniel Levy, Andrew Barnsley, Fred Levy, Ben Feigin
By ED BARK
@unclebarkycom on Twitter
And so we happily stumble upon
Schitt's Creek
because, well, who can resist a title like that?
Besides, it's inherently funnier than
Forever Dung, Excrement Junction
or even
I Gotta Take a Dump
.
The Canadian-made comedy series co-stars two of the neighboring country's best-known exports, Eugene Levy and Catherine O'Hara. You'll find it on Pop, which used to be the TV Guide Network until a Jan. 14th re-christening.
Pop made five of Season 1's seven episodes available for review. Nothing about the show is really s#*% in your pants funny. But
Schitt's Creek
is at times a fairly amusing diversion as a
Beverly Hillbillies
in reverse.
In this case, Johnny and Moira Rose (Levy, O'Hara) are suddenly evicted from their palatial home after the family's tax-dodging business manager flees with most of their money. Also victimized are their two prototypically spoiled, young adult children, David and Alexis (Daniel Levy, Annie Murphy).
Yes, Daniel also is Eugene's real-life son in a series with a lotta Levys behind and in front of the camera. Eugene's daughter, Sarah, also co-stars while his brother, Fred Levy, is a co-executive producer along with Eugene and Daniel, who also created
Schitt's Creek
.
After losing their home and most of their possessions, the Roses are reminded by their lawyer that in 1991, Johnny bought the little town of Schitt's Creek as a gag gift for son David. Ewww, they could now live there for next to nothing until getting back on their feet. Adjacent rooms in a rundown motel provide the Roses with their cramped new home. "It smells like a gym bag," Johnny observes.
Supporting characters include the timeless Chris Elliot as slovenly town mayor Roland N. Schitt. He has a bowling ball gut and a sense of entitlement. So when he feels disrespected by the Roses, Roland has the entrance doors to their rooms removed.
Like many ordinary-looking, out-of-shape male TV characters, Roland has a far more attractive and shapelier wife named Jocelyn (Jennifer Robertson). Also in the mix are cute but semi-sardonic motel manager Stevie Budd (Emily Hampshire) and Twyla Sands (Sarah Levy), head waitress at the only Schitt's Creek eatery.
Some of the storylines are frayed from over-use. Episode 5, subtitled "The Cabin," is particularly easy to deduce.
Each half-hour has some moments, though. In Wednesday's premiere, O'Hara's Moira is effortlessly "appalled that my baby girl has turned into a selfish, duplicitous whore." Episode 3 is built around a historic welcome sign in which mayor Roland's grandfather appears to be a back-door man. Johnny Rose, intent on selling Schitt's Creek to anyone who will take it, is appalled by this first impression. He also manages to criticize his son's loose-fitting "colostomy bag pants."
Schitt's Creek
occasionally deploys f-bombs, which very likely will be bleeped out of the version shown on advertiser-supported Pop. The show's title also might be problematic for some publications, offering excuses for prolonged editorial tmeetings. At unclebarky.com, though, the sole editor and proprietor instantly said, "Good to go!"
Canada's CBC Television, which premiered
Schitt's Creek
on Jan. 13th, has already ordered a second season of the series. The screws need some tightening but the basics are in place and the cast is more than capable. More than 30 years removed from their
SCTV
glory years together, O'Hara and Eugene Levy still know how to play off one another. They could use some sharper instruments, though, to deliver beyond a daring title that calls for more than just passing gas.
GRADE:
C+
Email comments or questions to:
unclebarky@verizon.net