R.I.P. Sid Caesar: Sept. 8, 1922 to Feb. 12, 2014
02/12/14 02:56 PM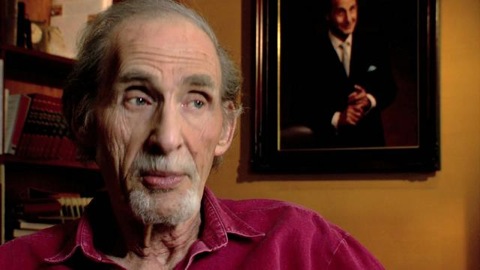 By ED BARK
@unclebarkycom on Twitter
The Sid Caesar appreciation society shrank to near invisibility in the many years since he made a big name for himself as the star of the truly groundbreaking
Your Show of Shows
.
It left NBC on the night of June 5, 1954. And after a followup show called
Caesar's Hour
died in 1958, its host gave in to a steady diet of pills, booze and despondency. It was all recounted in his 1982 autobiography,
Where Have I Been?
. Chapter 18, titled "It Was All One Big Black Blob," begins with, "Depression. it rolled over me like a giant fog."
Caesar died on Wednesday, Feb. 12th at age 91. He had been in poor health for some time, but still mustered the energy to appear at a July 2005 panel tied to PBS' first edition of its ongoing
Pioneers of Television
series. Caesar was in a wheelchair, and the session ended up being dominated by a still sharp as a tack Red Buttons making fun of Mickey Rooney. That became the takeaway for most TV writers in attendance.
Caesar's true last hurrah came in 2001, when he accepted the Television Critics Association lifetime achievement award. His acceptance speech, which he delivered on his feet, was a
tour de force
of old bits from his salad days. A prolonged standing ovation washed over him. He could have stayed all night.
Your Show of Shows
, all of it performed live, birthed the comedy team of Caesar and Imogene Coca while also spotlighting repertory players Carl Reiner and Howard Morris. Besides Caesar and Reiner, the show's writing staff included Mel Brooks and Neil Simon. Future
M*A*S*H
creator Larry Gelbart joined in for
Caesar's Hour
and Woody Allen wrote for several of Caesar's TV specials.
In the liner notes for
Where Have I Been?
, Gelbart says, "Thinking of a writer as a composer, there is no greater instrument through which to hear your notes played than Sid Caesar."
Fellow TV pioneer Steve Allen, first host of NBC's
The Tonight Show
, wrote that "Caesar is to the history of television comedy what Charlie Chaplin was to film comedy."
Some of Caesar's very best sketches were packaged in
10 From Your Show of Shows
. Released in 1973, it re-birthed Caesar and company on many college campuses. I remember first seeing it at the University of Wisconsin-Madison. The sendup of
This Is Your Life
(reprised in the video below) had nearly everybody in convulsions.
Caesar ended up winning two Emmy awards and was among the sophomore class inducted into the Television Hall of Fame in 1985. Still, he's been deemed unfit for the Kennedy Center Honors. And since they fete only the living, not the dead, it's now too late for him.
During
Your Show of Shows
, and long after its cancellation, Caesar never tired of telling people that it was all done live. All 90 minutes of it in a Saturday night time slot that first pitted his program against pro wrestling and then pro football on the old Dumont network. The pressures and frenetic pace combined to make him an alcoholic who drank to excess over his success while also deeming himself unworthy of it.
The late Milton Berle and his
Texaco Star Theater
ended up being the "Mr. Television" of the early 1950s while
I Love Lucy
lives on as that era's prototypical TV sitcom. Without question, Sid Caesar also belongs on that Mount Rushmore. His death closes the curtain on one of the last of the great small screen innovators.
Now here's a classic that still cracks me up.
Email comments or questions to
unclebarky@verizon.net