TV Land again primes the old school sitcom pump, this time with Kirstie Alley's Kirstie
12/03/13 09:11 AM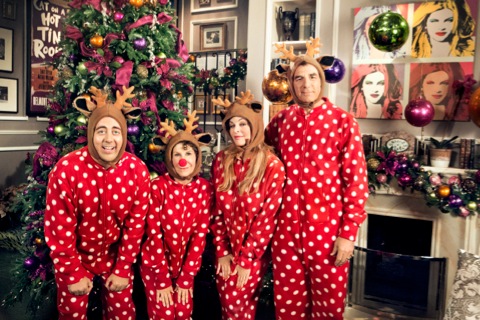 Reindeer PJs shtick for the Christmas episode of Kirstie. TV Land photo
Premiering:
Wed., Dec. 4th at 9 p.m. (central) with back-to-back episodes on TV Land
Starring:
Kirstie Alley, Rhea Perlman, Michael Richards, Eric Petersen
Produced by:
Kirstie Alley, Marco Pennette, Jason Weinberg
By ED BARK
@unclebarkycom on Twitter
The three name-brand stars of TV Land's latest loudly decorated, throwback sitcom have a collective nine acting Emmys.
Kirstie Alley (2), Michael Richards (3) and Rhea Perlman (4) are in no danger of upping those totals with
Kirstie
. But they do face the prospect of long-term employment on a network that renews most of what it recycles. Led by
Hot In Cleveland
, the network also is home to multi-season comedies such as
The Exes
and
The Soul Man
.
Alley, who came to fame as bar manager Rebecca Howe in
Cheers
, is rejoined by co-star Rhea Perlman, who played tart barmaid Carla Tortelli. For their second time around, Alley is a boozing, sex-crazed, self-important Broadway diva named Madison "Maddie" Banks while Perlman toils as her snippy personal assistant, Thelma Katz.
Michael Richards, who once knew the glory of
Seinfeld
, also is back in play as Maddie's pot-smoking, wisecracking limo driver, Frank Baxter. Into these insular lives strides a puffy 26-year-old manchild named Arlo Barth (Eric Petersen). Encountering Maddie after her latest triumphant stage performance, Arlo says he's "pretty sure I'm the kid you gave up for adoption 26 years ago."
And so he is. Which greatly vexes an unequipped Maddie while filling Arlo with amazement when he's first allowed into her posh Manhattan apartment. "You have a personal chef, a driver and an assistant?" he marvels. "You're like a white Oprah."
The personal chef hit
Kirstie's
cutting room floor after the Wednesday, Dec. 4th premiere, which airs back-to-back with a second half-hour subtitled "Arlo Moves In." TV Land also made two subsequent episodes, "Arlo's Birthday" and "Little Bummer Boy," available for review.
They're not without their broad, hammy amusements and some occasionally sharp writing amidst the fast and furious punchline pace. Marveling at Maddie's piled-high coif in the opening half-hour, Arlo says approvingly, "I love your hair. You look just like Marge Simpson."
That one pretty much works. As does the line where Maddie tells Arlo, "If you have any more questions for me, here is my autobiography."
But
Kirstie
also runs afoul of Richards' doofus Frank reading a review extolling his boss lady as "bigger and harder than ever" in her latest play. Whoops, he's inadvertently cited a pop-up ad for Viagra.
Richards now sports a prominent widow's peak instead of his wild 'n' wooly "Kramer hair." The poor guy is doing the best with what he's given and is still a gangly sight gag. But man, he's stuck with a really sad and saggy groaner at the start of Episode 2, telling one and all that "I gave Angela Lansbury a few drinks (at Maddie's latest opening night party), and she's all over my bed knobs and broomsticks." Badda bing, bam, thud.
Perlman's Thelma peppers away as the show's prototypical second banana, taking Maddie down a peg while slogging through a bottomless pit of sex, food and vanity jokes.
Learning that her son has been scrimping along as an employee at The Glazed Hole, Maddie initially wonders if it's a gay bar. "Gays love me," she proclaims before Arlo says it's a donut shop. "Donuts love her, too," Thelma chimes in.
Petersen plays Arlo as a combination wide-eyed innocent/moral compass who makes his reluctant birth mom see the light whenever she's on the verge of blowing him off. Maddie finally vows to "make you my project. And not like that school in Africa. I'm gonna finish you."
Guest stars abound. Kristin Chenoweth pops in as Maddie's Broadway understudy in Episode 2 while Cloris Leachman spices the Dec. 18th Christmas episode as Maddie's grouchy (what else?) mother, Shirley Klusewski. John Travolta, Jason Alexander, Kathy Griffin and George Wendt also will be joining in down the road.
All of this familiarity doesn't necessarily breed contempt.
Kirstie
is a bit like watching Joe Montana when he played for the Kansas City Chiefs. He was past his prime, but still capable of getting the job done on occasion. Alley, Perlman and Richards were far more gainfully employed on their previous classic comedy series. Now they're in a sense doing dinner theater in Yuma but seemingly having a good time together nonetheless.
At the end of
Kirstie
's Christmas episode, the stars are kids again via a merry snowball fight -- with fake snow, of course. They're not hurting anybody. Nor, in reality, is this show.
GRADE:
C+
Email comments or questions to:
unclebarky@verizon.net