Netflix's The Ranch gives Kutcher a little more rope
04/01/16 03:27 PM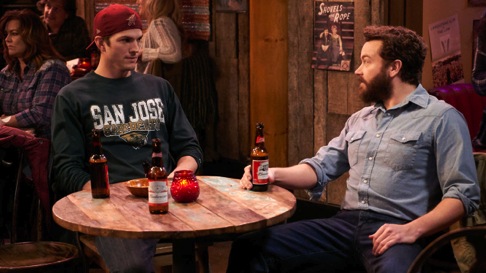 Ashton Kutcher, Danny Masterson & some cold ones in The Ranch.
Netflix photo
Premiering:
Currently streaming all 10 episodes from Part 1 of Season 1
Starring:
Ashton Kutcher, Danny Masterson, Sam Elliott, Debra Winger, Elisha Cuthbert, Brett Harrison
Produced by:
Don Reo, Jim Patterson, Ashton Kutcher, Jane Wiseman, Blair Fetter, Andy Well
By ED BARK
@unclebarkycom on Twitter
Several weeks after launching
Fuller House
, Netflix has unveiled another retro-fit, laugh track-spiked sitcom that's also a homecoming of sorts.
Ashton Kutcher and Danny Masterson from
That '70s Show
are reunited as siblings in
The Ranch
, which turned up on April Fool's Day with the 10 episodes that make up "Part One" of Season 1. It's a decent vehicle for both of them, with veterans Sam Elliott and Debra Winger also part of the ensemble while Elisha Cuthbert (
24, Happy Endings
) is prominent in most of the early half-hours.
Kutcher, segueing from the closing seasons of
Two and a Half Men
, plays prodigal son Colt Bennett, a former hot-shot, small-town high school quarterback who's now a 34-year-old washout. Returning home to his family's up-against-it Colorado ranch in search of a tryout with a nearby semi-pro team, Colt again gets clotheslined by his cantankerous, conservative father, Beau (Elliott). The old man has no use for either modernity or his youngest son's layabout wayward ways. So the laugh track howls in Episode 2 when Beau asks his other son, Rooster (Masterson), "What the (bleep) is Netflix?"
Beau and Maggie Bennett (Winger) remain married but live apart. She divides her time between Maggie's bar, which she owns, and a trailer home that Beau occasionally frequents for carnal purposes. Otherwise he's a humorless plow horse who works from sunup to sundown while hoping that rain will fall for the first time in a year. Not that the prolonged drought is in any way the fault of humankind. "Global warning's a bunch of crap Al Gore made up to sell books to Californians," Beau barks.
Elliott, still affixed with a croissant-sized mustache, hasn't had this much to do on-screen in years. But he's somewhat surprisingly up to this task, particularly during a very reluctant trip to the doctor's office in Episode 3 after he throws out his back. Beau's prototypical gruffness is amusing in measured doses while outwardly cocksure Colt and deadpan Rooster also fare well as bantering brothers who specialize in sex talk between guzzles of bottled beer and straight whiskey.
Winger's appealing Maggie is the calming influence, standing up for both of her sons while sometimes trying to drag her husband kicking and grousing into at least the 19th century. "Beau, what's wrong?" she asks in Episode 3 after he gingerly walks into her bar. "You're acting like you have an
actual
stick up your ass."
Cuthbert joins in as Colt's former high school sweetheart, Abby, who's now in love (or so she keeps saying) with a square Marriott hotel manager named Kenny (Bret Harrison). The scenes with Colt and Abby play naturally rather than broadly.
Another familiar TV face, Ethan Suplee from
My Name Is Earl
, also stops by as town cop Billy, still known as "Beer Pong" by Colt and Rooster. Through the first four episodes, which are lightly sprinkled with f-bombs,
The Ranch
establishes itself as an easily imbibed, down-home diversion replete with rough edges and mini-lessons to live by. Some of the jokes are juvenile and some of situations are pat. Still, this is by and large a pleasant surprise that advances the ball just a bit further for Kutcher. He's not yet a mature actor or character. But Colt is fairly far removed from both brainless Michael Kelso on
That '70s Show
and Kutcher's dumb and dumber character in 2000's
Dude, Where's My Car?
.
The Ranch
is hardly populated by mental giants, at least among its male characters. Still, Kutcher in particular is growing into more nuanced roles that someday might even make him something of a "serious" actor. Perhaps he'd like that.
GRADE:
B
Email comments or questions to:
unclebarky@verizon.net