Suits suits USA, which again knows how to dress itself
06/22/11 11:58 AM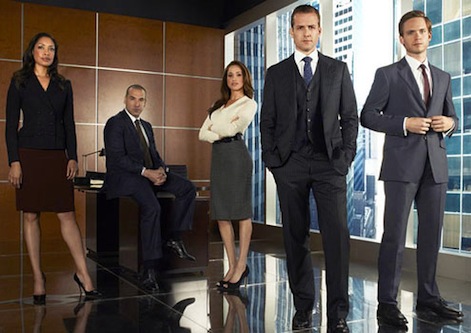 The lawyers in Suits are dressed to kill the opposition. USA photo
Premiering:
Thursday, June 23rd at 9 p.m. (central) on USA
Starring:
Gabriel Macht, Patrick J. Adams, Meghan Markle, Gina Torres, Rick Hoffman, Sarah Rafferty
Produced by:
Doug Liman, Aaron Korsh, David Bartis, Sean Jablonski
By ED BARK
Struggling NBC hasn't had a full-blown scripted series hit since Joe Biden's boyhood, it seems, with all of last fall's newcomers failing to reach second seasons.
But on its corporate cousin, the USA network, they keep 'em coming like chocolates on an
I Love Lucy
assembly line. New seasons of
Burn Notice, Royal Pains, Covert Affairs
and
White Collar
all are launching this month. Three other holdover dramas,
Fairly Legal, Psych
and
In Plain Sight
, also have been green-lighted for new seasons. Abject failures have been few and far between.
Now USA tries on the new
Suits
, premiering Thursday after the Season 5 premiere of
Burn Notice
. (If you intend to record it, note that the extended pilot runs to 10:22 p.m. central.)
USA publicity materials say that
Suits
"pushes the boundaries of the USA genre." In the language department perhaps.
Suits
, which originates from a cutthroat Manhattan corporate law firm, journeys to FX land with early droppings of s-words, a "Goddamn," double dips of "ass" and "rat's ass" plus a "dickhead" and a "douche." Which very likely means that McDonald's won't be buying in, but Mike's Hard Lemonade might be.
Suits
starts a little sluggishly, with its two principal protagonists still worlds apart. Attorney Harvey Specter (Gabriel Macht), affixed with an immovable Bob's Big Boy hair wave, is first seen throwing his weight around as "the best closer this city's ever seen." Meanwhile, brilliant college dropout Mike Ross (Patrick J. Adams) is getting paid to take a final exam under a false identity. He later gets involved in a dangerous drug delivery after learning that his beloved ill grandma is in danger of being put in a dreaded "state facility" unless he comes up with $25 grand.
Under a fairly ridiculous set of circumstances, an on-the-lam Mike ends up interviewing for a job as the cocksure Harvey's associate. But the firm only takes Harvard law grads, whom Mike prefers to call "Harvard douches."
"What if I told you that I consume knowledge like no one you've ever met -- and I've actually passed the bar," Mike tells Harvey. Well, in that case, let's give it a go. Just don't tell anyone.
Suits
eventually starts to find its footing after introducing sexy paralegal Rachel (Meghan Markle) -- "Too busy ogling me to hear anything I said" -- and Harvey's sinister law firm rival, a bullet-head named Louis (Rick Hoffman). There's also hard-edged managing partner Jessica (Gina Torres), who doesn't like it at all when Harvey uses Mike as his gofer on a pro bono case involving a sexual harassment charge.
Macht is suitably imposing as Harvey while also looking great in impeccably tailored dark suits. Adams shows off a soft serve 'tude that wears pretty well during their characters' brushes against one another. The kid also, of course, has a conscience, which seeps into play after Harvey informs him, "It's not about caring, it's about winning."
"Why can't it be about both?" he wonders. On paper this might be groan-inducing. On screen it works pretty well.
Next Thursday's episode digs into Louis' dirty tricks bag while Harvey squares off against an imperious, blackmailing judge. It's a solid hour that improves on the promise shown in the opener.
Both USA and TNT continue to roll along this summer with their respective slogans of "Characters Welcome" and "We Know Drama." The USA formula generally calls for breezier, brighter sky outings while TNT goes for a little more bite.
Suits
is made of somewhat sterner stuff than other USA originals. But it always gets down to how well the lead characters hold up. Once again, it looks as though we have a winner on a network that knows what it's all about while big brother NBC keeps stumbling on TV's main stage of actors and their roles.
GRADE:
B