West Texas awl bidness gets reality check on truTV's Black Gold
06/18/08 06:44 AM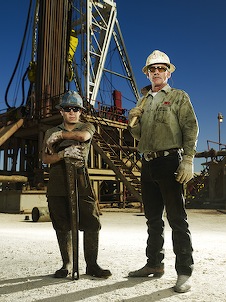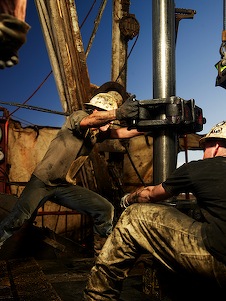 Peanut the "Worm," bossman Gerald and the dirty work they do.
Premiering:
Wednesday, June 18th at 9 p.m. (central) on truTV
Starring:
Three competing teams of oil drillin' West Texas roughnecks
Produced and narrated by:
Thom Beers
By ED BARK
My rig's bigger than yours.
That's pretty much the basic drill in truTV's
Black Gold
, where the narration and production values pretty much match the crudeness of the oil and the West Texas roughnecks going after it.
On Wednesday's premiere of this multi-part series, a bossman named Tim gets blind drunk celebrating his 31st birthday at a honky tonk. Tim and most of his men then lay out the next day, forcing the overnight shift at the Big Dog rig to pull a double.
"My daddy was scheduled for a triple bypass today, and I can't even be there," laments one roughneck.
And there you have it. Originating from West Texas' oft oil rich Permian Basin,
Texas Gold
shows that just about anything can be turned into a reality TV competition. In this case, three competing rigs -- the Longhorn, Viking and Big Dog -- get 50 days to strike it rich 3,000 feet below. It's a rough, tough, dirty business, which narrator and executive producer Thom Beers keeps slamming home.
"They fight the clock, the machines and their own inner demons," Beers tells viewers after perhaps having a few.
Crusty Gerald, veteran head of the Longhorn team, remembers losing part of his thumb in barely a second. So his men are schooled in the art of not putting a thumb where you wouldn't put "your pecker."
Frequently bleeped for profanity,
Texas Gold
is a natural extension of last year's big-screen oil fable,
There Will Be Blood
. Men are men and rookies are "worms." Diminutive "Peanut" is one of 'em. The show delights in repeatedly showing him getting dinged in his hardhat by a wayward chain. It scrambled his brains a bit, but the kid'll be all right.
"There's Peanut, you hard-workin' little fart," Gerald says with all due affection. A-w-w-w.
But Peanut later is very late for work, prompting Gerald to bark into his phone, "You better be bleedin' or I'm killin' your ass."
Their work is both important and expensive in times when gas prices are making many consumers bleed money.
Texas Gold
is pretty good at detailing the costs -- up to $60,000 for a "high-end" drill bit -- and the risks to oilmen Mike LaMonica and Autry Stephens, who are bankrolling the three rigs during their journeys to the center of the earth.
The production values and overall narrative writing could use a clean shave. Still, the show has its own roughhewn appeal. These are coarse but dedicated men doing very necessary work that few can accomplish and most wouldn't try.
You won't get any All-Star editions of
Texas Gold
, because a pseudo celebrity's "journey" would soon end with a limb or appendage subtracted. Let's have a big hand for Danny Bonaduce. Whoops, he just lost one.
This show's cast of characters at least is authentic. Peanut, for one, will have to be buying the beer after showing up late. But bossman Gerald first will delight in ragging on him all day.
On
Texas Gold
, that's entertainment. Other than the digging, there's nothing very deep about it. But at times it all works pretty well.
Grade:
C+