Kids get the upper hands and the winning lines in ABC's Single Parents
09/26/18 01:11 PM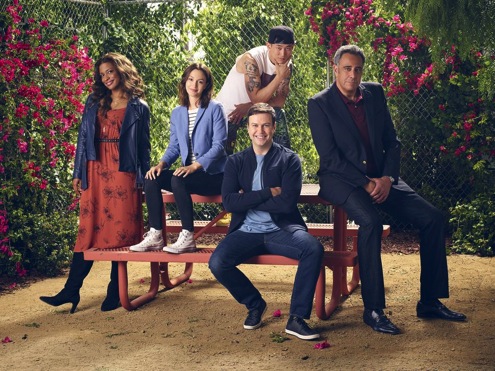 Who's minding the kids? The cast of Single Parents. ABC photo
Premiering:
Wednesday, Sept. 26th at 8:30 p.m. (central) on ABC
Starring:
Taran Killam, Leighton Meester, Brad Garrett, Kimrie Lewis, Jake Choi, Marlow Barkley, Tyler Wladis, Devin Trey Campbell, Mia Allan, Ella Allan
Produced by:
JJ Philbin, Elizabeth Meriwether, Katherine Pope, Erin O'Malley, Jason Winer
By ED BARK
@unclebarkycom on Twitter
The kids are more than all right, and the grownups aren't bad either in the new sitcom
Single Parents
. So maybe ABC has something here.
Slotted behind
Modern Family
, this is about fractured units of disparate moms and dads who lately are going it alone. Principal among them is hapless, divorced Will Cooper (Taran Killam), whose manhood has atrophied during the time he's been doting on his little daughter, Sophie (Marlow Barkley).
Self-designating himself as her school's resident "room parent," Will strives to get the others aboard. "I have no wiggle room on parent participation," he insists.
Dour Douglas Fogerty (Brad Garrett), who bristles at being called "Doug," has a less than enthusiastic response. "Somebody tell me when it's safe for my nuts to return to my body," he grouses.
Douglas, whose recently deceased younger wife was an exotic dancer, has left him with twin daughters named Emma and Amy (Mia and Ella Allan). He's joined in this mix by Angie D'Amato (Leighton Meester) and her son, Graham (Tyler Wladis); infant-toting Miggy Park (Jake Choi); and Poppy Banks (Kimrie Lewis), whose son is Rory (Devin Trey Campbell).
Garrett's well-practiced deadpan demeanor again is deployed to good effect as the resident old-line conservative. But the first episode of
Single Parents
also relies on the kids' ways with lines. And they keep delivering, particularly Graham and Rory.
"Will, I say this with an open heart and nothing but love. You're a disaster," Graham says in perfect cadence. With Rory, it's not so much what he says, but how. When Douglas grudgingly asks him if he'd like to dance, Rory answers with letter-perfect joy in his heart, "My answer is always yes." It may be the single most huggable moment of the new season.
Will, still stuck in the single parent "vortex," hasn't had sex in five years by his estimate and still carries around his ex-wife's mermaid tote bag. Angie tells him she's been there: "When you have kids, something happens to you. You become moosh."
But Douglas isn't buying. "A man with a mermaid bag. I blame Obama," he says.
Single Parents
navigates this scene-setter in consistently amusing fashion while deftly juggling its array of adults and kids. Will's maturation, if it ever really comes to that, is the show's core objective. Otherwise the kids so far are stealing the show -- and this time it's a pleasure watching them do so.
GRADE:
B
Email comments or questions to:
unclebarky@verizon.net