Snowfall is a tough sell, even if its crack cocaine is not
07/05/17 09:27 AM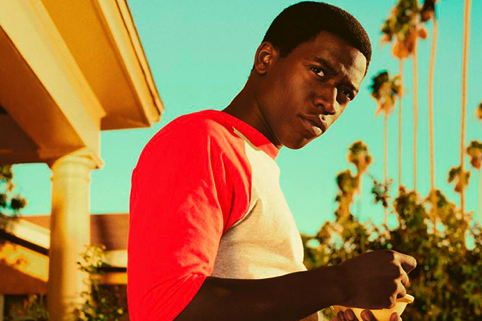 Damson Idris stars as a budding coke pusher in Snowfall. FX photo
Premiering:
Wednesday, July 5th at 9 p.m. (central) on FX
Starring:
Damson Idris, Carter Hudson, Sergio Peres-Mancheta, Emily Rios, Michael Hyatt, Amin Joseph, Angela Lewis, Juan Javier Cardenas, Filipe Valle Costa, Alon Moni Aboutboul, Malcolm Mays, Isaiah John
Produced by:
John Singleton, Dave Andron, Thomas Schlamme, Eric Amadio, Michael London, Trevor Engelson
By ED BARK
@unclebarkycom on Twitter
Using "How Crack Began" as the principal promotional tease is really pushing it. Might too many viewers be very much inclined to just say no?
Liberally spiked with n-words and f-bombs, FX's
Snowfall
violently cooks up a tale of highs and lows in South Central L.A. and points north, circa 1983. The network made all 10 Season One episodes available for review, but the last four materialized on the cusp of the extended Fourth of July weekend. Powering through all of them, which I did, yielded flash points of gripping storytelling en route to an extended season finale that mostly took predictable turns in setting up a planned Season 2. Don't look for any instantly recognizable stars. There are none, which may compound the problem.
Snowfall
's principal executive producer is John Singleton, who first dissected South Central in the breakthrough 1991 feature film
Boyz N the Hood
. His subsequent big-screen efforts have included
2 Fast 2 Furious, Hustle and Flow, Higher Learning
and a remake of
Shaft
.
As portfolios go, Singleton lately has lagged behind fellow veteran African-American filmmaker John Ridley, whose recent efforts include
12 Years A Slave, Guerrilla
and three seasons of ABC's
American Crime
, which was critically acclaimed but also had criminally low ratings.
Singleton took his behind-the-camera skills to television last year, calling the directorial shots for "The Race Card" episode of FX's multi-award winning
The People v O. J. Simpson: American Crime Story
. For
Snowfall
, which looks like a much tougher sell, he co-writes Episodes 1 and 2, and directs the closer.
FX has affixed its usual TV-MA advisory, which connotes "graphic violence, explicit sexual activity" and/or "crude/indecent language." Each episode generally qualifies on all three fronts, with the opener including a glimpse of a woman blowing coke up a man's rectum via a straw shortly before he begins convulsing, foaming at the mouth -- and dying. Even FX's
Sons of Anarchy
never got quite to this level.
Young Franklin Saint (Damson Idris) initially is out of this particular loop. Living in South Central with his put upon single mom Cissy (Michael Hyatt), he's secretly helping his Uncle Jerome (Amin Joseph) peddle marijuana to the community. Neither aspires to go beyond this until one of Franklin's white playboy customers asks him if he can score some coke for his girlfriend, who's increasingly hooked. At the end of this particular road, for starters at least, is brutal drug kingpin Avi Drexler (Alon Moni Aboutboul). He has no interest in small-time sales but will give Franklin a kilo in return for $12 grand on the following day. And so it begins.
The cocaine trade also flourishes on two other fronts. A Mexican cartel family includes distributors Lucia Villanueva (Emily Rios) and her amoral boyfriend, Pedro Nava (Filipe Valle Costa). Their "muscle" is beaten down wrestler Gustavo "El Oso" Zapata (Sergio Peris-Mancheta), a lug with a good heart who only wants to feel appreciated. This makes him something of a hero, even though he's also a hit man.
Snowfall
also has what amounts to a token white main character. He's disenfranchised CIA operative Teddy McDonald (Carter Hudson), who's trying to get back in the good graces of the agency by buying arms for the Nicaraguan Contras via clandestine cocaine deals. His unpredictable partner in this dangerous enterprise is Contra soldier/pilot Alejandro Usteves (Juan Javier Cardenas). Teddy's personal life is paying a price for this. He's lately been separated from a fellow CIA operative who's also the mother of his toddler son.
Snowfall
doesn't always flow easily among these three major story lines. But they're tied together by the overall grim and dirty nature of the business. Beatings, killings, graphic language and gyrating bare behinds are never more than a few scenes away, with young Franklin gradually steeling himself before stumbling upon the joys of cooking coke during a trip to Oakland and a chance meeting with a thoroughly dazed free baser in a contorted Episode 7. "Our future" is at hand, he confidently tells his two young bro' running mates, Malcolm Mays and Leon Simmons (Kevin Hamilton, Isaiah John).
The portrayals of African-Americans and Mexicans are anything but life-affirming. But is all of this permissible merely because
Snowfall
's two co-creators are both African-American? Could a white person captain what basically is
Breaking Bad
for people of color?
From this view, the end product is still troubling. And
Snowfall
isn't of a high enough caliber to overcome its overall perception problems -- particularly in these thoroughly polarizing times. What's the purpose of telling this story? Are we supposed to be cheered by the burgeoning bull market for crack, with most of the African-Americans depicted in
Snowfall
aspiring to little more than new and cheaper ways to get thoroughly wasted?
In the end, I'm just not willing to buy it, no matter who has creative control.
Snowfall
is competently made and acted. But its images are just too destructive all around.
GRADE:
B-minus
Email comments or questions to:
unclebarky@verizon.net