Roseanne barges back on, but will it still fit ABC?
03/26/18 01:00 PM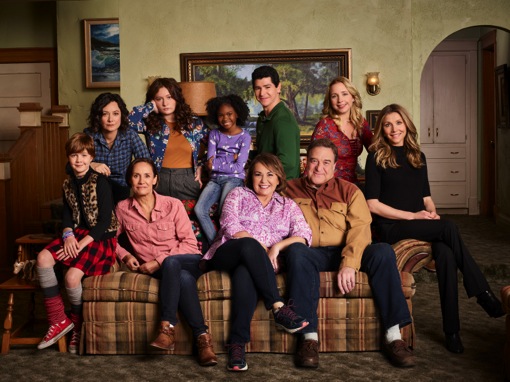 Family ties still both strong & frayed on Roseanne reboot. ABC photo
Premiering:
Tuesday, March 27th at 7 p.m. (central) with back-to-back episodes on ABC
Starring:
Roseanne Barr, John Goodman, Laurie Metcalf, Sara Gilbert, Lecy Goranson, Michael Fishman, Ames McNamara, Emma Kenney, Jayden Rey, Sarah Chalke
Produced by:
Tom Werner, Bruce Helford, Roseanne Barr, Sara Gilbert, Whitney Cummings, Tony Hernandez
By ED BARK
@unclebarkycom on Twitter
As did NBC's
Will & Grace
revival, ABC's second coming of
Roseanne
unburdens itself of the polarizing presidential election in Episode 1 before putting a stop to it and moving on to other discords in upcoming half-hours.
Before that, though -- again
as with Will & Grace
-- there's a second disconnect from the way these series ended. Because now none of that nonsense ever happened.
In
Roseanne
's case, tubby hubby Dan Conner (John Goodman) didn't die of a heart attack after all. Instead he's first seen in bed, strapped to a sleep apnea device while wondering why everyone seems to think he's deceased. Big laugh. New chapter.
The original
Roseanne
lasted nine seasons before seemingly leaving ABC for good in May 1997. Roseanne (Roseanne Barr) and her sister, Jackie Harris (Laurie Metcalf), had a falling out at some point since then, and it's only gotten worse since the 2016 election of Donald Trump.
This prompts Jackie to barge into the basically unchanged Conner home wearing a "Nasty Woman" t-shirt and greeting her sister with, "What's up, deplorable?"
Roseanne (also a Trump supporter in real life) in turn calls Jackie a "snowflake" before everyone settles into another fractious family dinner. It starts out like this:
"First, let's say grace. Jackie, would you like to take a knee?"
The studio audience howls, and it's indeed a good line. Roseanne's not finished: "But most of all, Lord, thank you for making America great again."
Jackie remains aghast that both Roseanne and Dan voted for Trump, who in her view has only made things worse. But Roseanne's got another counterpunch: "Not on the real news!"
Things aren't going well, though. Roseanne and Dan are on heavy meds for various ailments, but paying twice as much for them now. Swapping pills is one remedy, which they do in an early scene.
Middle daughter Darlene (Sara Gilbert) has moved back in after losing her job. Her two kids, daughter Harris (Emma Kenney) and son Mark (Ames McNamara), are also newly under the Conner roof. He enjoys dressing in women's clothes and she's prototypically insolent.
"You're ruining my life. You all suck," Harris proclaims early on.
"I ain't seen that movie in 20 years," Dan retorts.
There's also oldest daughter, Becky (Lecy Goranson), who has a low-paying job at a Mexican restaurant. Her grand plan is to make $50 grand by being a surrogate mother for a woman named Andrea (Sarah Chalke, who was the series second Becky from 1993 to '97). Only son D.J. (Michael Fishman) is back, too -- as a single dad recently returned from combat. His pre-teen daughter is named Mary (Jayden Rey).
That's quite a lot to unpack -- and the first episode is awkward at times compared to the two subsequent ones made available for review. Barr's acting is noticeably mechanical in the early going while Goodman (who seems to have made a million movies in the interim) initially seems a little lost in the transition back to playing a character for which he received seven Emmy nominations without ever winning.
In Tuesday's second episode, the Conners are at odds over grandson Mark's wardrobe choices, with Dan certain he'll be bullied.
"If you care about his safety, you'll make him wear pants to school," he insists.
Roseanne takes the extra step of accompanying Mark on his first day at a new school. "Do you feel like you're a boy or a girl?" she asks him.
"A boy," he says. Still, "I like colors that 'pop.' It's more creative."
This episode also finds Dan lamenting, "When did masculine become a dirty word?" Um, no comment.
A third and stronger episode takes a serious turn in addressing Roseanne's various ailments and how she's secretly been coping with them. Her left knee in particular is killing her, but surgery would require a $3,000 deductible payment.
The famed Roseanne cackle again is seen and heard in the opening credits. But you haven't seen/heard anything in that regard until she and Dan get looped on their 45th anniversary when other plans go awry. Barr likely has never been seen laughing this hard -- and this naturally. It's both infectious and affecting.
Roseanne
remains wedded to the trials and travails of the up-against-it working class. Conner family values have been tweaked somewhat, but not to the point where recalcitrant Dan is going to bend over backwards.
"In this family, if you get pregnant, you're going to have the baby," he proclaims when learning of Becky's surrogate plans.
And yeah, Darlene can still dream of being a writer, but "sometimes you just gotta suck it up and put your family first,." he counsels her.
More than ever -- or at least since the 1960s -- some will reject Dan as a hopeless Neanderthal while others see him as a rock steady traditionalist of whom we need more. The show is still named
Roseanne
. But in these early episodes, it's Dan who raises the real hell while his wife belts out the best jokes and Metcalf's Jackie comes off as too much of a broadly drawn goofball.
We'll see how it all eventually comes out in the wash. And yes, there's again plenty of that, too.
GRADE:
B-minus
Email comments or questions to:
unclebarky@verizon.net