New season: it's a threesome on ABC, with still more to come after Modern Family, Cougar Town and Eastwick
09/23/09 12:13 PM
By ED BARK
ABC unveils two-thirds of its all-new Wednesday this week after the season's first
Dancing with the Stars
eviction hour. We'll take them one at a time, in order of appearance, from
Modern Family
to
Cougar Town
to
Eastwick
.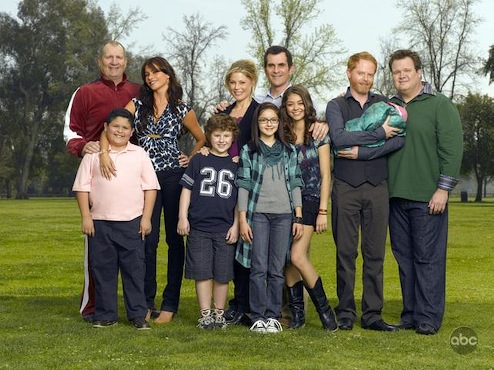 Remember him? That's Ed O'Neill on the upper far left.
Premiering:
Wednesday, Sept. 23rd at 8 p.m. (central) on ABC
Starring:
Ed O'Neill, Julie Bowen, Ty Burrell, Sof'a Vergara, Jesse Tyler Ferguson, Eric Stonestreet, Sarah Hyland, Nolan Gould, Ariel Winter, Rico Rodriguez
Produced by:
Steven Levitan, Christopher Lloyd
Think
Arrested Development
, but hope for much better ratings.
ABC's
Modern Family
, the season's funniest new comedy, also draws on the "mockumentary" style of NBC's
The Office
and
Parks and Recreation
.
But something borrowed doesn't mean something that feels used. There's a fresh thrill of discovery here, with old pro Ed O'Neill (
Married...with Children
) leading the pack as cranky family patriarch Jay Pritchett.
If this is the season of cougars -- see subsequent reviews -- then Jay is a more conventional lion in winter. He's not quite declawed yet, but does have a tough time arising from lawn chairs at soccer games. His new wife, Gloria Delgado-Pritchett (Sof'a Vergara), is appreciably younger and Latina. Her chubby, 11-year-old son, Manny (Rico Rodriguez), is a little slow on the draw but yearns for the love of a 16-year-old girl on whom he's fixated. None of this goes smoothly.
Jay's daughter, Claire (Julie Bowen), is married to hopelessly uncool Phil Dunphy (Ty Burrell), who very much thinks he's otherwise. He mortifyingly knows all the songs from
High School Musical
and greets his oldest daughter's boyfriend with "Lemme meet this playa."
Jay also has a grown son, Mitchell (Jesse Tyler Ferguson), who has just adopted a Vietnamese baby girl with his life partner, Cameron (Eric Stonestreet). A surprise awaits Mitchell upon their return home. Cameron has commissioned a finished mural of the two of them beatifically taking wing. Or to put it another way, "Your fathers are floating fairies," says the aghast Cameron.
The mockumentary part finds the three couples intermittently sitting separately on their living room couches, where they talk to the camera.
American Gothic
it's not.
O'Neill is the marquee player in
Modern Family
, but Burrell as Phil is the first episode's MVP. He bungles an attempt to teach son Luke (Nolan Gould) a lesson by shooting him with a BB gun he's used on one of his siblings. And he's equally ridiculous dunking over one of the Dunphy kids on their mini-sized, backyard basketball hoop.
They all get together just once in Wednesday's opener, when Mitchell and Cameron have everyone over to introduce their adopted daughter. There's no Archie Bunker-esque bluster from Jay. On the contrary, he's trying to be accepting, which makes for a surprisingly charming scene.
Modern Family
has potential to burn and two very savvy guys behind the camera as co-executive producers.
Steven Levitan's credits include
Just Shoot Me
and last season's under-appreciated
Back to You
, whose stars -- Kelsey Grammer and Patricia Heaton -- will unveil their separate new comedies next Wednesday on ABC. Christopher Lloyd's resume includes
Back to You
and
Frasier
.
This is the duo's first major effort together without a laugh track. That connotes "smart" comedy, but still mitigates against "mainstream" audience acceptance. So be it.
Modern Family
likely will need the same support from ABC that NBC has given its ratings-challenged
30 Rock
. We'll just have to see if that's asking too much.
GRADE:
A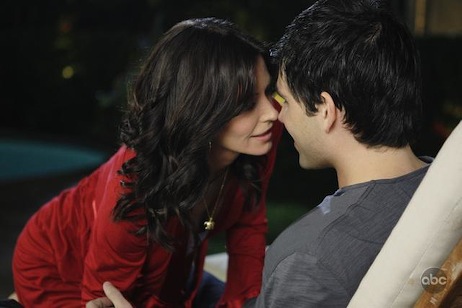 Courteney Cox in Cougar Town: Gimme some sugar, little booger.
Premiering:
Wednesday, Sept. 23rd at 8:30 p.m. (central) on ABC
Starring:
Courteney Cox, Busy Philipps, Christa Miller, Brian Van Holt, Josh Hopkins, Ian Gomez, Dan Byrd
Produced by:
Bill Lawrence, Kevin Biegel, Courteney Cox, David Arquette
Courteney Cox still doesn't mind showing off. And frankly, she's entitled, thank you very much.
Cougar Town
's signature scene, already well-showcased in promos, finds a bathrobe-clad Cox shouting, "Hey kid! Pow!" as she gives a bicycle-riding paperboy a generous glimpse of her stripped-down physique.
She wouldn't be wearing a bra and panties in the European version. In either case, the kid careens into a car hood, and it's still laugh-out-loud funny.
The impetus for this is a smug, divorced neighborhood womanizer who tells her, "Maybe what really drives you nuts is that you couldn't bag a young stud if you tried." Oh yeah? Pow!
Cox, 45, plays 40-year-old Jules in this energetic laugher from the creator of
Scrubs
and
Spin City
. A Florida realtor on the rebound, she dropped out of college to support ex-husband Bobby's (Brian Van Holt) PGA golf tour travails. Instead he spent 20 years "drilling everything" in sight, she reflects.
In this year of the TV cougar, a woman scorned is a woman on the prowl. Jules' busy pal, Laurie (Busy Philipps), is full steam ahead when it comes to baggin' the boy toys. Her other friend, Ellie (Christa Miller), is more of a cheerleader. She's married to a shlepper named Andy (Ian Gomez), who looks and sounds less appetizing than an untoasted, unfrosted Pop Tart. Still, he tries.
Jules also has a teenage son named Travis (Dan Byrd). So it gets a little gamey shortly after she beds a stud-lette, does the deed thrice and then serves him peanut butter crackers poolside while otherwise bending to her further needs.
This particular bit of business is interrupted by the surprise arrival of her son and her ex-. On the following morning, the kid sees mom with a breakfast banana. "You're not allowed to eat these anymore!" he protests.
And so it goes.
Cougar Town
is more amusing than it might sound here, with Cox's comedic timing a considerable plus. She'll never have a hit like
Friends
again. But she still has the knack, along with a bod that won't quit -- and shouldn't.
GRADE:
B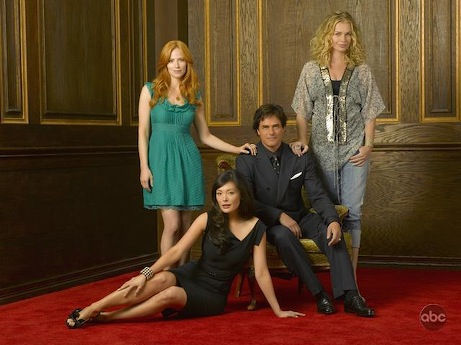 The bewitched ladies of Eastwick with the town's devilish newcomer.
Premiering:
Wednesday, Sept. 23rd at 9 p.m. (central) on ABC
Starring:
Rebecca Romijn, Jamie Ray Newman, Lindsay Price, Paul Gross, Veronica Cartwright, Jon Bernthal, Johann Urb
Produced by:
Maggie Friedman, David S. Rosenthal
The sex talk keeps on comin' in
Eastwick
, which fittingly introduces cougar Rebecca Romijn's character at a town festival by showing her cleavage before her face.
She reprimands an old man for staring before quickly encouraging teen daughter Mia (Ashley Benson) to "sneak out of the house, chase boys, rebel." Then her boy toy Chad (Matt Dallas, who's actually from Phoenix) pops in to drool, "You look good enough to eat."
The late novelist John Updike, on whose books this purportedly is based, might prefer being safely six feet under.
Eastwick
makes the preceding
Cougar Town
seem almost like a nunnery. In Wednesday's premiere, it's not so much the actions taken but the words spoken -- from the opening minutes until near the end. That's when a newspaper editor is admonished, "It is not a tight squeeze in here. You're just a creepy boob-brusher."
Eastwick
isn't artful or entertaining enough to get away with any of this stuff. It's ostensibly about three suddenly bewitched women who begin bonding over giant martinis before a mysterious millionaire named Darryl Van Horne (Paul Gross) blows into town and begins buying up much of it.
Romijn's character, "extrovert artist" Roxie Torcoletti, pre-ordains his arrival by saying she'd like to meet someone dark and dangerous who's "got a really huge" -- pause, one, two -- "appreciation for art." She also hopes to "have amazing animal sex on Egyptian cotton sheets."
Van Horne is more than van horny enough for that. He invites Roxie to his mansion and says he'll pay her big money to sculpt him in the nude. He then emerges naked from his indoor swimming pool to suggest they shower together. After all, "you're the one that wanted me to come, Roxanne,"
She's sort of aghast, but still doesn't mind detailing Van Horne's member -- "a full-size SUV" -- to new pals Joanna Frankel (Lindsay Price) and Kat Gardener (Jamie Ray Newman).
Joanna is a heretofore semi-prim reporter for the local
Eastwick Gazette
, where she pines after a photographer named Will (Johann Urb) but can never seem to say the right thing.
"He's like a saint," Joanna laments. "And I'm just the freak at work who talks about sex toys and puke and discharge (the latter a reference to her yeast infection)."
Kat is saddled with a laid-off lunkhead named Raymond (Jon Bernthal), who has a really mean side, too.
The manipulative Van Horne looks to exploit their weaknesses and and newfound powers while also piling up the double entendres.
Taking another pass at Roxie, he says slyly, "I have a rather large lump" -- pause, one, two -- "of clay." Kyle MacLachlan would have killed for this over-cooked role. Too bad he's still otherwise occupied on
Desperate Housewives
).
Eastwick
, which decidedly lacks the charm of
Charmed
, doesn't seem worth all the hubble bubble toil and trouble. Which is a shame, because the fantasy elements are all there on paper. But the execution is paper-thin, potty-mouthed and altogether puerile.
GRADE:
D+