The late, great Beverly Sills: She put her stamp on TV, too
07/03/07 03:01 PM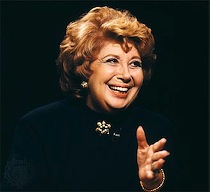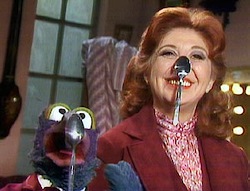 Beverly Sills: recently and in 1979 TV appearance with The Muppets.
By ED BARK
It's been a tough year for America's foremost Sopranos.
The HBO series ended controversially last month. And now Beverly Sills has been silenced. Her death, at age 78 of lung cancer, ends an extraordinary life that in no small part was lived out on television screens.
Not that mere TV critics were worthy of her last expansive interview. It occurred via satellite on July 26th of last year, with Sills appearing in connection with a PBS
Great Performances
special titled
Beverly Sills: Made in America
. The only opera singer ever to guest host a late night talk show was talkative as usual from her home base of New York City.
"I always thought I was a pretty good singer," Sills said for openers. "You know, if you do plumbing for as many years as I've done singing, you get sort of proficient at it. There's a lot of talent involved, I hope, a lot of luck and a lot of being in the right place at the right time."
Sills took opera seriously -- and by storm. She also popularized it in unprecedented ways, appearing on numerous talk and variety shows while guest-hosting Johnny Carson's
Tonight Show
more than a dozen times by her count.
"I think what I did is I took the opera singer out of the house plant that grows in a sheltered area," she said. "I think the public became interested in us as people. And Johnny game me the opportunity to do that kind of talking.
"When he invited me to host the show, I was in absolute fear. I mean, I was frightened beyond belief. I said, 'No, I can't do that.' He said, 'The trick is to just keep talking. And that's the one thing you know how to do.' "
She also appeared on
The Ed Sullivan Show
, and did TV specials with longtime friend Carol Burnett and The Muppets. During the latter she argued with Miss Piggy about the proper wardrobe for a Cleopatra number.
"It's so indescribable, those moments," Sills said. "Because they're not just funny. They're magical. They really are."
Born in Brooklyn, Sills had an oft-stern stage mother and a father who balked at her hitting the road as a 15-year-old singer/entertainer.
"He told me that if I went out on the road . . . I could not ever come come," Sills recalled. "My mother said to me, 'Don't worry, you'll come home to my half of the house.' "
Stills has been nicknamed "Bubbles" all her life, and gave her autobiography that title.
"Well, my father delivered me," she said. "I was 10 and three-quarter pounds, so it was quite a delivery. And he said that I was born with a big spit bubble in my mouth and he had to pop it. And so that's how I was called Bubbles. Needless to say, there have been 35 different stories about that. But my mother and father were the only two people there, so I guess I have to go along with their story."
Her husband, Peter Greenough, died last year of Alzheimer's Disease. In the final stages of his life, they spent much of the morning watching TV together during her daily visits.
"And God, it's moronic," Sills said to laughter. "Some of it is an insult to my intelligence, and I don't think I'm that intelligent. But my God, today you don't have to be a performer. It's not necessary to sing or dance or act. It isn't even necessary to be attractive."
She was on a roll.
"I would like to see one young man come on the television screen clean-shaven. I'll take a beard, but my God, why do they have to look like bums, and (be) chewing gum? I don't want to name any names, but some of the women today appear on talk shows with absolutely nothing to say. And when they do something, you regret it. To come on with their little dogs, what's the talent to that?"
And on that note . . .