CNN fires up The Seventies with another truncated look at what TV wrought
06/11/15 08:52 AM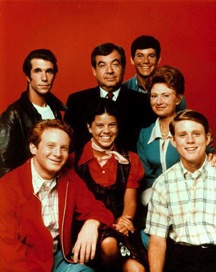 Polar opposites in '70s TV: All in the Family and Happy Days.
By ED BARK
@unclebarkycom on Twitter
CNN is kicking it up a decade after spending last summer with
The Sixties
.
From the same production team of Tom Hanks, Gary Goetzman and Mark Herzog, here comes
The Seventies
, with the Thursday, June 11th 8 p.m. (central) premiere again leading off with television's impact on the decade.
The same problems persist, however, with "Television Gets Real," the eight-part sequel to "Television Comes of Age." It's basically another short-burst, talking heads/clip show with too much to cover and not nearly enough time to do so. A batch of East Coast-based TV critics, including colleagues and friends David Bianculli and Alan Sepinwall, vie for time with a gaggle of actors and producers plus a clip reel that tries to accommodate
All in the Family, The Mary Tyler Moore Show, M*A*S*H, Roots, Monday Night Football, Saturday Night Live, Happy Days, Laverne and Shirley, The Bob Newhart Show, Maude, Good Times, Mork & Mindy, Charlie's Angels, Three's Company
and many more.
Squeezed out entirely is TV's transformative live coverage of the Senate Watergate hearings, although Chapter 2, "United States vs. Nixon," presumably will get at some of that. But
Battle of the Network Stars
gets a slice of air time, with ex-
M*A*S*H
star Mike Farrell saying how much he hated competing on it while Ed Asner grins and says, "Live and learn."
It was quite a decade, at least in the early to mid-portion, for high-caliber, timeless TV. Saturday nights on CBS housed an unparalleled 1973-'74 season lineup of
All in the Family, M*A*S*H, The Mary Tyler Moore Show, The Bob Newhart Show
and
The Carol Burnett Show
(the only one of these to premiere in the 1960s).
Bianculli, who survives the show's editing process in good shape, says it may have been the best one-night grouping in TV history. The effusive Sepinwall in contrast is served poorly. His quotes clearly are bitten off at the knees, leaving him as mostly a state-the-obvious bridge. As in, "When Chevy Chase leaves (
SNL
), Bill Murray comes in." Cut. Print.
Among the actors,
Roots
star LeVar Burton makes a pair of salient points. He notes ABC's "genius" move of reverse-casting some of "TV's favorite dads" as slaveholders or villains in an effort to ramp up the star power for this big gamble of a miniseries. They included Lorne Greene (
Bonanza
), Ralph Waite (
The Waltons
), Robert Reed (
The Brady Bunch
) and Lloyd Bridges (
Sea Hunt
).
Burton also says that PBS children's programming, led by the unequaled
Sesame Street
, "became the platinum standard for the planet." Well stated and irrefutable. Burton went on to host PBS'
Reading Rainbow
, which premiered in 1983.
All in the Family
, easily the decade's most daring comedy series, epitomizes the "Television Gets Real" subtitle. Producer Norman Lear, also the architect of
Good Times, Maude
and
The Jeffersons
, gets to revisit his greatest successes in a new interview for the program. But the valid question of whether
All in the Family
also served as a megaphone for bigots is dismissed via a clip from
The Dick Cavett Show
and Lear's one-word answer. Which was "No."
Benign sitcoms such as
Happy Days
and
Laverne & Shirley
arrived later in the '70s as producer Garry Marshall's vehicles for entertaining without offending. By the 1976-77 season, they had pushed
All in the Family
from the top of the prime-time ratings charts. And at the end of the decade, TV had gone from getting real to falling off that wagon with Top 10 hits such as
Three's Company, That's Incredible, Dallas, Flo
and
The Dukes of Hazzard
.
But CBS' unbreakable
60 Minutes
ranked as the most popular show of all in the 1979-80 TV season. Its signature anchor, Mike Wallace, also gets the most preposterous quote of all near the end of "Television Gets Real." Following a story on the rise of cable TV in general and HBO in particular, Wallace tells viewers that "at its worst, cable TV could invade our privacy, tranquilize our children, remove us electronically from the flesh and blood world -- and we'd have to pay for the privilege."
CNN didn't quite exist yet when he said that. Three-and-a-half decades later, CNN and
The Seventies
in large part are making sport of Wallace's alarmist deduction. Should Hanks and his production company ever get to the first decade of the new millennium, their television segment aptly could be called "The Rise of Cable."
For now "Television Gets Real" is an OK, but hardly exceptional kickoff to
The Seventies
. Trying to touch all those bases in just 42 minutes time (after subtracting commercials) again proves to be too much of an undertaking. Instead viewers will get the
"Hello, I must Be Going"
treatment. Groucho Marx happily sang that ditty in pre-TV times during the 1930 film
Animal Crackers
. To say the least, it's never really left us.
GRADE:
C+
Email comments or questions to:
unclebarky@verizon.net