ABC should have let Dr. Ken call in sick
10/01/15 10:53 AM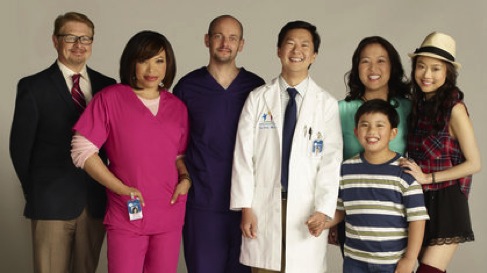 Ken Jeong (white coat) is a bumbling general practitioner in Dr. Ken.
ABC photo
Premiering:
Friday, Oct. 2nd at 7:30 p.m. (central) on ABC
Starring:
Ken Jeong, Suzy Nakamura, Tisha Campbell-Martin, Dave Foley, Jonathan Slavin, Albert Tsai, Krista Marie Yu, Kate Simses
Produced by:
Jared Stern, Ken Jeong, John Davis, John Fox, Mike Sikowitz, Mike O'Connell
By ED BARK
@unclebarkycom on Twitter
The opening minutes of ABC's
Dr. Ken
include a little colonoscopy humor. Although no one looks forward to one, it's preferable to enduring the first two episodes of this painfully forced new comedy.
Is there a script doctor in the house? An acting coach wouldn't hurt either.
Ken Jeong, who in real life is a licensed physician, bears most of the responsibility as the creator, co-executive producer and co-writer of
Dr. Ken
. He gained fame on NBC's
Community
and in
The Hangover
trilogy of hit feature films before selling ABC on this thing. This is the same network with a Wednesday night quartet of smart, funny family comedies in
The Middle, The Goldbergs, Modern Family
and
black-ish
. In
Dr. Ken
, ABC has what looks like a complete misfire on both the workplace and family fronts.
Friday's premiere begins with a patient (played by venerable Dallas-born character actor Stephen Tobolowsky) diagnosing himself with hemorrhoids before Dr. Ken Park shoots back, "You would know since your head's up your ass."
It's a fitting advisory for a show in similar straits. Jeong's high-strung, bumbling central character mugs his way through a succession of lame one-liners while his patient wife, Allison (Suzy Nakamura), serves as both his licensed therapist and buffer between their two kids, teenager Molly (Krista Marie Yu) and pre-teen Dave (Albert Tsai). Faint praise alert: Allison is the best thing about
Dr. Ken
, but can't nearly overcome her surroundings.
At the workplace, Dr. Ken's large-ish staff has little to do except kibbitz and carp. This is supposed to be a successful practice within the walls of the Welltopia Medical Group. In the first two episodes, though, just two patients drop in to be broadly insulted by Dr. Ken. CBS' new hospital drama,
Code Black
, buckles under the load of a never-ending parade of arrivals while Dr. Ken's office looks less busy than a Sno-Cone stand in the Arctic Circle.
There's also a smarmy administrator played by Dave Foley, who's very obviously channeling Gary Cole's officious bossman from the cult classic
Office Space
. Nothing about this show seems even remotely original.
In Episode 2, Foley's makeup is so heavy that he looks like a character from
Rocky Horror Picture Show
. The writing gets no better either. As when Allison tells hubby Ken, "Why does it always go to a sexual place with you." And Ken replies, "You know I idle at horny."
Dr. Ken
can't be legally sued for malpractice, although the laws might need to be re-written in this case. Less funny than a compound fracture, this is a show that looks irreparably broken. It barely dodges a Grade of F only because Episode 1 includes Jeong's dated but deft impression of Johnny Carson saying, "I did not know that." Amusing to me, but likely to fly over the heads of an escalating percentage of viewers.
GRADE:
D-minus
Email comments or questions to:
unclebarky@verizon.net