Hulu's The Handmaid's Tale keeps the faith with a bracingly strong Season Two
04/25/18 09:13 AM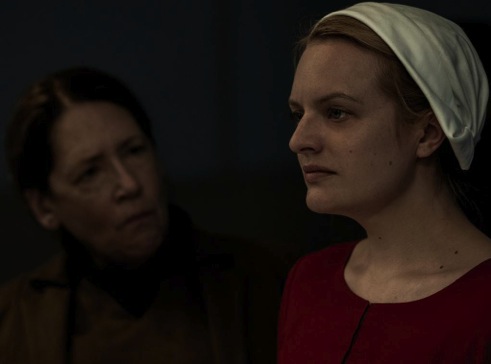 Emmy winners Ann Dowd & Elisabeth Moss are at it again. Hulu photo
By ED BARK
@unclebarkycom on Twitter
The show that flipped the switch for Hulu has returned under its own full power.
Season One of
The Handmaid's Tale
, the first streaming series to win an Emmy for best drama, premiered shortly after Donald Trump became President. Its grim vision of a male-dominated and oppressive future America prompted many TV critics to fold Trump into their reviews.
Season Two, which launched on
Wednesday, April 25th
with the first three of 13 episodes, likely will further fuel the already on fire #MeToo movement. In truth,
The Handmaid's Tale
, drawn from the 1985 Margaret Atwood novel, can be credited as a stimulus for the many women who came forward with allegations of sexual abuse at the hands of various men in positions of power. For that reason alone, it's become one of the most important series of our times.
This new and much anticipated new season resumes at the point where Season One ended. The newly pregnant Offred/June Osborne (Elisabeth Moss) had been locked in a van headed for who knows where after an uprising by the handmaids against the tyrannical Aunt Lydia (Ann Dowd). "And so I step up into the darkness within -- or else the light," Offred said in her narrative voice.
Hulu made Season Two's first six hours available for review, with the usual warnings, some specific, about revealing too much about what happens next.
So in general terms then,
Handmaid's Tale
is taut and terrific throughout these half-dozen episodes. They're triumphant, tragic, and culminate in another cliffhanger almost halfway through Season 2. If any series was tailor-made for binge-watching, this is it. But again it's not an instant option. Unlike Netflix and Amazon, Hulu (with rare exceptions) doles out episodes at the rate of one a week after an initial opening splurge. That's so -- oppressive.
Moss again inhabits her lead character with force, fury and sometimes submission. In a line from Episode 1 that might well serve as the series' clarion call, she sums up her God-invoking captors' inhumanity by mocking one of their standard invocations: "Our Father who art in heaven. Seriously? What the actual f**k?"
Not that she's without piety and at least a shaky belief in Divine Providence. In Episode 2, Offred/June prays for God to "please send your holy angel to watch over this place."
Moss and Dowd, both of whom also won Emmys for their Season One performances, continue to send
Handmaid's Tale
into overdrive with their one-on-one scenes as Offred/June and Aunt Lydia. This is never more evident than in Episode 4, when Aunt Lydia's treachery knows no bounds in her efforts to tame June back into Offred.
The new season also includes a first-time trip to The Colonies -- and several more after that. This is where recalcitrant handmaids are sent to die as "Unwomen" while pounding rocks and living in desolate, cramped, disease-ridden quarters. Some of the visuals are stunning, giving
Handmaid's Tale
a new scope and dynamic. It's also where guest star Marisa Tomei makes her appearance, but we'll leave it at that.
Another guest star, Cherry Jones (perhaps best known for her Emmy-winning turn as President Allison Taylor on
24
), is memorably cast as June's activist mother, Holly. Other flashbacks again include June's husband, Luke Bankole (O. T. Fagbenle) and their little daughter, Hannah (Jordana Blake), who was taken from them.
Season One was a bit top-heavy with Moss' narrative voice, but Season Two deploys it in notably smaller and infrequent doses. A key element throughout the new episodes is Offred/June's pregnancy and what could happen once she delivers a child unto Commander Fred Waterford (Joseph Fiennes) and his yearning wife, Serena (Yvonne Strahovski).
The Commander's chauffeur, Nick Blaine (Max Minghella), also has a highly eventful Season Two. As does handmaiden Emily/Ofglen (Alexis Bledel), who was genitally mutilated in the first season. Her further story unfolds in both flashbacks and during present-day travails in The Colonies.
Handmaid's Tale
had a tough act to follow, but its second coming soars on multiple levels. It's intense, heartbreaking, full of resolve and perfectly paced. The first six episodes brim with consequential events while Moss registers stronger than ever as the character around whom so much depends. It all makes for the best ongoing drama in a sprawling streaming, cable and broadcast TV universe. That's saying a lot, but
Handmaid's Tale
has the courage of its convictions and the storytelling power to see them through.
GRADE:
A
Email comments or questions to:
unclebarky@verizon.net