New series review: Saving Grace (TNT)
07/23/07 01:19 PM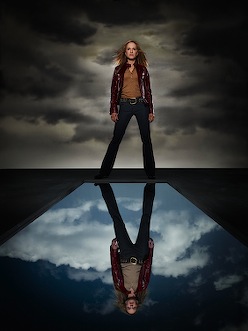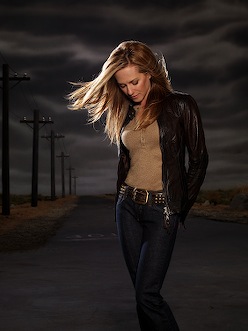 Premiering:
Monday night, July 23rd at 9 (central) on TNT
Starring:
Holly Hunter, Laura San Giacomo, Leon Rippy, Kenneth Johnson, Bokeem Woodbine, Bailey Chase, Gregory Cruz, Dylan Minnette
Created by:
Nancy Miller
By ED BARK
Here's an article of faith. TNT's
Saving Grace
will succeed in the end because its damnable lead character is played by the remarkable Holly Hunter.
She's a whirling, devilish Oklahoma City detective who drinks, smokes, screws and curses with self-destructive abandon.
The premiere episode's opening minutes find Grace Hanadarko engaging in all four activities -- in the all together no less. This is advertiser-supported cable, though, so nudity is still a game of quick editing and obscuring camera angles. You'll get the picture, though.
Grace's bedmate is a fellow married cop who feels guilty about again succumbing. He wants her to promise to God that they won't do this anymore.
"I don't believe in God," she retorts. "But I promise you'll never have mind-blowing sex with me again."
Collegially paired with
The Closer
, this is another up-close look at a woman cop whose quirks and expertise are both transparently apparent. Grace is appreciably more damaged than Brenda Johnson, though. So much so that she experiences an intervention by a disheveled angel named Earl (Leon Rippy) after speeding home drunk one night and killing a pedestrian.
Earl dutifully sprouts his wings and then for some reason transports Grace to the Grand Canyon for a mini-sermon about last chances and true-believing. This isn't
Touched By An Angel
, and sometimes seems touched in the head. But Hunter's characterization consistently redeems a sometimes shaky opening hour.
Creator Nancy Miller also throws in a search for a missing 10-year-old girl, a coarse, womanizing millionaire cattleman and an ongoing mythology involving a prisoner (Bokeem Woodbine) on death row who's having the same "dream" as Grace.
Between drinking, sex, etc., Grace finds time to get all buttery with her grade school age nephew (Dylan Minnette), whose mother died in the Oklahoma City bombing. The kid has one of the first episode's more memorable lines, telling Grace that he yearns to meet bomber Timothy McVeigh.
"I wish we could ask him why he did it," he says. "But he's in hell. So we'll never know."
Saving Grace
looks as though it can make it through many nights on the strength of Hunter's full-tilt performance. A lot is packed into its first uneven hour. Burning at its core, though, is a character that makes this show crackle.
Grade:
B+