Gotta sing, gotta dance on The CW's distinctive Crazy Ex-Girlfriend
10/12/15 11:59 AM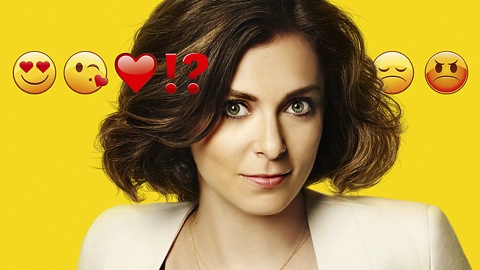 Rachel Bloom's crazy good in Crazy Ex-Girlfriend. CW photo
Premiering:
Monday, Oct. 12th at 7 p.m. (central) on The CW
Starring:
Rachel Bloom, Santino Fontana, Vincent Rodriguez III, Donna Lynne Champlin, Pete Gardner, Vella Lovell
Produced by:
Rachel Bloom, Aline Brosh McKenna, Erin Ehrlich, Marc Webb
By ED BARK
@unclebarkycom on Twitter
The CW's only new fall series is unabashedly "girly" and probably not for anyone with a "Man Cave" mentality and/or a strong aversion to show tunes.
Whether it will work is very much an open question. But
Crazy Ex-Girlfriend
's bright, sprightly premiere is another step up in quality for a network that was much derided as superfluous until four very fresh coats of paint --
Arrow, The Flash, Jane the Virgin
and
iZombie
-- came into view during the past three years.
Singing her heart out on several occasions, relative newcomer Rachel Bloom stars in this saga of a needy, unfulfilled, up-and-coming Manhattan lawyer who spurns a big promotion in favor of pursuing a guy she crushed on 10 years earlier as a 16-year-old at summer camp. Perhaps this sounds very un-liberated on the face of it. But Bloom is the empowered creator, head writer and lead executive producer of a show she's devised for herself. So make no mistake. This is her baby and she's running with it.
Bloom plays Rebecca Bunch, daughter of a so far unseen domineering mother who's orchestrated and stifled her life. That's mom blaring on the car horn at that fateful last day of camp, when Josh Chan (Vincent Rodriguez III) tells Rebecca that they're just too different to keep any serious relationship going. A decade later, Rebecca can't shake the feeling that happiness has kept her at bay. Praying for "guidance," she sort of gets a sign from on high. Look, there's Josh, walking down the street. He dubs the still smitten Rebecca "successful and hot" before again lowering the boom. Josh is moving back home to West Covina, CA, located just "two hours from the beach -- four in traffic."
A singing/dancing production number ensues, bridging Rebecca's impulsive relocation from Manhattan to West Covina. Bloom throws herself into every single second of this out-of-body sequence. It's infectious enthusiasm to the max, but viewers really haven't seen anything until she nails the "Sexy Gettin' Ready Song." It includes Bloom force-fitting herself into a pair of Spanx after brandishing a less than firm tummy. Men and their guts have become something of a prime-time staple but women generally aren't as inclined to put any "imperfect" body parts front and center. But Bloom made these calls, and she's all the more relatable because of them.
A strong supporting cast is particularly buoyed by Santino Fontana as a sports bar bartender named Greg Serrano. Their initial byplay works perfectly during Rebecca's search for Josh's whereabouts.
At her new workplace, the Whitefeather & Associates law firm, Rebecca encounters a goofy boss (Pete Gardner as Darryl Whitefeather) and a snoopy paralegal named Paula Proctor (Donna Lynne Champlin). The situations and characters aren't entirely novel to be sure. But
Crazy Ex-Girlfriend
's vibrant premiere episode nonetheless is able to make the sale.
Being a long distance runner could be quite another matter, though. Prime-time television isn't exactly littered with failures of this sort, mainly because very few shows have ever dared to break into song and dance on a moment's notice while otherwise playing it "straight." Fox's
Glee
had a long run but its musical interludes were part of the show's basic stage show fabric.
The same could be said of NBC's comparatively short-lived, Broadway-set
Smash
, making ABC's 1990 police drama
Cop Rock
the only true outlaw. Its detectives regularly strong-armed first and sang later in a series that lasted just 11 episodes and never really found a way to integrate the two disciplines. Fox's mega-hit
Empire
is all about the music business, with its performances strictly within those confines. In other words, you won't see Cookie or Lucious Lyon suddenly singing out their dialogue.
Crazy Ex-Girlfriend
is far lighter in theme and tone than either
Cop Rock
or
Empire
. But it's still quite a reach. Can Bloom's talent and spirit carry the day well beyond her show's distinctively different premiere? The work and energy required will be enormous. For starters, though,
Crazy Ex-Girlfriend
romps and rolls without really missing a beat.
GRADE:
A-minus
Email comments or questions to:
unclebarky@verizon.net