Rhimes makes it a Thursday night triangle with How to Get Away with Murder
09/24/14 12:44 PM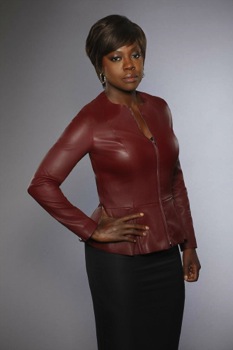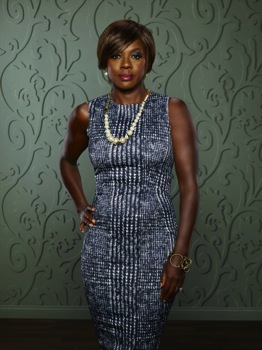 Viola Davis dominates How to Get Away with Murder. ABC photos
Premiering:
Thursday, Sept. 25th at 9 p.m. (central) on ABC
Starring:
Viola Davis, Alfred Enoch, Jack Falahee, Katie Findlay, Naomi King, Matt McGorry, Billy Brown, Karla Souza, Charlie Weber, Liza Weil
Produced by:
Shonda Rimes, Pete Nowalk, Betsy Beers, Bill D'Elia
By ED BARK
@unclebarkycom on Twitter
Her production company is Shondaland and Thursdays are land's end for all three of Shonda Rhimes' ABC empowerment hours.
How to Get Away with Murder
is joining holdover hits
Grey's Anatomy
and
Scandal
, both of which are being moved up to an hour to accommodate it. Seems like old times for ABC, which used to clear out Saturday nights for the late Aaron Spelling. But that hasn't happened since fall 1984, when
T.J. Hooker, The Love Boat
and
Finder of Lost Loves
were all Spelling productions. Rimes-produced series are considerably more substantive. Not that you can't wallow in them.
Murder
is driven by bare-knuckled law professor/defense attorney Annalise Keating, brought to vibrant life by Oscar nominee Viola Davis (
The Help
). She's a veteran of the prime-time TV game after playing regular or recurring characters in
City of Angels, Century City, Traveler, Law & Order: Special Victims Unit
and
United States of Tara
in addition to four
Jesse Stone
movies. But this is her true coming out party as a top-of-the-marquee series star.
When not defending high-profile clients, Keating teaches a Criminal Law 100 class at Philadelphia's fictional Middleton University. "Or as I prefer to call it," she says before dropping her voice an octave, "How to Get Away with Murder."
Keating doesn't quite have the imperious air of John Houseman's Charles W. Kingsfield Jr. in
The Paper Chase
movie and subsequent TV series. But she does practice the art of intimidation while pitting students against one another in their efforts to become apprentices in her law firm.
The case at hand in the premiere episode is a mistress accused of trying to poison her older CEO lover, who's now a semi-vegetable in a wheelchair. Five students emerge as both frontrunners and series regulars. Principal among them is idealistic Wes Gibbins (Alfred Enoch), who soon catches the married prof in a compromising position with a very well-muscled man who's not her husband.
Murder
jumps around a lot, to the point where it's perhaps too much. The opening sequence finds Keating's chosen ones involved in a panicky murder cover-up during the dark of night. We're then taken to "3 Months Earlier" -- and Keating's classroom. But the flash forwards continue throughout, building to a revelation of the corpse the students are intent on hiding. By that time you'll recognize the deceased. It's all intended to be the serial hook of a series that also will dabble in new weekly crimes.
Davis's Keating tends to spit out or bite off her words during classroom lectures and courtroom interrogations. So it doesn't seem entirely believable when she's suddenly weepy during a "Thank you for keeping this between us" scene with Wes the wide-eyed student. Maybe it's an act? But it's not played that way.
Later she's again hard as nails with the kid after he questions both her courtroom tactics and motives for keeping him in the fold. Either/or dictums don't get much more laughable than Keating affixing a steely glare before laying down the law. "Think carefully," she says. "Everything after this moment will not only determine your career, but life. You can spend it in a corporate office drafting contracts and hitting on chubby paralegals before finally putting a gun in your mouth. Or you can join my firm and become someone you actually like. So decide. Do you want the job or not?"
Hitting on chubby paralegals and then a gun to the mouth, huh? Gimme rewrite. Even Davis can't make that kind of dialogue work.
Murder
is hardly a perfect crime against viewers. Davis has considerable presence, and the closing scene casts her character in yet another intriguing new light. How much of a Svengali is she? What will she do to stay in the winner's circle? Or is this all one big game of misdirection? I'm sort of interested in finding out more. But for now, not really jumping at the chance.
GRADE:
C+
Email comments or questions to:
unclebarky@verizon.net