Syfy's The Expanse looks great, lacks coherence
12/10/15 11:57 AM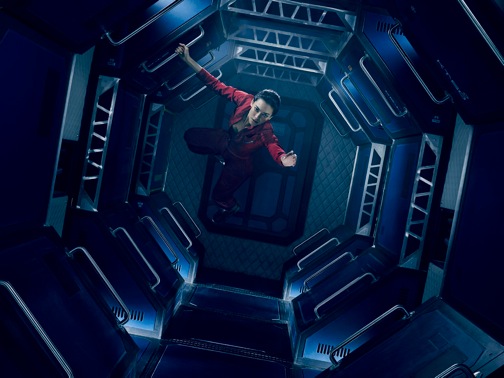 Co-star Florence Faivre in a series that's also adrift. Syfy photo
Premiering:
Monday, Dec. 14th at 9 p.m. (central) on Syfy with another episode on the following night
Starring:
Thomas Jane, Steven Strait, Dominique Tipper, Cas Anvar, Florence Faivre, Wes Chatham, Paulo Costanzo, Shohreh Aghdashloo
Produced by:
Mark Fergus, Hawk Ostby, Naren Shankar, Andrew Kosove, Broderick Johnson, Sharon Hall, Sean Daniel, Jason Brown
By ED BARK
@unclebarkycom on Twitter
Star Wars
never would have gotten off the ground had it started this incomprehensibly.
The problem isn't with the overall look of Syfy's
The Expanse
. Production values are first-rate through and through. But having little or no earthly idea of what's going on can be a problem, even with the lengthy printed preamble greeting viewers of the Monday, Dec. 14th premiere episode. It goes like this:
"IN THE 23RD CENTURY, HUMANS HAVE COLONIZED THE SOLAR SYSTEM. THE U.N. CONTROLS EARTH. MARS IS AN INDEPENDENT MILITARY POWER. THE INNER PLANETS DEPEND ON THE RESOURCES OF THE ASTEROID BELT. BELTERS LIVE AND WORK IN SPACE. IN THE BELT, AIR & WATER ARE MORE PRECIOUS THAN GOLD. FOR DECADES, TENSIONS HAVE BEEN RISING. EARTH, MARS & THE BELT ARE NOW ON THE BRINK OF WAR. ALL IT WILL TAKE IS A SINGLE SPARK."
What follows, though, is a muddle of characters and motivations. Yes, it's a cool-looking muddle. But getting a handle on
The Expanse
in this all-important first impression episode is tougher than putting a moonbeam in a jar. Everything is pretty much all over the place, whether it's outer space or the U.N.'s "Black Site" back on
terra firma
. Just in case you were wondering, the 23rd century still has strip clubs.
The cast is led by gruff Detective Miller (Thomas Jane), who's given no first name and still wears a fedora. He's apparently been assigned to find Julie Andromeda Mao (Florence Faivre), who's shown in captivity during the opening minute before she busts free and then screams.
Meanwhile, at the Ceres station, a rabble-rousing Belter rails at length about being treated like dirt. The Ice Trawler Canterbury and the Freighter Scopuli also figure into this unwieldy mix of characters and locales. And Jonathan Banks, a stalwart on both
Breaking Bad
and
Better Call Saul
, drops in for perhaps a minute as a pistol-shooting, weepy drunk who ends up being strapped to a stretcher and carted off. Banks isn't billed as either a regular or recurring character. Perhaps he just wanted to play dress-up?
Principal among the earthlings is U.N. Deputy undersecretary of administration Chrisjen Avasarala (Shohreh Aghdashloo). She's briefly seen as both a playful grandma and a willful torturer.
All of this is based on the novels by James S.A. Corey, a pen named used by co-authors Daniel Abraham and Ty Franck. They've so far written five books in
The Expanse
series and are contracted to do four more. Presumably they're far more understandable than the first hour of the TV series. Things probably can't help but get easier to digest as Syfy marches on with this. For starters, though, we have a jump-around jumble that invites viewers to abandon ship unless they're awed enough by the impressive special effects to just gaze in dazed confusion.
GRADE:
C
Email comments or questions to:
unclebarky@verizon.net